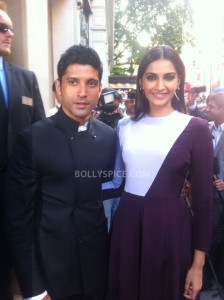 On a warm, sunny London's evening, the sound of the dhol resonated outside The Mayfair. The Red Carpet had been laid out ready to welcome Bhaag Milkha Bhaag's cast, crew and some very special guests. Fans awaited eagerly to see the beautiful Sonam Kapoor and Farhan Akhtar, amongst others, step onto the carpet and make their way for the gala screening of Bhaag Milkha Bhaag. The guests included Lord Desai, Shehnaz Husain, Ameet Chana and Asad Shan.
Lord Desai stated that he was excited about the film and wanted a role in it. Asad Shan cheekily smiled and answered that 'running' was his favourite when BollySpice asked him on his top sport. Milkha Singh gracefully waved at his admirers and fans as he walked across the carpet. Rakeysh Omprakash Mehra looked dashing in a black suit, black tie and navy shirt.
As Sonam Kapoor stepped onto the red carpet the crowd went absolutely wild. The chanting of Sonam! Sonam! became even louder than the dhol. We caught up with Sonam Kapoor and asked her what her favourite song was? She answered 'Zinda' with a big smile. The anticipation was growing with every second that passed. We all knew that Farhan would be arriving shortly. As Farhan Akhtar stepped onto the carpet, the crowd excitedly cheered him on. Sonam and Farhan posed together for the cameras before heading inside.
Bhaag Milkha Bhaag is produced and directed by Rakeysh Omprakash Mehra and is based on the legendary Indian athlete, Milkha Singh. Milkha Singh represented India at the 1960 Summer Olympics in Rome and the 1964 Summer Olympics in Tokyo. He holds three gold medals as well as the Padma Shri Award which is a civilian award given by the Government of India. His achievements and talent has earned him the nickname, 'The Flying Sikh'. However, this is not all that is inspiring about Singh. Singh had lost his family during the Partition riots of India, 1947.
Farhan Akhtar, who plays the lead in the film as Milkha Singh described his admiration for Singh: "I do feel extremely inspired by his story and because of what he managed to achieve in his life…It's just an amazing story. It's very inspiring to me. That really helped me to do the best I could possibly do with this film."
Farhan also spoke of the importance of Sonam's character as Milkha Singh's wife in the film: "Sonam is very well cast in this part. I think as an actor, her choice to say yes to this film in itself is a very heartening thing because she has bought into what the film is about. She has committed herself to the story and has not thought 'Oh I have five scenes and one song, so why should I do it?' She has really understood what this film is about and she has an important part. She is a catalyst in Milkha Singh's life for him to move onto something bigger in terms of his dream."
Being released on the 12th of July, as the films caption says- we cannot wait for the story to unfold.
Check out our exclusive pictures from the fabulous event! Stay tuned we will have more from Farhan about the film in our cool interview. Also watch BollySpice for our incredible interview with director Rakeysh Omprakash Mehra, both are not to be missed!
Photo credit: Aashi Gahlot