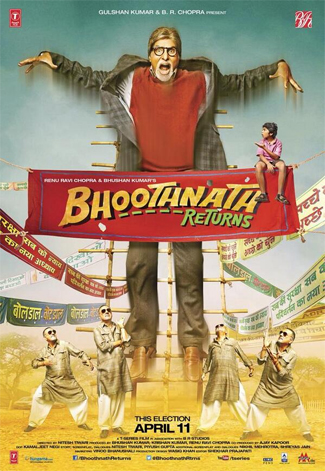 Bhoothnath Returns is the sequel to the critically and commercially acclaimed Bhoothnath (2008). Directed by Nitesh Tiwari, the film will see Bollywood legend Amitabh Bachchan reprising his role as the loving ghost Bhoothnath. Also starring Parth Bhalerao and Boman Irani, with cameos from Ranbir Kapoor and Shah Rukh Khan, Bhoothnath Returns is scheduled to release in cinemas worldwide on 11 April 2014.
The music to the film has been composed by Meet Brothers Anjjan, Palash Mucchall and Ram Sampath. The lyrics have been penned by a number of writers, which include Kumaar, Kunwar Juneja, Munna Dhiman and Nitesh Tiwari. Rap superstar Yo Yo Honey Singh also makes an appearance in this album, who has sung, produced and written the track 'Party with the Bhoothnath.' So is the soundtrack to Bhoothnath Returns worth the listen? Check out our review to see what we thought of it!
To kick start the album, we have Party To Banti Hai, sung by Meet Brothers Anjjan and Mika Singh. Given the fact that the music is composed by the young Palash Mucchall, I think he has done a respectable job with it. Although the song will not appeal to mature listeners, I would recommend this to the youngsters who may appreciate the catchy trumpet and drum sounds. There is also a remix version of this song by Meet Brothers Anjjan; though I found it to be tedious and not worth listening to.
Next is Har Har Gange, sung by Aman Trikha. I love the Bhangra infused sounds that have been incorporated into this song, which gives it a lovely desi touch. Furthermore, I very much appreciated Aman's vocals and he does justice to this upbeat tune. This is definitely one of the major highlights of the album and hence, I advise you to check it out! There is also a remix version by DJ Kiran Kamath and like the remix to 'Party To Banti Hai,' it is dull and not in the same league as the original version.
Following this we have Party with the Bhoothnath by Yo Yo Honey Singh. I found this one to be slightly odd to listen to and is definitely not Yo Yo Honey Singh at his best. I think this is largely due to the bland composition which does not have any ring to it. This is unfortunate as this song had the potential to be a great number.
Next we have Sahib, which has been performed by Rituraj. I like how the song opens with the piano which is delightful to hear. The song also contains other cool sounds such as the Indian flute, guitar and drums. Moreover, Rituraj sings immensely well and manages to present his vocal range very well. This is another triumphant effort which is definitely worth your time.
Finally we have Dharavi Rap, sung by the child star of the film Parth S. Bhalerao. I very much enjoyed his performance and he gives a humorous touch to it, which is much needed with a song like this. Overall, it was a very good effort on Parth's part and he deserves praise for being courageous enough to sing for the film, in addition to starring in it.
The music to Bhoothnath Returns makes an interesting listen and I definitely found it to deliver more than I anticipated it to do so. I would say give the album a chance as it has many positive qualities to it which may be of appeal to you. Though it is by no means one of the best Bollywood soundtracks to release so far this year, it still makes a fun listen whether you are a man, woman or child!