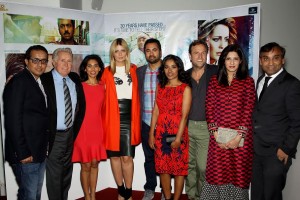 A 30-year-old tragedy resonated emotionally with one and all at the special New York screening of Bhopal: A Prayer for Rain on 18th Sep evening at the Florence Gould Hall in Manhattan. The social thriller scripted around the Bhopal gas tragedy of 1984, directed by Ravi Kumar and produced by Sahara Movie Studios and Rising Star Entertainment, was attended by the who's who of the industry including Hollywood biggies. The cast and crew present at this special screening hosted by producers Chandni Roy (Sahara Movie Studios) and Ravi Walia (Rising Star Entertainment) included Martin Sheen, Kal Penn, Mischa Barton, Fagun Thakrar, Tannishtha Chatterjee and writer David Brooks.
The legendary Martin Sheen plays the CEO of Union Carbide Corporation, whose chemical plant in Bhopal let out the massive toxic gas leak. That devastating night as many as 3,800 people had died instantly and more than half a million people were exposed to the gas. In the subsequent decades 15,000 to 20,000 premature deaths have happened due to the after effects of the gas leak.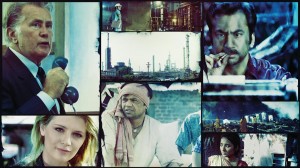 For many of the audiences at the special screening it was like being witness to an unknown chapter from history. While it was an edge-of-the-seat thriller trying to dig deep into what cause the gas leak, Bhopal: A Prayer for Rain was also an incredibly emotional experience for the audience. No wonder the applause at the end was so spontaneous and so heartfelt.
Says Sheen: "When I was invited to participate in the film about the Bhopal incident I felt compelled to accept.  And the response to the film here reinforces  the faith I had in the subject. It has been 30 years since the tragedy but it is as relevant as ever."
Reacting to the overwhelming response to the film, producers Seemanto Roy (of Sahara Movie Studios) and Ravi Walia (of Rising Star Entertainment) said: "It's a matter of immense pride for us that the thought behind Bhopal: A Prayer for Rain has been acknowledged and appreciated. We really wanted to tell the story, as it happened, and we are honoured and privileged that we could show the film to such an elite gathering in New York."
Director Ravi Kumar sums up: "When we set out to make Bhopal: A Prayer for Rain, we wanted to share with younger people the untold events that led to one of the biggest chemical disasters of all time. The overwhelming reaction that we received from Americans and Indians alike at the screening tonight is like a huge pat on the back for all of us."