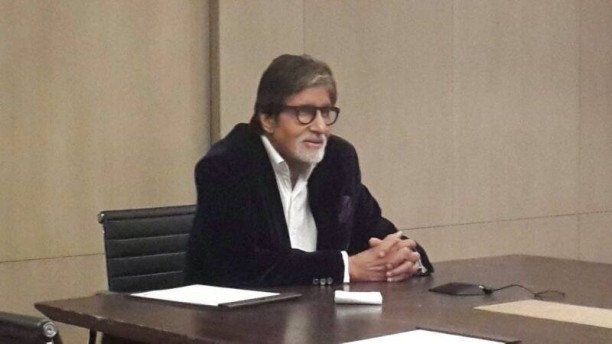 We all know he has immense screen presence and for the many who have met him will share their personal stories of how he lights up the room every time he walks in. However, ahead of the release of Bhootnath Returns, the London press discovered how electrifying Amitabh Bachchan could be over the internet!
He presented his new film, whilst joking and and interacting via live video link. As always, he was particularly complimentary about the U.K audience saying "They (the UK audience) have always supported us. Over the years, newer people have joined in and I hope we continue to have that special place in the hearts of the people in the UK."
The Big B has been active on social media for some time, communicating directly with his fans worldwide. He expressed, "I think social media has immense and underestimated potential. Twitter and Facebook have given me an Extended Family (EF) as I call it. It connects not only me to the rest of the world but also people connect and form bonds with each other. I have numerous stories where they have bonded and met each other. I think it is a wonderful concept!"
Talking about the film, which releases today, he shared "(Bhootnath Returns) Resonates with the current situation in India and urges everyone to go and vote. We should all be a part of the system and participate actively. The fearlessness and simplicity of the child protagonist should inspire and motivate us."
Make sure you catch the sequel to the 2008 original, when it hits screens on Friday.
Bhootnath Returns releases in cinemas worldwide on 11th April 2014.