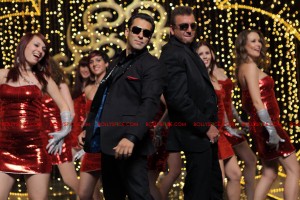 Mahek Chahal's knight-in-shining-armour, Salman Khan, seems to be leaving no stone unturned to make sure his 'good friend' Mahek Chahal wins the fifth season of Bigg Boss, but evicted contestants and viewers of the show have started pointing fingers at the megastar, alleging obvious bias.
Through their interviews, media interactions and tweets, some of the evicted housemates including Shakti Kapoor and Pooja Bedi have alleged that Salman patronizes Mehak and wants her to win Bigg Boss.
Immediately after being evicted, Pooja Bedi pointed a finger at Salman for supporting Mahek in her antics. In an interview, she said, "No one can object to her (Mahek's) behaviour (in the Bigg Boss house) because then, he or she gets portrayed negatively. Everyone in the house thinks Salman is calling the shots. They're unnerved." Pooja adds that the other contestants feel everyone has to suck up to Mahek to remain in the show.
A few days earlier, Shakti Kapoor, also an ex-inmate from the house, was learnt to have ranted against Mahek on Twitter, apparently calling her "Salman's girl", adding that the scales tip in her favour to emerge the winner this season.
Now all over social media, viewers have begun to question how Mahek gets saved from nominations and evictions week after week on Bigg Boss. So apparent has been the megastar's affection towards Mahek that no one will be surprised if she ends up winning the show this year.