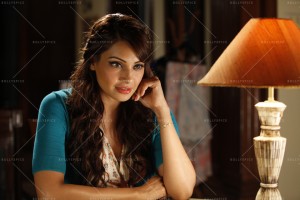 Bipasha Basu, who was seen in Raaz and Aatma, has experienced various paranormal experiences earlier. But after acting in Creature 3D she will certainly think twice before doing another movie in the same genre.
Bipasha had studied a lot about Brahmarakshas before doing Creature 3D. She started taking help of the pandit after she began to experience nightmares related to Brahmarakshas.
A source close to the actress says, "Bipasha is getting ready to travel south to do a special puja (ritual prayers) to ward off the Brahmarakshas that is haunting her ever since acting in Creature 3D, in which the creature is a Brahmarakshas."
The actress is expected to visit Thirunakkara Mahadeva temple in Kottayam, Kerala, following the advice of a Hindu scholar, towards the end of August.
Since Vikram Bhatt bought Brahmarakshas into his film from Kerala, the pandit has asked Bipasha to visit and do the ritual prayer at the place of its origin.
Creature 3D, starring Bipasha Basu and Imran Abbas, directed by Vikram Bhatt, produced under the banner of T-series, is slated for 12th September 2014 release.