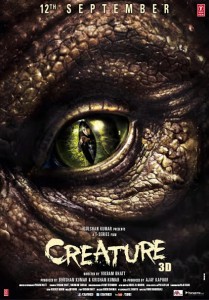 T-Series' Bhushan Kumar with Vikram Bhatt launched the theatrical trailer of India's first ever creature movie yesterday at PVR Juhu. The trailer launched in 3D was unveiled by Vikram Bhatt's mentor Mahesh Bhatt in presence of the film's leading lady Bipasha Basu. There was a pandit ji called for the launch where Vikram revealed that he was there to tie a holy thread on Bipasha Basu's wrist. " Pandit ji has come to tie a red thread for Bipasha, as she was really scared to watch the trailer", said Vikram Bhatt.
Creature 3D is India's first 3D monster thriller film is directed by Vikram Bhatt and stars Bipasha Basu and Pakistani actor Imran Abbas in lead roles. The film is produced by Bhushan Kumar & Krishan Kumar under the banner of T-Series.
Cast : Bipasha Basu, Imran Abbas, Mukul Dev
Director – Vikram Bhatt
Producer – Bhushan Kumar
Music Director – Mithoon, Tony Kakkar
Release Date – 12th September 2014
Synopsis – In the midst of the hilly terrains of Summer Hill, a young and enterprising girl AHANA (Bipasha Basu) launches her new, warm and cosy boutique hotel called Glendale Forest Lodge where she meets KUNAL (Imran Abbas), a famous author who is one of the first guests at the hotel. All goes well at Glendale till one day, Summer Hill gets attacked by "something". Ahana is traumatized by the deaths of her guests and the havoc created because of hotel turning unsafe for visitors. A professor of Zoology, Professor Sadana (Mukul Dev) comes to Summer Hill to help. It's time to fight. She knows her competitor is the epitome of power and danger but she decides to attempt to fight.