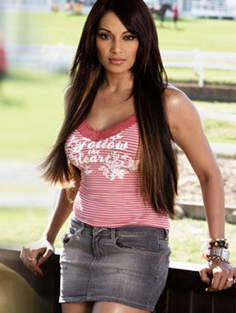 Bipasha Basu, the sexy, feisty actress who is best known for being the epitome of desire on-screen and who previously did popular films such as Jism, Raaz, Corporate, Bachna Ae Hasseno and Aakrosh , has spoken out about the double standard in Bollywood.
Bips revealed exactly what she thought about the roles female actresses get and then some, in a recent and candid interview.
"In Bollywood, the opportunities for female actresses is very minimum. There's not much choice for us except to be safe and look pretty and do some nice dance numbers. As a one off, you will get a film, which will be talked about in the context that 'Oh! Women are getting into trend now! It's going to be such a great time for female actresses'. The thing it is never."
What about films such as The Dirty Picture? Surely that has got to have changed something? "One 'Dirty Picture' hasn't changed anything much. It's just that you're lucky sometimes to get a 'Dirty Picture' or for my sake, get a Raaz, Jism or Corporate."
So what does Bipasha think is the problem? "The audience is the barrier. If we get eyeballs for films which are just women-centric, it is going to definitely get us more revenue and more infrastructure so that many more films will be made with women as protagonists. It happens for a little while when one works and then it goes away. And it happens again, and goes away. So it's like a trend."
Bips further adds, "We all are going through it, including my contemporaries. As much as we say that the film industry is changing, it is a very hero-centric business and it will always remain that. There are now some intelligent filmmakers, who are making films which are thankfully not about being feminist but about making an entertaining film with the heroine having to do something. And as an actress, you have to really hunt for these films! These are not very easy to find and they are not on higher budgets. It's rare that a Raaz 3 comes your way and that's when you jump at the opportunity!"
Granted, there is a lot of sexism in Bollywood, but we say that things do seem to be changing, even if it is just a little. Hopefully with time audiences will appreciate female centric films the in the same way they do with male centric films. But for now let's just wait and see!
Bipasha's latest film, Race 2, is due to hit cinemas on the 23rd of January 2013, so make sure you check out BollySpice for the latest news on that, and more!