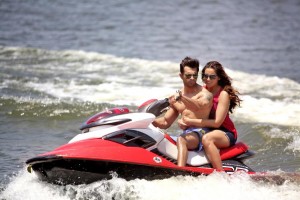 While shooting for ALONE in the backwaters of Kerala, Bipasha Basu had a near-death experience when the speeding jet-ski she was riding on with Karan Singh Grover, overturned and began to sink in.
It so happened for a particular scene Karan and Bipasha had to jet ski at the back-waters but the jet-ski overturned unexpectedly and Bipasha fell off. Since the crew was quite far from where the duo were, Karan without thinking jumped into the water and saved Bipasha just in time.
A shocked Bipasha was taken onto another boat and it took her a few hours to get back to normal. She resumed shooting again and eventually completed her scenes for the day, confirms a source close to the production team.