"Moshun pakadna zaroori hai, moshun"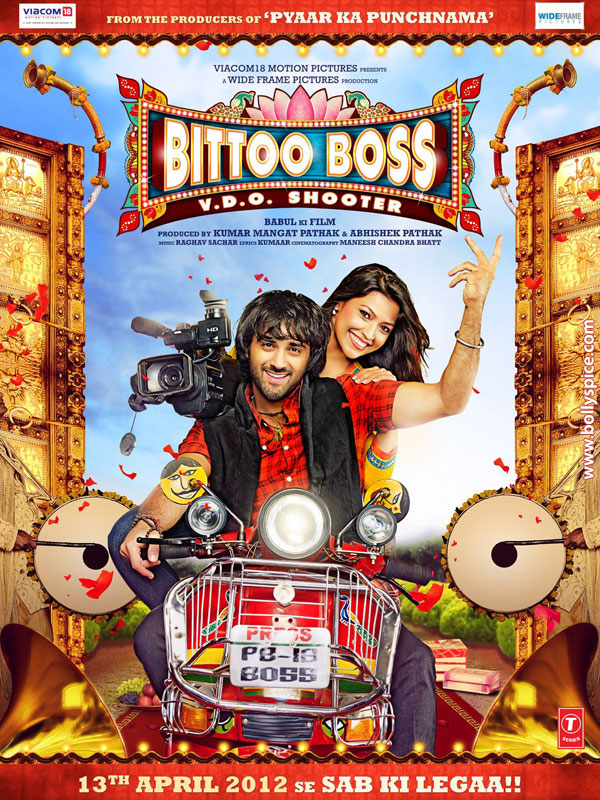 Yes, that's the sole motto that Bittoo Boss, V.D.O. Shooter has for the audience in Supavitra Babul's latest flick Bittoo Boss. Set in the heart of Punjab in a place called Anantpur, Wide Frame Pictures and Viacom 18 Motion Pictures' Bittoo Boss is a story of a small town wedding videographer Bittoo (Pulkit Samrat) who earns a living from video shooting wedding ceremonies. What makes him stand out from the others in his line of business is the way he crafts the wedding videos ensuring complete involvement of all the amusing kin in a wedding.
Bittoo is definitely not a prototypical videographer and he makes it a point to include the kattos (wannabe dulhans) of the house for a special photo shoot. He takes complete pride in what he does and goes out of the way to capture those sesky <(sexy as he pronounces) moments in the weddings. Bittoo is so popular in his town for his work that fathers have postponed their daughter's marriage just because Bittoo didn't have time to cover the ceremony. None of the marriages really start until they have the real star of the event, Bittoo. The first section of the movie is mainly focused on how Bittoo does his best as a videographer and never goes out of stock on the naach gaanas. Outside of the marriage, Bittoo has his own world with Vermaji (Rajender Sethi) who edits the marriage videos shot by Bittoo and his father who always moral policies him from inside his house. Vermaji, throughout the movie, tries to make Bittoo understand that one has to take short cuts in life in order to be sucessful. He tries to lure Bittoo into shooting of honeymoon videos rather than the wedding videos which would make him rich overnight. Bittoo, on the other hand, on moral grounds, is a firm believer that emotions and people's happiness are his real earnings and is proud of what he does. All goes well, until Bittoo gets a taste of love at first sight when he sees Mrinalini (Amita Pathak) in a wedding.
Post the marriage, Bittoo tries to pursue Mrinalini and succeeds in spending some time with her. It's not far until Bittoo lands up at her place unannounced to deliver his DVD that he shot during the marriage. Mrinalini thinks that Bittoo has started stalking her and insults him. When she realises her fault, she decides to make it up to him by taking him to meet Aditya, the head of Sypsy channel to help Bittoo get a job there and a break in the industry. When the tv channel head abuses and insults Bittoo by calling him a Sadak Chaap  and a Do Kaudi ka tuchcha cameraman, Bittoo loses his nerve and engages in a heated argument with him and storms out of the office. What follows next is an ugly argument between Bittoo and Mrinalini where she challenges him to make money and become a bada aadmi.
Having heard enough, Bittoo decides to consider Vermaji's proposal of shooting 'billu films' which gives the movie a fresh start in the second half. Bittoo travels to Palika Bazaar and lands up in the honeymooner's paradise Simla, where he plants hidden cameras in hotel rooms hoping to record his first ever 'billu film'. He is assisted by Vicky (Ashok Pathak) who attaches himself as an apprentice and becomes a partner in crime. Vicky is mesmerized and overwhelmed by Bittoo's idea of shooting honeymoon videos and making money and decides to be his emissary.
Will Bittoo shoot a blue film and compromise on his moral grounds? Will he become a big man? The movie goes on to answer these questions in the second half.
Pulkit Samrat has made a promising debut with Bittoo Boss and his performance including the naach-gaana in the movie blends well with his looks. Amita Pathak has little scope to offer here but she does a decent job. What seems missing here is the chemistry betweeen Mrinalini and Bittoo. Pardon me for comparing this with Band Baaja Baarat, but even during their most romantic scene, their jodi does not seem to have that spark that Bittoo Sharma and Shruti Kakkar had in the 2010 box office hit.  Rajendra Sethi and Mohan Kapoor do well with the limited  scope they have. Without a shadow of a doubt, one person stealing the show is the debutant Ashok Pathak who plays the cabbie cum Bittoo's assistant in the latter part of the movie. The fellowship of Bittoo and Vicky is what tickled some funny bones and Ashok has ensured to have his name in the speed dials of some of the directors.
Debutant writer and director Supavitra Babul has paid a lot of attention to the intricacies has populated the screen with some fun-filled characters. His story has the potential for light situational comedy and at the same time intense drama. However, what lets the debutante director down is the screenplay written by himself and Gautam Mehra which is half baked. Certain series of events does bring a smile to the viewer's lips but the movie lacks in narration. The climax is boring and not convincing at all. The biggest turn off in this movie in my opinion is the lack of a suave narration.
Kumaar's lyrics are good but Raghav Sanchar's music is not something that strikes a chord with the audience and this being a wedding based movie, needed some hit songs. Amar Mohile has done a good job with the background score which was needed to maintain the tempo and the mood of a shaadi ka ghar. Manish Bhatt scores too with his cinematography and Abhishek Seth's output as a piece of editing was a fine one.
Final Verdict – Bittoo Boss is an earnest effort made by many debutants and is definitely a one-time watch but disappoints because of its half-baked script.