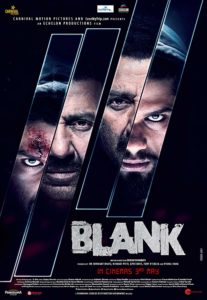 Sunny Deol and Karan Kapadia start in the newly released film Blank. This edge-of-the-seat thriller is sure to provide plenty of punch, not holding back in discussing the most important topic of this decade: terrorism. Even from the trailer there is plenty to like about this film, putting a human face on a societal issue. However, this is Karan Kapadia's introduction film so cinemagoers will be interested to see not only his action, drama and dialogues but his music and dance. Arko Pravo Mukherjee and Raghav Sachar come together to deliver an album that must both disappear behind the powerful story but find a platform for the young hero to shine upon.
Amit Mishra and Enbee open this album with the super hard-hitting Warning Nahi Dunga. This is an angry, powerful song to give the audience plenty of warning of what is to come. This song screams action and then stops calmly but abruptly to tell listeners "warning nahi dunga" in what is a great copy of Amitabh Bachchan's voice. Raghav Sachar has combined his jazz/pop stylings with the heavy rap influence that has come through post Gully Boy and found the right noise to prepare everyone for what is to come. A good opening to both the album and the film.
Ali Ali comes in two flavours in this album, one by B Praak and the other a special by Navraj Hans. B Praak's version is a desperate love song with the singer screaming to god for his love above an electric bass, tabla and synth beats. This is also a sajda which will undoubtedly be used for an Eid special given the film's proximity to Ramadan. Navraj Hans's version seems to be more of an item number, a video for which having been released on Youtube featuring Akshay Kumar alongside Karan. This is much lighter using an acoustic guitar but also hanging on the very chords of the singer's vocal strength. In both case an electric violin provides the bridges. Both are strong songs but both lack a seeming purpose, as both a love song or a sajda could and have been done differently over and over again. In trying to be both, this song treads a fine line…
"Himmat karja, aage barja, kabhi hua na, tu woh karja" is the motif line from the next song Himmat Karja. No doubt in anyone's mind that this under any other circumstance would have been a Sukhwinder Singh special but Arko has turned this into a darker, more muted but still powerful by using Romy. At only 2:15 it almost doesn't have enough time to really get going but it turns out there is enough time for 2 choruses and a verse in this scream fest. If anything, its short length is its saviour as it keeps the song from becoming repetitive which by the 2 minute mark it's already beginning to become.
The end of this album is Tujhme Hi Aag Baki. Romy gets another go as a dark Sukhwinder and in this case it makes a lot more sense. Firstly, this song being 3 minutes long allows for a complete use of the rondo form. In that time there is plenty of space to fit in the sadness and anger that the singer is given full chance to show off. While he sings, Romy only gets an acoustic guitar with synth beats being added to keep the sound interesting. It could be seen as repetitive, but to get across the feeling of this song that is actually a strength.
In introducing this album, it was clear that this would both need to be an album that supported a very strong story line but also gave the new actor a chance to shine. Since there are no dance numbers or random club songs in the album it might thus be surmised that the actor doesn't dance. Luckily we have the Youtube video of 'Ali Ali Navraj Hans' version to put that to rest. Otherwise there are some strong songs about love, sadness and anger which should give Karan a chance to show off his acting chops. From the story's perspective, the songs certainly take a back seat and from what is available on Youtube, it looks like they may even be background songs to a larger extent. If this is to be assumed to be the purpose of the album then this is a good album… but as a listener, are any of the songs going to stand out past the film's first viewing?