Two years after The Xpose, Himeshji has returned with a lot of hard work and extreme dedication to improving his physique, acting and (as always!) giving us stellar music! 'Teraa Surroor' is the second film of the 'Surroor' franchise. 'Aap Kaa Surroor' movie was a super hit at the Box Office in 2007. The songs from the first movie are all evergreen and are very much loved by each and every Reshammiyan (fans of Himeshji). Let's take a look and see the new musical gift that Himeshji has given us this time, with 'Teraa Surroor'.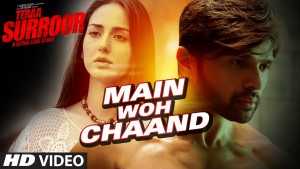 Main Woh Chaand
A romantic ballad, 'Main Woh Chaand', is about the aching and the longing moments of love. The song has been sung wonderfully by Darshan Raval with a small violin portion having vocals by Himeshji himself. The melody is soothingly beautiful and the piano rifts give a special touch. The song has lyrics by Sameer Anjaan ji. This was the first song to release from the album and it has already proved that it is a winner reaching over 4 million views at YouTube in just three weeks!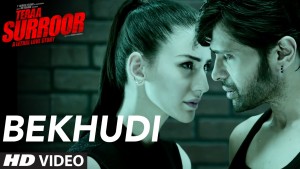 Bekhudi
Bekhudi is a song that focuses on the passionate side of love. A song that is based more around its wonderful rhthym, Bekhudi has again been sung by Darshan Raval and this time, he has Aditi Singh Sharma accompanying him on the vocals. This is an unusual vocal pairing, but it works very well. Aditi reminds me a lot of Sunidhi Chauhan in this particular song. Himeshji has truly crafted a masterpiece here!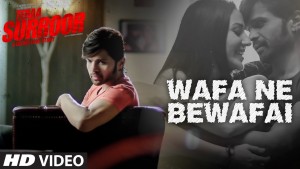 Wafaa Ne Bewafai
For me personally, Wafaa Ne Bewafai is a composition that is truly in the 'Namastey London' zone. It is a song that has been created with a lot of understanding, love and meaning. The song has vocals by Arijit Singh, Neeti Mohan & Suzanne D'Mello. One would have expected Himeshji to sing this one himself, but he has trusted Arijit to do the justice and he along with Neeti, have truly delivered a wonderful melody! Suzanne enters with the English portion and lifts the song immediately before the lyrics revert back to Hindi.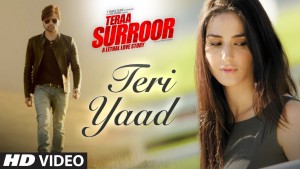 Teri Yaad ft Badshah/Reprise
Finally, here comes a track that everyone was waiting for – a chance to hear the 'old' Himeshji – the kind of sound that gave him his initial 36 hits and that officially sealed his stance as a singer – 'Teri Yaad'. There are two versions of the song, and I would say that the first is more of a remix rather than an original. I also did not mind Badshah's rap at all – he just reminded me of YoYo Honey Singh in 'The Xpose'! The reprise version of 'Teri Yaad' is truly beautiful, and while listening to the song, it certainly reminds you of Aashiq Banaya Aapne and a few other hits from Himeshji ('Tu Hi Rab Tu Hi Dua' (piano intro), 'Naam Hai Tera', 'Teraa Surroor'etc). I like to call 'Teri Yaad' a memoir of Himeshji's work in a love letter.
Adhuri Zindagi
'Adhuri Zindagi' is a rock ballad that has vocals by the winner of India's RAWstar Rituraj Mohanty. The song has soul searching lyrics written by Sameer ji and has amazing electrical guitar throughout played by guitarist Vivek Verma. Himeshji is known for incorporating a rock/soft rock sound into his music and this shows clearly with 'Adhuri Zindagi'. Rituraj has done a wonderful job and his voice reminds me a lot of the singer Shaan in many places.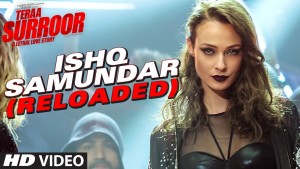 Ishq Samundar
'Ishq Samundar' is definitely the 'surprise song of the album'! It was originally composed by Anand Raj Anand for the film 'Kaante' (2000). Himeshji has added his magic touches to the song and baby doll Kanika Kapoor has added her freshness to it. 'Ishq Samundar' feels like a 'decoy' song in the film as Himeshji's character 'Raghu' continues to search for the truth in order to find his lady love 'Tara'.
There is no doubt about it, 'Teraa Surroor' is truly a fine album. My second favourite of 2016 (first being 'Sanam Teri Kasam'), and here at Girl at the Piano, I give the album 4.5/5. #HighlyRecommended