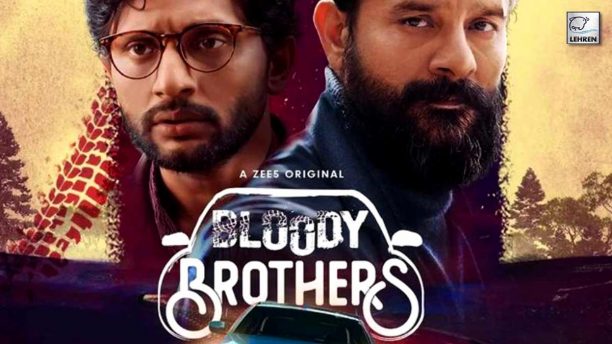 Bloody Brothers(Zee5)
Starring Jaideep Ahlawat, Mohd Zeeshan Ayyub, Tina Desai, Shruti Seth, Mugdha Godse, Maya Alagh, Satish Kaushik, Asrani
Directed by Shaad Ali
I never thought I would see the day when the lovely Maya Alagh would actually share screen space with Asrani, and that too in circumstances that are not quite….ummm…above board, shall we say?
Ms Alagh whom I've always found under-used, makes a comeback after ages as the wily Sheila Aunty, neighbour to an old lonely man played by Asrani (in a cameo) whom Sheila looks out for like all widowed aunties do. Or, so it seems. In the one sequence that they have together we can see some flirting and also some greed and covetousness creeping up onto the screen like a slithering snake slipping up a slumbering sleeve.
Ms Alagh is something else. So, in some ways, is this series. Adapted from BBC's Guilt, Bloody Brothers, produced by Applause Entertainment who lately scored a bull's eye with Rudra, is a slow-burn slyly satirical series. Nothing earthshaking happens here. There are no big revelations at the end. There is no attempt to shock us with punctuated drama.
But the characters are constantly surprising themselves, as much us. This is what powers the plot.
It's simple, really. Two brothers who haven't met for a long time, meet at a wedding attended by the who's-hoot , get drunk. While driving back one of them knocks down an old man. The feeling of remorse and redress that follows carries the characters and the story forward .
While the original BBC series relied on wry humour, director Shaad Ali and his writers (Siddharth Hirwe, Riya Poojary, Anuj Rajoria and Navnit Singh Raju) gather the goofy impulse into the circle of suspense so that nothing appears as serious or unsolvable as it seems.
Jaideep Ahlawat and Mohd Zeeshan Ayyub are two of the most celebrated products of the streaming revolution. Playing the Grover brothers, neither is able to induce any extra vigour to the proceedings. Yeah, they are both adequate – that's the least we expect from them—but nothing more than that.
The supporting cast is in it for fun. Tina Desai the web world's Priyanka Chopra, is mischievously wide-eyed and seductive. She is not what she seems. Neither is the series.
Shruti Seth, stuck in a placid marriage has a fling with Mugdha Godse. But the fling lacks the sting of Konkona Sen and Aditya Hydari Rao's lustful yet lyrical liaison in Geeli Puchchi.
Bloody Brothers is a bit of a sukhee puchchi. The humour is dry and the characters are wet blankets who don't know how to escape the mess they have created. Except of course Sheila Aunty who knows exactly what she is in it for. Not sure of Satish Kaushik, though, His sinister crimelord act, glistening head and all, dithers aimlessly between satire and something darker.
We never quite know what mood Bloody Brothers aims for. But it's fun to keep guessing.