Fans eagerly awaiting trailer of Vidya Balan's Bobby Jasoos and we have good news because we hear the promo will drop on May 27th! To hold you over we have some sneak peeks, a little scoop and some posters!
Bobby Jasoos is a film that celebrates the aspiration of Bobby, who wants to become the number one detective in the old city area of Hyderabad. The film is directed by Samar Shaikh, produced by Dia Mirza and Sahil Sangha under their banner Born Free Entertainment and is presented by Reliance Entertainment. The film also stars Ali Fazal, Kiran Kumar, Arjan Bajwa, Anupriya Goenka, Rajendra Gupta, Supriya Pathak, Benaf Dadachandji, Tanvi Azmi, Aakash Dahiya, Prasad Barve and Zarina Wahab. The film also boasts music by Shantanu Moitra and Swanand Kirkire. Bobby Jasoos releases on July 4th, 2014.
Talking to us about the film, the brilliant Vidya Balan said, "I never thought I would get to play the character of a lady detective. She is spunky!" We will have much more from her later for now we have to keep it on the down low so watch this space!
Talking about Vidya, producer Dia said in an earlier interview, "She was an obvious choice. She is a powerhouse performer who has been seen in such a space. Also there are several layers to the character – she's inquisitive, curious, intelligent an out-of-the-box thinker and quick on her feet and it just syncs so well with Vidya's personality."
Once on set, Dia said, "No one can do what Vidya Balan can do! With her nothing is impossible in a film."
She also had nothing but compliments for Supriya Pathak saying she 'is one of our amazing cast members #BobbyJasoos a phenomenal talent she is! She takes every scene beyond the written word.'
Check out the posters and a couple of on set shots
and maybe, though we can't confirm yet….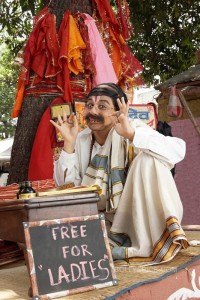 We will be bringing you more and you can bet we will bring you the trailer as soon as it hits!