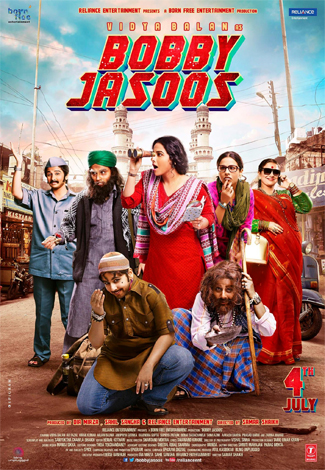 Bobby Jasoos is Born Free Entertainment's second offering after the romantic comedy Love Breakups Zindagi. The film is set in Hyderabad and stars Vidya Balan as an aspirational detective. Balan is supported by an impressive list of artists, comprising of Supriya Pathak (Ram-Leela), Arjan Bajwa (Fashion), Ali Fazal (3 Idiots and Fukrey) and Tanvi Azmi (Dushman).
The musical-lyrical duo of Shantanu Moitra and Swanand Kirkire (3 Idiots, Parineeta) are the helm of the soundtrack, which features the vocals of Neeraj Sridhar, Shreya Ghoshal and Papon ('Kyon' – Barfi) amongst others. It is a short fare comprising of 5 tracks, thankfully devoid of any mindless filler remixes.
The album commences with the celebratory Jashn, which is energetically rendered by Shreya Ghoshal and Bonnie Chakraborty. It is a fast paced track with a nice Southern vibe and decent lyrics from Kirkire. It feels like an introductory track for the film's heroine with the first half of the song describing her qualities and the second half focusing on the character's romantic track. The Carnatic arrangements and the use of Urdu aptly set the scene in Hyderabad. All in all, a fun number with ample scope to impress on screen if picturised with equal vibrancy.
Tu, without any doubts, is the crowning glory of the album. The duet features a contemporary waltz-like track crooned by Ghoshal with a classical track sung by Papon. The instrumental interludes are a beautiful fusion of both styles of music. The roles are reversed in the reprise and both singers are equally impressive in both versions. It is a delightful composition with elegantly penned lyrics and a soulful melody at its core.
B.O.B.B. is exactly what one expects from a theme song for a desi comic whodunit. Neeraj encapsulates the wacky ambiance created by Moitra's blend of carnatic and brass. Kirkire pens some chuckle-worthy lyrics (do not miss the references to Sherlock and Bond) and Neeraj has a lot of fun with this. That being said, it does not have a lot of repetitive value on its own. It is definitely a track that will flourish more so on the screen.
Sweety starts off well, even though it feels like Jashn's poor cousin. However, once the chorus kicks in, the mediocrity of the track becomes widely apparent. While it is a relatively decent composition, the lyrics are unimpressive.
Moitra has composed a tailor-made soundtrack for Bobby Jasoos that reflects the early glimpses of the film seen in its promos. It is fun, light and colorful. The Southern and Urdu elements featured in its music and lyrics give the tracks a real Hyderabadi vibe and the effort is truly commendable. However, the album is quite short and one hankers for more, especially after the two fantastic versions of Tu. Other than that, it is a decent listen.
Bobby Jasoos starts detecting at a cinema near you on 4 July 2014.