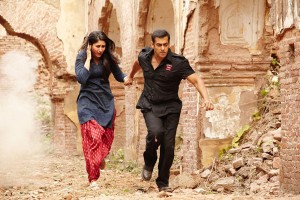 Atul Agnihotri and Reliance Entertainment produced Bodyguard conjured up a number of questions in one's mind before its release. Will the movie see Salman Khan hit the hat-trick at the box office? Will the Salman-Kareena jodi finally strike gold? Will the remake live up to its Malayalam original of the same name? Will Khan's topless trademark happen all over again? With only the last of the list being a given, it's right to say Bodyguard comes with many expectations from the audiences and an almost instilled hope that it will be as successful as Ready and Dabangg in its opening and beyond. Does Bodyguard live up to the hype and deliver yet another success on the occasion of Eid?
The story of the movie surrounds primarily the two characters of Lovely Singh (Salman Khan) and Divya (Kareena Kapoor). The two meet when Singh is appointed as Divya's bodyguard following news that her life is in danger. With prior gratitude and respect for Divya's father, Sartaj Rana (Raj Babbar), Singh puts Divya's safety at the forefront and follows her everywhere she goes in protection. Divya isn't approving of this and, oblivious to the threat to her life, attempts to distract him. She becomes "Chhaya" and makes him fall in love with her. It is only then that she gets to know the real reasoning behind Singh's actions, without revealing her identity. Divya becomes somewhat trapped upon knowing the truth and then follows the twisted tale of whether she should expose the extent of her pretence.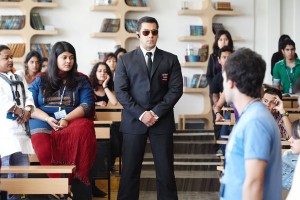 Bodyguard is or should have been, in effect, a simple love story but it's complicated by a number of things. Firstly, Divya's fake identity becomes a little less believable with every action "Chhaya" takes. As the story unravels, it's difficult to imagine that Singh can't recognise her and falls for her as if she is a separate person. This is perhaps the biggest drawback of the movie. Secondly, it seems Bodyguard takes the same line of character for Khan as Ready's Prem Kapoor. Although the two characters played by Khan are different as they are in different movies, there are some obvious similarities that perhaps the audiences may tire of in Bodyguard, the second time around.
The action sequences with the film are, once again, of a similar nature and feel as those in Dabangg and Ready. It seems film-makers and the like want to re-deliver the same "perfect" formula yet again in the avatar of Salman Khan. It remains to be seen whether the audiences take a liking to an act which, quite frankly, is a little bit tedious. Although a very Bollywood kind of masala comes from such action scenes, it's no wonder that sooner or later, the fans will want to see something a little varied. It remains to be seen whether an outcry for the varied comes with Bodyguard.
The music of the movie, undoubtedly, has become a hit almost instantly. Himesh Reshammiya has produced some hummable and immediately likeable tunes such as 'Teri Meri' and 'Desi Beat'. Pritam's 'I Love You', sung by the mega-talented Ash King, is also being liked by the audiences. The visual treatment of the songs is something to look out for with both 'Teri Meri' and 'Desi Beat' being portrayed very much like a stand-alone music video. This is a very different take on the way songs are picturised in Bollywood and might be something one sees more and more as time goes on.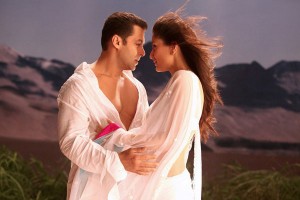 It has to be said that the two protagonists in the movie are performed very well by Khan and Kapoor. Arguably, this is more than likely the biggest hit the duo will give in their jodi so far. It would be hard to imagine anyone but Khan in the role of the sturdy professional Lovely Singh. Khan seems to have this sort of role down to a tee; vulnerable, subtly comic but yet strong and safe. Kapoor's rendition of Divya is praiseworthy and a particular mention should be given to her wardrobe in the movie, courtesy of Manish Malhotra. Her colourful, traditional but yet contemporary suits are full of elegance, complimenting her character immensely. A special mention should also be given to the very funny Rajat Rawail who plays Tsunami Singh, Sartaj Rana's employee and follower of Lovely Singh. His comedy scenes are fresh and the dialogues he was given did complete justice to light-hearted character.
Overall, Bodyguard is a film which, although fitting to the season and celebration of Eid, may find it hard to create and leave a mark with the audiences. It's a movie which will be known for its light-hearted scenes more than those with the dishoom-dishoom, if remembered at all. However, in a career like Khan's and Kapoor's, it's hard to say that it will be even the bat of an eye lid. Bodyguard is a watch for a day in which you're looking to de-stress with an unemotional and cheery story but if you're looking for real masala with not-previously-seen characters and scenes to match, this is one you'd be better off leaving at the bottom of the pile.