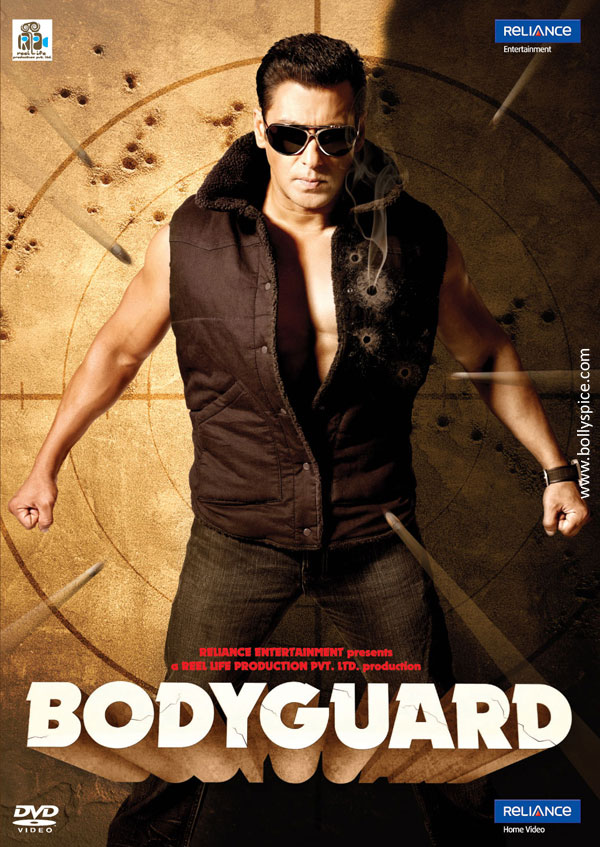 Reliance Home Video has released the supper hit action blockbuster of 2011, Bodyguard on Home Video. Viewers can now enjoy the film on DVD (Rs.299) and VCD (Rs.115).
Bodyguard is produced by Alvira Agnihotri, Atul Agnihotri & Reliance Entertainment and is written & directed by Siddique. It stars Salman Khan (Lovely Singh) and Kareena Kapoor (Divya Rana)
Bodyguard is a film that has broken many records upon its release. Within the first day of its release, it went on to become the highest opening day grosser breaking all earlier records. The movie collected Rs 1.05 billion in its first week, bettering performances from other super hits, Bodyguard has become the second highest grossing Bollywood film ever worldwide after 3 Idiots.
Bodyguard is the story of conflict- between innocence and mischief, love and power and life and death!
When it comes to being punctual and doing his duties perfectly, Lovely Singh is unmatchable. Summoned for an assignment of guarding Divya, the daughter of Sartaj Rana, a business tycoon Lovely Singh accompanies her to her campus, but ends up rubbing her the wrong way with his over-protective nature and paranoia about security. She finds him to be a major obstacle in leading a regular campus life.
To throw him off-track and get him out of the way, she comes up with a 'master-plan'- that of trapping him in a fake love affair. She becomes an anonymous admirer of his and starts hounding him, expressing her 'feelings' in no uncertain terms. Lovely Singh however proves to be a tough nut to crack. But once she succeeds in doing so, he transforms into a completely different person. But things take an unexpected turn when she learns a few things about Lovely Singh. And she soon finds herself trapped in a dilemma that she's unable to resolve! And with her, soon enough, Lovely Singh finds himself ensnared in a web of lies, trickery and deceit!
Sweta Agnihotri, COO of Reliance Home Video said, "Reliance Home Video is very proud to release the record breaking film Bodyguard on home video, a family entertainer with great action, songs & bonus features. We expect the home video of Bodyguard to continue its successful run on home video as well".
Bodyguard has received wonderful reviews from the media; here is what some of the critics have had to say:
"The best about Bodyguard is Salman Khan's endearing character; his performance; the mass-appealing action and comedy" – Komal Nahta, koimoi.com
"BODYGUARD works for varied reasons — it has a simple, but captivating story with a dramatic twist in the tale, the chemistry between the lead actors is perfect and the music is well juxtaposed in the narrative".– Taran Adarsh, bollywoodhungama.com
"No question it's going to make a lot of money at the box-office" – Rajeev Masand, IBN Live
Bodyguard Blu-ray, DVDs and VCDs are now available at all leading stores across the country.