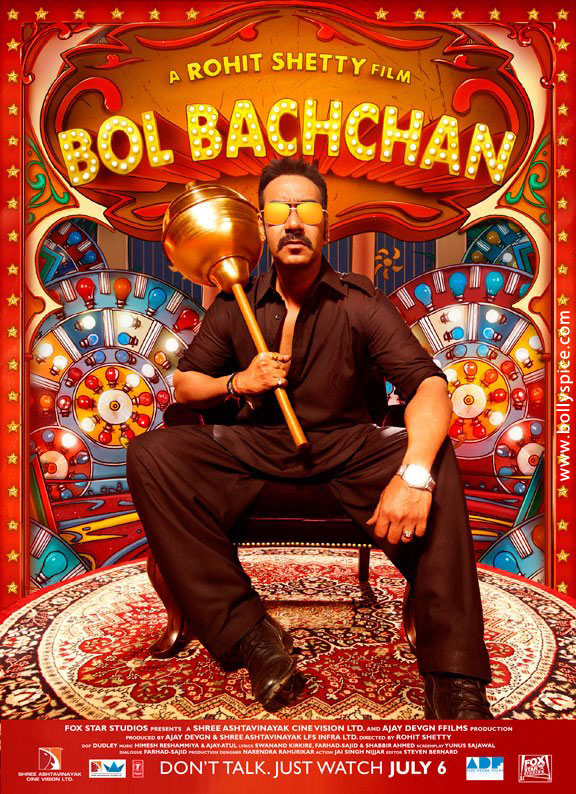 Yes it's a Himesh Reshammiya soundtrack – and he's back to turning his hand at composing, something he usually does very well. With a mere four tracks (and four remixes) the Bol Bachchan soundtrack is very brief. But is it any good?
The title track Bol Bachchan opens with some nonsensical dialogue, very reminiscent of the pseudo-scientific babble that memorably opens the Amitabh Bachchan classic My Name is Anthony Gonsalves, before launching into an upbeat, rhythmic, nearly hypnotic tune (it's an epic 6 minutes long!).  I'm not generally a fan of songs that have dialogue interspersed all the way through, but this track has a mellow groove and a catchy chorus, and the USP of the Bachchans (Amitabh and Abhishek) taking on the main burden of the vocals (with support from Ajay Devgn, Himesh Reshammiya, Mamta Sharma and Vineet Singh). If anyone stands out in this track, it's Big B, without a doubt, but to be honest, it's a lot more subdued than I was expecting, and seems like it will work a lot better (given all the dialogue) on the screen/after seeing the film.
Next up is Himesh in fine form dueting with Shreya Ghoshal on  Chalao Na Naino Se. A heavily rhythmic dhol based track, this is the most likely track on the album to get people up and moving and have mass appeal, with a kind of retro rustic vibe that has a slow burning appeal. Shreya's voice adds a lovely sweet contrast to Himesh's sometimes…divisive voice, with her verses lifting the song into another level. Himesh, for what it's worth, is pretty restrained on this track.
I had presumed Nach Le Nach Le was going to be an upbeat kind of poppy track but I was…totally wrong. This one is from guest composers Ajay-Atul and is apparently a  Hindi variation of their earlier Marathi hit Baygo Baygo. Opening with a kind of cheesy jazz sax intro, it rapidly turns into a kind of intense, emotional tango, with rapid-fire lyrics issued over the stormy backing (guitar, violin, dhol, piano) by Sukhwinder Singh, with interludes from Shreya Ghoshal. I'll be honest – I HATE the sax in this track, because I associate it with cheesy 90s easy listening jazz, but everything else works for me. It's intense and emotive and Shreya Ghoshal, again provides great contrast and relief on this track.
Final track Jab Se Dekhi Hai Mohit Chauhan handles with his usual vocal prowess – it's an intense emotional Sufi number– but I feel like I have heard this type of song before many times (on every Emraan Hashmi soundtrack I have reviewed)  – and there's nothing particularly special about this one. With such a short soundtrack, I was hoping for something more…innovative.
Dance remixes are included of each of the four songs on the album – in each case, the remix does exactly what a dance remix is designed to do: up the tempo, add some beats, in an effort to make the track 'dancefloor friendly'.  The most successful of these, to my ear, are the Nach Le Nach Le remix, which strips out the tango/latin stormy intensity and leaves the bare bones of the track – a "Ringa Ringa" feel with a slight electronic touch, and the title track, which benefits from a boost in tempo and bass to become a bit more lively and less meandering and mellow.
To be honest, I'm underwhelmed by this soundtrack. With only four tracks, and one contributed by guest composers, I hoped for something a little more exciting or innovative. But to be blunt – overall, this is just kind of a boring listen. The standout track is definitely Chalao Na Naino Se, but even that feels like something from a 90s film. It's not BAD, it's just not…WOW.