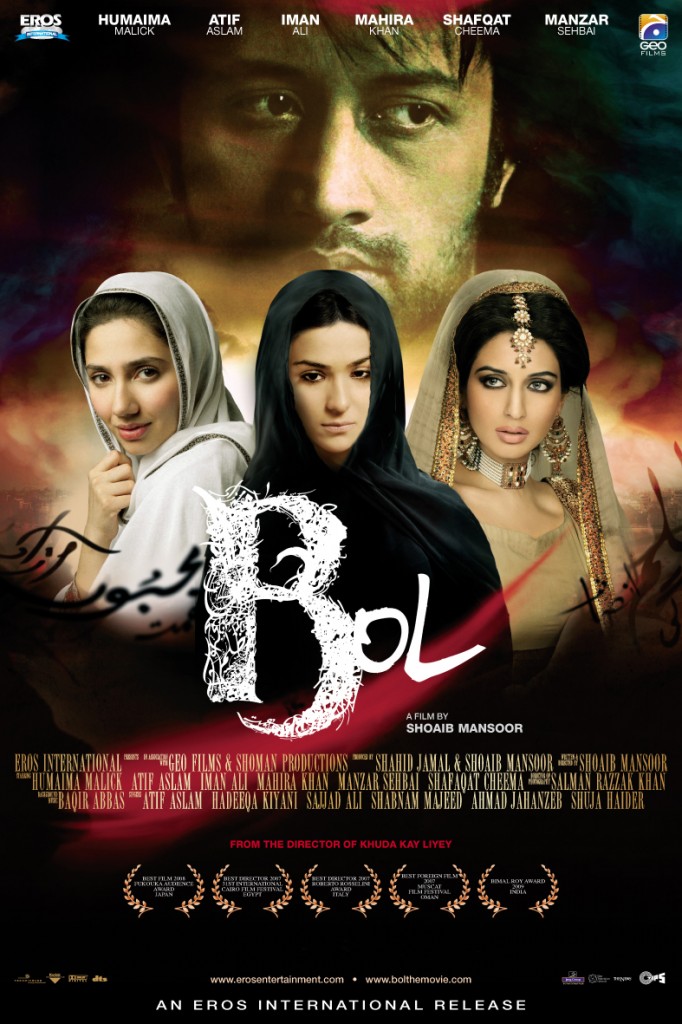 Back in 2007 a British-Pakistani friend strongly recommended the film Khuda Ke Liye, which she watched with us. Having never seen a Lollywood film before, I recall being impressed with the production values, acting, music and concept. Now years on with the export of so many great Pakistani singers to Bollywood (Adnan Sami, Rahat Fateh Ali Khan, Atif Aslam) it was only natural to be watching a film where I'd seen the director's first film and in which singer Atif Aslam makes his acting debut.
Bol (Speak up) is the second film written and directed by Shoaib Mansoor and has done extremely well in Pakistan. Like his first film, this is also a social commentary, which looks to reflect a slice of society, as well as challenge it.
Based in Lahore, it takes place in the house of a family of young girls and highlights the challenges and confrontations they have with their father, who continues to embody the contradictions of many religious values, which in turn accentuates the growing poverty, troubles and sufferings of the family.
The story focuses on Zainab, a daughter who always feels compelled by her logical reasoning and sense of justice to challenge the values her father holds dear. It's an emotional film, which looks at some serious issues through the experiences of its characters.
From a film making perspective it is technically sound, made with high production values, great cinematography and framing – showing the diverse shades of Lahore city, from it's Mughal architecture, to flashy shopping malls, to it's inner-city lanes, to the open air of the paddy fields and villages, to even it's red-light districts – throughout the film we witness some amazing shots.
Acting wise, if you're going to see this as an Atif Aslam movie, it's not. Which for me was actually quite refreshing, to choose not to have a big star take centre stage. Atif was portrayed as a regular middle-class guy, no heroisms or histrionics, a reserved performance, which whilst nothing to rave about, you could say that he did what was required of the role.
The real two stars of the film were Zainab (Humaima Malick) and her father Hakim Saab (Manzar Sehbai). A particular mention of the father, as he chronicled the emotions of a religiously timid character, to regressively patriarchal father and finally a menacing and hypocritical tyrant, convincingly and whilst making you loath him throughout the film.
I also have to make a special mention of the young actor who plays Zainab's younger brother and Shafqat Cheema who played the 'pimp'. While your heart went out to the brother, you couldn't help but laugh along with the dialogues and comic moments of the pimp.
Music wise, it was again refreshing to see songs woven into the storyline and not typically lip-synched or choreographed song sequences. There were some soulful numbers and while I enjoyed the first Atif Aslam song of the movie (Hona Tha Pyaar) – which was a slow love ballad, he made up for it with the second track (Kaho – Aaj Bol Do), which was more what we've come to expect from the rock star singer.
From a script perspective the original premise of the film was amazing, essentially a story of a father, Hakim Saab, who longs for a son after the birth of seven daughters, but is blessed with a eunuch. There then follows a story of Shafqat Cheema and his courtesan, who blackmail Hakim Saab to father a daughter with the courtesan, played by a beautiful Iman Ali, in exchange for money. Both were interesting concepts – but as stories, could have been told in either two separate films or better interwoven into one narrative, here we have one story begin as the other ends.
Also, throw in a catalogue of just about every social issue available: poverty, education, women's rights, pressures of child-bearing, dated interpretations of religion, inter-generational struggles, corruption, sectarian differences and it starts to make you think – was the director trying to get all his messages across in one go as he thought he wouldn't get the chance again?
What results is a complex and uneven narrative, in which not one single issue is explored deeply enough. If he'd done justice to just one single issue, it would still have managed to retain the bold and gripping objective the film was aiming to achieve. Story pacing (152mins) and narrative slightly lets it down for me. However, I wouldn't let this spoil what is still a very well made and honest film.
My conclusion: interesting and at times entertaining, but will test your emotions. A special mention to the beauty of the language used throughout the film and opportunity to see Lahore in its various manifestations. I'm all for supporting emerging cinema and believe in time we'll be watching more and more films coming out of Pakistan, so would definitely encourage those interested in watching more meaningful cinema with a social message to give this a shot.
Finally as the lovely host at Eros International said to me: it's better than Khuda Ke Liye – I would agree!