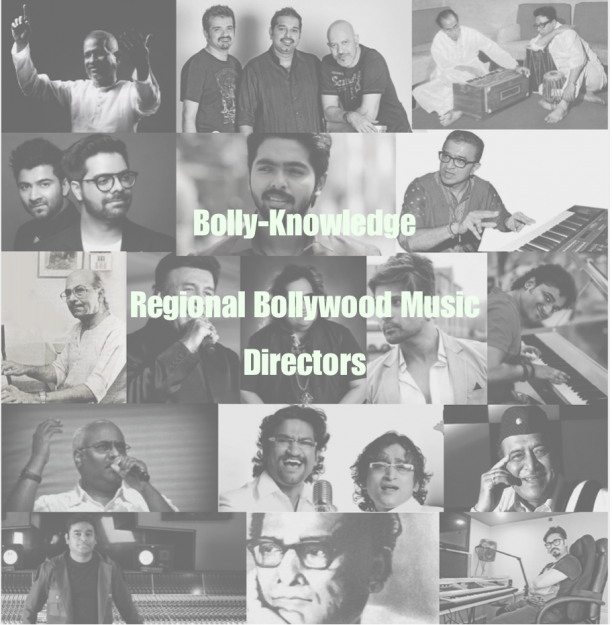 Wikipedia lists 230 music directors who have worked in Bollywood over its 89 years of sound and music. Every Bollywood watcher has fallen for one or many of their creations and unique styles. The big names are easy to recall: SD and RD Burman, AR Rahman, Shankar-JaiKishen, Laxmikant-Pyarelal and the list goes on. However, whether they are big or small names, whether they did 1 film or 100+, each one comes from the various states of India, with the aim of bringing a little of their own style and blending it in with what the public wants to hear. In this article, we aim to bring to light a few examples of the songs that some of the greats have written in another language and how it contrasts with what they do in Bollywood.
Sachin–Jigar
'Bey Yaar Tara Vina' (Bey Yaar)
'Nachan' (Angrezi Medium)
Sachin-Jigar have not been around that long but have certainly established themselves both with background scores and whole albums. They have shown they are not scared of changing up genres as needed, nor are they afraid of experimentation. Bey Yaar was their first full Gujarati album and the song I have chosen from this film was a sad version of the title song which translates as "My friend without you". Sachin sings this himself with great aplomb, bringing emotion where its needed but balancing with instruments so that the hard moments hit harder. Similarly, in Bollywood's Angrezi Medium, while they only did 1 song and it's a remake, the additions they have made give the song a new splendour, elevating it from a good song to one that makes you get up and dance.
M. M. Keeravani/M. M. Kreem
'Manohari' (Bahubali)
'Dheere Jalna' (Paheli)
The spellings may differ by language, but the person is the same. M. M. is an old hand in both north and south cinema, having concentrated on singing mostly in the north and composing in the south. That is not to say that he hasn't shown his composition mastery to Bollywood. Paheli as an SRK and Rani starrer, needed to have the best music and M.M. delivered both with voice and music. While Manohari is from the later superhit film Bahubali, both these songs highlight M.M.'s real skill: atmosphere. Dheere Jalna, is a favourite of many, its soft beats, gentle tabla, and sitar for flourishes, still asked so much of Sonu Nigam, but he fully delivered. Manohari is a dark item song and being multi-lingual you may recognise it as a Hindi song. However, I am using its original Telugu version as something about how the words and again that gentle background atmosphere set this song up perfectly.
A. R. Rahman
'Pookale' (I)
'Patakka Guddi' (Highway)
While Patakka Guddi as sung by AR Rahman was an extra to the film's album, it brought AR Rahman to a new height in Bollywood. Having grown up in Tamil cinema, under the tutelage of Ilaiyaraja, he has given us endless songs like Pookale from I, a beautiful, colourful monument to flowers. Haricharan and Shreya Ghosal sing over a light but feet tapping soundtrack while Vikram and Amy Jackson are a perfect front to the epic music and scenery. But Patakka Guddi was quite the opposite… firstly its Hindustani, rather than Carnatic. Then its on the back and inside of a shabby lorry, a traveller's song. But there is still that feet tapping rhythm that is used to drive this song forward.
Ajay−Atul
'Zingaat' (Sairat)
'Mere Naam Tu' (Zero)
You might think if you know both the Marathi song Zingaat or its Hindi remake and SRK's dwarfism phase in Zero that they would not have anything at all in common. Of course, they both come from the mind of master Marathi duo Ajay and Atul Gogavale. Zingaat is a loud, brash club-but-in-open-air hit, which will keep you dancing from start to end. The moves are not important, the beat is incessant, and the joy is obvious. While Mere Naam Tu, seems to be the complete opposite, with flutes and violins, legato versus the staccato of Zingaat, the thing they do share is a love for crescendo. In Zingaat, Ajay-Atul have been careful to find a second to rest before launching into the next section of the song and they follow this pattern through even in Mere Naam Tu, giving especially the chorus a real boost.
G. V. Prakash Kumar
'Yathe Yathe' (Aadukalam)
'Yeh Joker' (Joker)
The next two directors are both inspired by the Ilaiyaraja and A.R. Rahman schools and both are strong on "modern" (pop) music, often abandoning the long-held need in Indian cinema to fuse western and Indian styles together i.e. tabla and drums. GV Prakash is AR Rahman's nephew but don't let that fool you about his style. Yathe Yathe is a song about a country farmer in the city, with a growing love for Tapsee Panu. Everything about this is easy but doesn't lose sight of traditional sounds. GVP changes the tempo smoothly both repressing and exploding in emotion which he completes with his own voice. For Joker however, where loud is needed, the big drums come out, but he still manages such style as to lead the whole dance troupe to be wearing sunnies even in the dark of night. Again, the easy melody stands out above all.
Devi Sri Prasad
'Who's the Hero' (Man Madan Ambu)
'Naacho Re' (Jai Ho)
When you are a young Telugu-based music director and Kamal Hassan comes knocking for his latest Tamil film you do not say no. And there was good reason for Kamal Hassan to do so: DSP is cool like GVP, but never goes light, because he wants everyone to dance. In Who's the Hero, its more of a background song to one of Kamal's action scenes, but I would be surprised if your shoulders aren't moving by the end of the song. Nacho Re is the full blooming of this talent… an introduction song for Daisy Shah, this is nothing but dance out loud. And that too, there is no fear in going around the world looking for styles. There is even plenty of South Indian magic usually reserved for Allu Arjun or the like.
Amit Trivedi
'Kangaroo' (Highway)
'Yeh Fitoor Mera' (Fitoor)
Another for the Marathi line (although there is almost no language Amit Trivedi has not tried his hand at) is the legendary Amit Trivedi. In this Marathi film called Highway (no relation to the earlier Hindi film), this is a sort of title song, introducing all the players and giving just a taste of the mess to come. So, the song itself takes a bit of a back seat with a generic beat and rhythm. But just like Yeh Fitoor Mera, Amit Trivedi uses the melody to define the truth of this song. Yeh Fitoor Mera is little more than a guitar, violin, and drum kit, but its melody overrides every sense, dragging you into the onscreen story between Katrina and Aditya. Kangaroo also upbeats and downbeats just at the right points to keep the concentration on the video but not to forget that someone went to effort for the song.
Himesh Reshammiya
'Kallai Mattum' (Dhasaavataaram)
'Mann Ka Radio' (Album – Radio)
Himesh Reshammiya is one of the few to go the other way: from north to south. A Punjabi music director, he has had plenty of success in both pop and film music, starring in a few films along the way in both Hindi and Punjabi. I chose 2 of his sad songs, one about listening to the heart and the other about listening to your god. In both cases, Himesh finds his own truth in the sound. In Mann Ka Radio, he tunes a synth beat and violins behind his voice in an homage to Savage Garden. The driving rhythm forces positivity even when at your lowest, pushing back against all that works against you. Kallai Mattum is about feeling God in your soul as Kamal Hassan takes on the trials of a vindictive king, for the sake of his devotion to Narayan. Even just listening to the song, the power grows within.
Shankar–Ehsaan–Loy
'Abacha' (Konchem Ishtam Konchem Kashtam)
'Bol Na Halke Halke' (Jhoom Barabar Jhoom)
The names of Shankar Mahadevan, Ehsaan Noorani and Loy Mendosa are Bollywood's musical equivalent of Amar Akbar Anthony. Separately each is a great musician, composer, and singer and together they are the unstoppable SEL. 24 years in Bollywood and even more so in a variety of regional languages, they have brought their own brand without fear of experimentation. The two chosen songs are a perfect portrayal of this, Bol Na Halke Halke a near-classical love song as if yesteryear were today while the Telugu Abacha is the modern girl's fightback against the stereotypical rogue in song form. Both however display why SEL stand out whatever language they are playing with; their ability to get the best out of the singer(s). While the beat and the rhythm are never lost, the singer still gets centre stage and seemingly allowed to take the song to its highest.
Anu Malik
'Yelu Bannada' (Love)
'Main Hoon Na' (Main Hoon Na)
For those whose music generation is the 90s, Anu Malik is the name of that generation. He seemed to be music director on everything, including the first Hindi album that AR Rahman guest wrote 1 song for. But he still found time to explore in other languages like this Kannada song from Love. A straightforward enough premise with the song being based in the desert so of course it had an Arabic feel with Persian drums keeping the beat at the back, a violin and chorus backing the singers. Similarly, Main Hoon Na is perfect for its environment… college campus, concrete roads, and green fields… the permanent scent of modernity in the air. So, for the title song here, Anu Malik brought a proper drum kit and an acoustic guitar to back the magical voice of Sonu Nigam.
Jatin–Lalit
'Taawdo Title song' (Taawdo)
'Tune Mujhe Pechana Nahin' (Raju Chacha)
Jatin-Lalit are known to most as the composers of the DDLJ album, and then so many more of SRK's and Aamir's 90s and early 00s hits. Yet, their pedigree is so much higher even then the list of their awards. Nephews of Pandit Jasraj, they learnt piano and guitar from Pyarelal (yes, from Laxmikant-Pyarelal) and of course grew up on music under the tutelage of Pandit Pratap Narayan, their father. Like Himesh Reshammiya, these two took their skills homed in Bollywood to the regionals where they wrote the award winning Taawdo soundtrack, for which they won Rajasthan International Film Festival's 2017 Best Music Directors. Of all the songs I could have chosen, I have picked a favourite in Tune Mujhe Pechana Nahin, the lightest of love songs sung by Shaan against Taawdo's harsh biting title song sung by Lalit himself. In both, however, listen out for a shared rhythm, the power of which alone seems to keep the song moving without seeming to change much… they found movement in sameness.
Viju Shah
'O My Janu' (Aa Te Kevi Dunniya)
'Teri Dekh Dekh Ladkaiyan' (Asambhav)
Viju Shah is just like Jatin-Lalit, a music director of pedigree who took his Bollywood talents to his home state Gujarat. The son of Kalyanji (of Kalyanji-Anandji), his best known works are late 80s to late 90s, with names like Tridev, Mohra and Gupt and in that time he won 1 award but was nominated every year between 1992 and 1997 inclusive. He also did a few David Dhawan films over the years so its obvious his music was exceptionally good. In 2015, he took his talents to a Gujarati film Aa Te Kevi Dunniya from which I have chosen O My Janu and put it up against Teri Dekh Dekh Ladkaiyan from a lesser known album, 2004's Asambhav. Both are open love songs, both with surprising sad twists that certainly are not expected. For me, this is what Viju Shah brought… the sense that even melancholy could be made lighter in music.
Bappi Lahiri
'Uri Uri Baba' (Balidaan)
'Yaad Aa Raha Hai' (Disco Dancer)
Bappi Da will be known forever for bringing disco to Bollywood. While he did that by taking its fundamentals from the 70s Western music scene of Disco artists, he always found a specifically Indian way to do it. For his two songs, I found a Bengali song that Bappi Lahiri wrote for the film Balidaan. It has all the standards that you would expect of Bappi Lahiri and certainly you could not mistake it for anyone else's work. But in contrast to this, we have one of his greatest Bollywood hits in another great Bengali's work: Mithun Da in Disco Dancer. While Uri Uri Baba is a love song with disco lights, colour, and sound, Yaad Aa Raha Hai is sad, melancholic Disco Rock! "Kaha Hum Kaha Tum, Hue Tum Kaha Gum" versus "Tumi aami dekhe chi, tumi ami chai" and yet both live side-by-side in Discoland.
Bhupen Hazarika
'Ganga amar Maa' (Private)
'Dil Hoom Hoom Kare' (Rudaali)
"Ganga Amar Ma, Padma Amar Ma" sings out Bhupen Hazarika in flawless but nasal Bengali in this all-time classic for Bengalis everywhere. A traditional Bhatiali, as sung by and on seasides and rivers all around the Bay of Bengal, its minimal instrumentation with concentration on the singer always. Dil Hoom Hoom Kare from Rudaali is very much the same. 1991's film of the year was a tragic tale in the form of Carmen and this song is used as background music to represent another vocal heavy musical state in Rajasthan. The words may concentrate towards love, but there is more fear in them, in the way that the Bengali song holds nothing but reverence for the Ganga. What Bhupen Harazika brought over from Bengal was the beauty of a touching respect for all things feminine.
Ilayaraja
'Thenpandi Cheemayile' (Nayakan)
'Sha Sha Sha' (Shamitabh)
Having had AR Rahman, GV Prakash Kumar, and Devi Sri Prasad featured in a listing, it would be shameful to not include their master… the mesmerising Ilaiyaraja. The significance of his work spans decades in all languages but I have chosen a track that is significant even in the western world of cinema. Nayakan not only has 4 versions but also made to a TIME magazine all-time list before trending was cool. The track Thenpandi Cheemaiyile tugs at the heart strings as our hero gets the innocence of his youth beaten out of him physically and metaphorically. The sense of betrayal and suffering is even something spoof scenes take on eloquently. Meanwhile Sha Sha Mi Mi is at the other end of the spectrum emotionally, its glitz and glamour; models and brand names, all done in the smooth tones of an upbeat jazzy number, that is as timeless as Putting on the Ritz. Dhanush, Amitabh Bachchan and Akshara Haasan are not a bad fit either!
Rahul Dev Burman
'Mone Pore Rubi Rai' (Album)
'Rim Jhim Rim Jhim' (1942 A Love Story)
What is left to be said about RD Burman? Like his father, he came to Bollywood from a Bengali home and Bengali music and revolutionised the way Bollywood looks at music. But in nearly 35 years in Bollywood music direction, first as assistant to his father, then teaming up with fellow Bengali Kishore Kumar to take over the industry in the early 70s, he never seems to have lost his roots. Once again, I present two polar opposite songs, Mone Pore Rubi Rai a Bengali private album sung by himself for thousands of adoring Bengalis (which became Meri Bheegi Bheegi Si from Anamika) and one of the last songs he ever wrote Rim Jhim from 1942. The flute, santoor and light bongo all combine to give both hearts fluttering as well as the rain pouring down in Rim Jhim, while maracas, Spanish guitar and a harsher flute play to give the pain from the lyrics of an unrequited love. Still, both have commonality, which are absolute cornerstones of RD Burman's famous style: the bongo drums and the flourish instruments that have been re-used by so many of his followers.
Sachin Dev Burman
'Rangila Re' (Album)
'Dene Wala Jab Bhi Deta' (Funtoosh)
It should not be forgotten however that Kishore Kumar would not have survived in Bollywood if it had not been for RD Burman's father, the maestro SD Burman. After Naushad, he took over Bollywood being the only music director of the time to not be tied to a studio. He brought with him Lata Mangeshkar, who became a household name under him, but he never lost the passion to sing in his ever-nasal voice. Those who have watched his films, will of course remember his famous song in Bandini, but even before that, Rangila Re was a Bengali private album, that had the heart of Bengal. It is a traditional Bhatiali geet, a traveller's tune specific to the Bay of Bengal. It was this respect for tradition that he brought to Bollywood, even when in Dene Wala, he applies it to many different cultures around the world, the most striking of which was the Italian verse. Kishore Kumar was as ever masterful, but there is no doubt the maestro teed it up.
Salil Chowdhury
'O Mor Moyna Go' (Chayanika)
'Ae Mere Pyare Watan' (Kabuliwala)
Its easy to forget about Salil Chowdhury in between the towering pillars of his Bengali masters SD Burman and Hemant Mukherjee. But he would find his own way to stand out and bring to Bollywood Bengali singers. The Bengali song is backed heavily by an acoustic guitar played in the Spanish style, while Lata Mangeshkar gives one of her finest Bengali performances. Its easy and light feel is occasionally interrupted by a flute, cutting in to act as a flourish. Ae Mere Pyare Watan, may be based on Afghan tunes and rhythms but Manna Dey brings out every painful note which seems to reverberate off the Khyber Pass.
Hemanta Kumar Mukhopadhyay
'Aye Poth Jodi Na Shesh Hoi' (Saptapadi)
'Yeh Nayan Dare Dare' (Kohraa)
In all the previous cases, I have tried to look at two contrasting songs written and sometimes even sung by the same music director and shown how the regional has influenced the Bollywood track. But for the last set of these tracks, I have chosen two actually contrasting songs. Hemant Kumar or Hemanta Kumar Mukhopadhyay in the formal Bengali, sang and wrote his songs in both languages over the many years of his work in the industries. His voice is so iconic, that what Hemant Kumar brought over was his voice, a voice that backed Biswajit countless times in both languages, just as in both these examples. In both there is a silent but absolute superstar actress of the time, one Suchitra Sen in Bengali and the other Waheeda Rehman in Hindi. In both Biswajit's young looks take on a maturity his acting often seemed to lack, to give the lyrics that Hemant sang so much more weight if allowed to sink in. Even in something as simple as "What happens if the road never ends?" or "In love there is the world's happiness, but happiness is stolen by sad moments", Hemant Da finds a way to give each word gravitas.
As usual, this list is neither exhaustive nor complete. Each of the listed music directors did so many of their songs in another language, whether that was as a stepping-stone towards greatness, whether it was about re-finding their roots or whether it was to experiment with a sound. Hopefully, this list will act as a gateway for you to seek out regional songs and find a hidden gem in your world, maybe in your mother tongue.