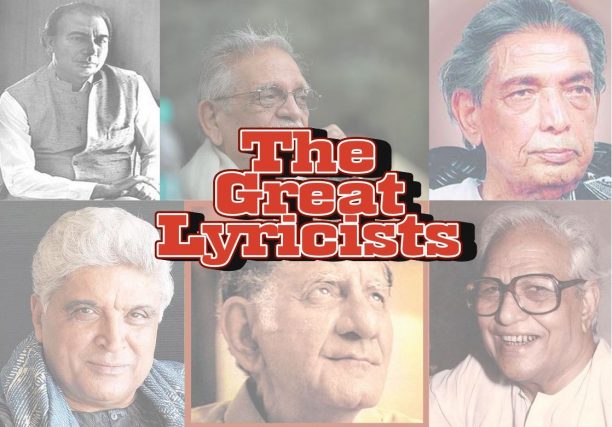 It is agreed by all that Bollywood is lights, colour and music. It's a little overacting, a little or sometimes a lot of dramatics, but most of all it sets itself apart by the power, emotionality and beauty conveyed in its music. For those who live for Bollywood's songs, it is a privilege to have it in our lives: to know that any feeling can be expressed with just the right formation of tune, singers and lyrics. The tune is formulated by a composer, the singers perform based on instruction and style but it all wraps around the lyrics. A lyricist is a poet and in Bollywood he/she is given great powers to make even the most club beat song into a heartbreaker. And with the current state of the world, we have a chance to pause and look back on some of Bollywood's greatest masters of this art, as below.
20. 'Pathar Ke Sanam' (Pathar Ke Sanam) – Majrooh Sultanpuri
Music: Laxmikant-Pyarelal Singer: Mohammad Rafi

One of the arts of the lyricist is to deliver lines for the moment. Whatever the music director or the script has in store, the singer's words must hit the right mood, the right atmosphere. Here a heartbroken Manoj Kumar sits at a piano in a party with people he is likely to know and sings a song for their entertainment but at the same time scowling at the woman who has broken his heart. Majrooh Sultanpuri does the job in the first line itself "Pathar ke sanam tujhe humne mohabbat ka khuda jana"… Stone-hearted lover, I thought you were the God of love. For the reasons as to why he can get away with this, you'd have to watch the whole film, but even as a listener, the words strike at the key point of heartbreak.
19. 'Main Pal Do Pal' (Kabhie Kabhie) – Sahir Ludhianvi
Music: Khyyam Singer: Mukesh

Sometimes the lyrics of a song override the song completely to the point that they must be delivered like Shakespeare's sonnets by the actor(s) in dialogue. The song is one of Mukesh's last songs, and one of the very few that he sang for Amitabh Bachchan. Khayyam as he so often did with songs, took his time and delivered a simple timeless tune that fitted only the voice of Mukesh and the face of Amitabh. Yet it is Sahir Ludhianvi's magic that means the words must be spoken before the song is sung, for without it, the song would be empty and meaningless.
18. 'Jaata Hai to Kahan' (Yes Boss) – Javed Akhtar
Music: Jatin-Lalit Singer: Abhijeet

While 'Pathar ke Sanam' needed to deliver hurt in a social gathering, Javed Akthar needed to convey an urgent need to change a situation rapidly devolving into trouble. Most importantly though, the message needed to be veiled more carefully so the fun question of "Why leave the party?" is the premise of the song's own story. A newly skilled dancing Shahrukh Khan trying to save Juhi Chawla from the grasps of his evil boss played by Aaditya Pancholi. Juhi, while slightly intoxicated, seems to take the bait, but doesn't understand the covert language of the piece. In the end a confession of love seems to drag her back to senses… "Us taraf laalchi nighahen hain, Is taraf mere dil ki rahe hain".
17. 'Aanewala Pal' (Golmaal) – Gulzar
Music: RD Burman Singer: Kishore Kumar

Before Golmaal was a smash hit franchise, 1978 brought the original comedy film Gol Maal with now director Amol Palekar. Kishore and Burman Da were their usual formidable team bringing a light and easy tune for a music teacher who wasn't about to break out on the dance floor but still wanted to make sure he made the most of the moment. Thus, it was for Gulzar, even by this stage a well-regarded lyricist, poet, writer, director and producer to confess love right in front of the girl's father in the guise of a music lesson. "Ek baar yun mili, masoom si kali" … "Waha dastan mili, lamha kahin nahin". Of course, the girl was already smitten but this seems to have sealed things on that side.
16. 'Dheere Jalna' (Paheli) – Gulzar
Music: MM Kreem Singer: Sonu Nigam, Shreya Ghosal

Another of the great lyricist arts is in naming a song and thus deciding its main theme. And like in the case of this song, in doing so Gulzar defined the whole song so elegantly as to make it a hit song for all involved. 'Dheere Jalna', or burn slowly, is the feeling in the pit of your stomach or the depths of your soul when nervous excitement takes over. Your heart beats faster, butterflies suddenly fly around in your stomach, but time slows down all around you. In just two words he conveys all this feeling in a way that makes the singer and the composer's job so easy with the rapidly changing tempos, a drum for the thumping and a tabla for the anticipation.
15. 'Jaate Ho' (Parvarish) – Majrooh Sultanpuri
Music: Laxmikant-Pyarelal Singer: Amit Kumar, Shailendra, Asha Bhosle, Aarti Mukherjee

So far, we've looked at some songs with dual purpose… on the surface they are light and airy tunes played by the lead actor in a social space but really, they are founded in anger and desperation. But Bollywood has always been able to create songs for any mood… so now a comedy suicide song. "Jaate ho jaane jaana, aakhri salaam lete jana. Humko waha na bul ana, aakhri salam lete jana". On paper this could be a sad loss of someone going to war, but, it's actually 2 girls faking suicide attempts to get their boyfriends onside. The lyrics continue the sad and desperate struggle of the girls to find love and choosing to leave this world, while the boys seeing through the ruse not only foil their attempts, but also to help where possible. A laugh at every corner with a lively accordion track to keep it light.
14. 'Dil Hi To Hai' (The Sky is Pink) – Javed Akhtar
Music: Pritam Singer: Arijit Singh

Farhan Akthar's films always seem to get the best out of Javed Akhtar and why not! The father-son are a great team and with Arijit Singh and a gospel choir, there really is nothing left to chance here. However, this song does expose another of the lyricist's great arts: simplicity in complexity. The song's opening is a flood of Urdu words even I had to look up, but after a minute of winding narrative the motif and chorus line "Dil Hi to Hai… Dil Dil Hai". Sometimes that's all it really takes for a song to settle into your heart. In this 90 seconds, Javed Akthar shows off both his skills as an Urdu poet as well as his understanding as a Hindi lover.
13. 'Gum Hai Kisike Pyar Mein' (Rampur Ka Laxman) – Majrooh Sultanpuri
Music: RD Burman Singer: Kishore Kumar, Lata Mangeshkar

Randhir Kapoor was the wild child of Raj Kapoor's three sons, doing dancing, singing, lover boy roles for a modern society that demanded more glitz and glam but didn't take away from Indian beliefs. In his films, his characters openly flirted with female leads but always within the bounds of acceptability. In this film, he needs to flirt with a young Rekha (in what was her first role in Bollywood) and so keeping in character this song is premised on him teaching her love through the medium of a poetry lesson. While in Aanewala Pal, Gulzar used time as a cover for obvious flirtation, Majrooh allows Ranbir to openly call out his love "Goom hai kisi ke pyar mein, dil subha shaam". But not to be underdone, Rekha is given the line "Rakhti hai kab se, chupa chupa ke, apne hoton mein, piya tera naam". There is equality, there is love on both sides, this is a feel good song with its own sense of slyness.
12. 'Main Shayar to Nahin' (Bobby) – Anand Bakshi
Music: Laxmikant-Pyarelal Singer: Shailendra

Arguably one of (if not best known) of the singer Shailendra this song may be well-remembered for its singing, its tune… that guitar… or the young Rishi Kapoor playing up to the dancing Aruna Irani while thinking of his only love Dimple Kapadia; but it is the words that put this song firmly in this list. "Mein Aashiq to nahin, jabse dekha main tujko mujko Aashiqui aageyi"… the lyrics work their way through poetry and love until "Mein dushman to nahin… dosti aageyi". And that's only the first half of the song.
11. 'Neele Gagan Ke Tale' (Humraaz) – Sahir Ludhianvi
Music: Ravi Singer: Mahendra Kapoor

"Aise hi jag mein aate hai subhe, aise hi shaam dhale"… India's hill stations are a mystical land of a forever beauty. This is Bollywood as travel video, with Sahir Ludhianvi not giving much in terms of lyrics but even in his efficiency shows all the beauty of a majestic land. Each line describes in the shortest possible form one particular aspect of the beauty of the scenery and how it comes together to make a wholly beautiful scene. "Nadiya ka pani, dariya se mil ke, sagar ki ood chale", says all that is needed to be said and yet even without the visuals this wonderworld can be imagined.
10. 'Tujhe Dekha To' (Dilwale Dulhania Le Jayenge) – Anand Bakshi
Music: Jatin-Lalit Singer: Kumar Sanu, Lata Mangeshkar

"Tujhe dekha … to yeh jaana … sanam, pyar hota hai … deewana, sanam" is a line that everyone who has ever seen a Bollywood film knows. It is a major highlight in the careers of Kumar Sanu, Shahrukh Khan and Kajol even though each has done several hundred other commendable things. Anyone who takes the name of DDLJ is bound to then follow with this line, from an album of great and superhit songs. You might say that this is in the skill of Kumar Sanu and Jatin-Lalit to deliver this line in such a memorable way. Or maybe that SRK and Kajol are such a perfect on-screen couple that it was bound to be unforgettable, but yet just listen to the words without the tune…"from the moment I saw you my love, I knew that love was meant to be crazy". It needs to be noted, however, there is another 4 minutes of these sorts of lyrics to be heard, if you can get past this first line…
9. 'Tum Itna Jo' (Arth) – Kaifi Azmi
Music: Jagjit Singh Singer: Jagjit Singh

Even in 1983, Jagjit Singh was on top of the ghazal charts and had written a couple of well-rated albums for Bollywood movies. However, for those who revere him, this is often the first song of his Bollywood career that is remembered. For those who aren't aware of his work, think of this as a sad version of 'Hosh Walon Ko' from Sarfarosh (starring Aamir Khan). Like all ghazals this song is all about the words, but maybe there was something extra here with father-daughter Kaifi and Shabana Azmi working together. "Rekhaon ka khel hai muqaddar, rekhaon se maat kha rahe ho".
8. 'Dum Maro Dum' (Haré Rama Haré Krishna) – Anand Bakshi
Music: RD Burman Singer: Asha Bhosle

This may be one of the most powerful songs of the 70s Bollywood era, representing the free love, free drugs and freedom of the Hare Rama Hare Krishna movement and thus an instant cult classic like something from Jimmy Hendrix. "Duniya ne humko diya kya, Duniya ne humse liya kya, Hum sab ki parva kare kyu, Sab ne hamara kiya kya" … in 4 lines of the first verse Anand Bakshi makes the case for the freedom of youth. "Ram ko samjho, Krishna ko jaano, preet ko samjho, oh mastano"… the next verse tries to bring the sense of knowledge. In 3 minutes, Anand Bakshi provides us with both sides of the perception of the movement and what its true aims were. In doing so, not only do we get one of the greatest Bollywood songs ever, but also a key pillar in understanding the story.
7. 'Ek Ladki Ko Dekha To' (1942) – Javed Akhtar
Music: RD Burman Singer: Kumar Sanu

While this song has certainly been replaced in a lot of hearts by its remake of 2019, which is in no doubt a great song, the original had a clear aim that everybody involved obviously understood well. Whether it was Anil Kapoor dancing around his bed and silken sheets, Kumar Sanu's stirring voice finding the exact undulations to sing the words or RD Burman giving us his final salute with a soft, sweet melody; no one aspect fell behind another in this song. But how exactly do you describe the feeling of meeting your first love? Javed Akhtar says "jaise subho ka roop, jaise sardi ki dhoop, jaise veena ki taan, jaise rango ki jaan" etc etc etc.
6. 'Yeh Shaam Mastani' (Kati Patang) – Anand Bakshi
Music: RD Burman Singer: Kishore Kumar

While this is often not rated amongst the greatest of Rajesh Khanna's illustrious songs, it's easy tuned guitar and light drum, mixed with Kishore Da's own special style make this song something special in all of Bollywood. Nevertheless, even with all this, it is in the words that this song, a remake of a Bengali song done by the same team, that give it its edge. "Mujhe dor koi kiche, teri ood liye jaye" and that's in the chorus. The lyrics are also constrained by the storyline in which Rajesh Khanna is trying to profess his love to Asha Parekh but can't because as a widow she is looked down upon. And yet masterfully, Anand Bakshi winds the tale to confession while sticking to the theme.
5. 'Jaane Who Kaise' (Pyassa) – Sahir Ludhianvi
Music: SD Burman, Singer: Hemant Kumar

In a film that had the lyric "Jala do, jala do, jala do yeh duniya, mere samne se hata lo yeh duniya", you wouldn't think that the best lyrics came from a sort of philosophical love song. But those lyrics are "Bichad gaya har saathi dekar pal do pal ka saath"… Every friend has left me giving me just a moment of friendship. While Rafi screamed out loud "Yeh duniya agar mil bhi jaye to kya hai!", this song asked Hemant Kumar to ask in song "Jaane Woh Kaise log the jinke pyar ko pyar mila?" In doing so, Sahir Ludhianvi given the film's theme a boost… Pyassa. And in the end is it not the question we have all asked at one point or another?
4. 'Kuch Dil Ne Kaha' (Anupama) – Kaifi Azmi
Music: Hemant Kumar Singer: Lata Mangeshkar

"Aisi bhi baatein hoti hai, Kuch dil ne kaha, kuch bhi nahin". It almost seems wrong to write any more on this… after all no one said anything. Bollywood again and again reminds us that songs are for all occasions, for all emotions and sometimes even just for yourself. "Leta hai dil angariya, is dil ko samjhaye koi"… Sharmila Tagore sings to herself as she travels through some tall grasses in a moment of rare freedom for an oppressed girl. Dharmendra listens on, looking for the source of such beautiful and sorrowful poetry, somehow chasing it with his eyes and heart.
3. 'Ghapala hai' (Hu Tu Tu) – Gulzar
Music: Vishal Bharadwaj Singer: Roop Kumar Rathod

Everyone knows India is the land of open corruption… get what you want done but pay up first. Just because this is known though, doesn't make it right. Gulzar in his film Hu Tu Tu starring Suniel Shetty, Tabu and Nana Patekar, asks the audience to have a look at their own lives. "Tin tin tare, log bechare…" brings a tear to the eye, while the familiar chant of "Hu tu Tu" from the kabbadi field sparks an anger for the fight. All done with the smile of a local. This is something Gulzar has not been afraid of doing for many years and so this is a great example of what he is just so good at.
2. 'Sajde' (Kill Dil) – Gulzar
Music: Shankar Ehsaan Loy Singer: Arijit Singh, Nihira Joshi Deshpande, Gulzar

"Ek khwab ne aakhen kholi hai, kya mod aaya hai kahani mein. Woh bheeg rahi hai barish mein, aur aag lagi hai pani me"… everything after that is just a trance. These lines delivered by Gulzar himself open a powerful rock love song, which is one of Arijit's finest, but even today it seems to disappear behind the master. This feels like the culmination of all his years in Bollywood, giving lines for the greatest of singers to sing and best of actors to play with. Then to level it up, in delivering the lines himself, he leaves an echo directly in the heart. And yet, any brain will ask so many questions, that even while the song progresses we are torn between heart and mind.
1. 'Waqt Ne Kiya' (Kaagaz Ke Phool) – Kaifi Azmi
Music: SD Burman Singer: Geeta Dutt

While Gulzar may take spots 2 and 3 on this list, because he is after all a master of Bollywood for over 50 years, the top spot couldn't go to anyone else but Kaifi Azmi for this, the final song of this list. In earlier songs, we've seen the arts of simplicity in complexity, mood but considering atmosphere and poetry before song, but only this song can for me embody all of these. While there is no initial poetry, even in between verses I can recite the coming lines as if they were part of an epic poem: "Jayenge kaha, such ta nahin. Chal pare magar, raasta nahin". While there is no complexity to the words, their meaning reaches into the very heart of Stephen Hawking's work: "Tum rahe na tum, hum rahe na hum". And finally, to mood, this is sombre in every way but "Waqt ne kiya, kya haseen sitam" will never make you cry.
These 20 songs are a personal list that show off not only why lyricists are so important to the making of that critical feature of Bollywood… the song, but also highlight its best exponents. Of course, this list can not begin to cover the width, depth or breadth of what Bollywood has offered or what it might offer going forward. But I hope that in these songs you will find the words to best express your current mood or will come in handy just when you are next lost for words.