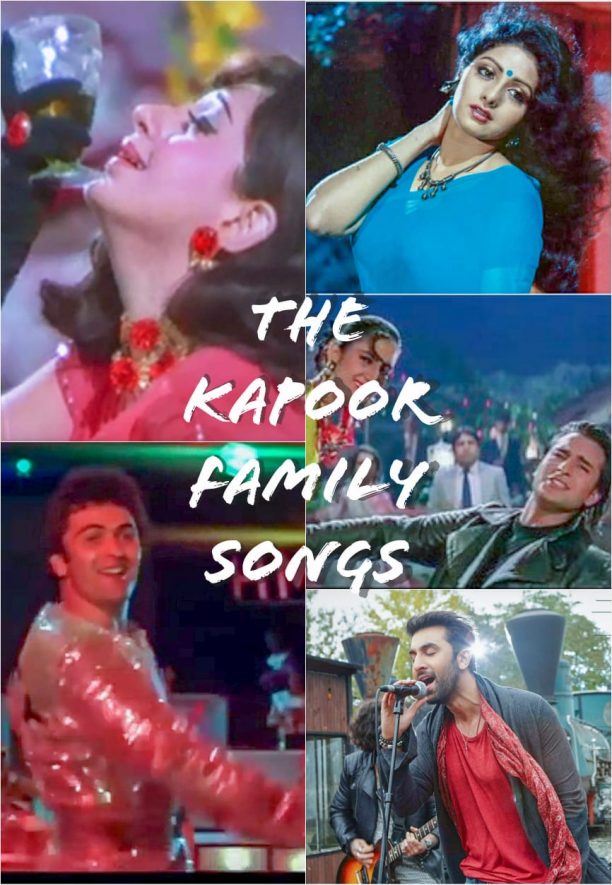 For almost as long as there has been Bollywood, there has been a Kapoor involved in a major way. The seemingly never-ending dynasty that has ruled Bollywood forever started with the greatest actor of his day Prithviraj Kapoor, was extended sideways by his distant cousin and long-time film producer Surinder Kapoor and continues to this day with such disparate names as Armaan Jain, Sara Ali Khan, Ranbir Kapoor and Sonam Kapoor Ahuja.
In between, there are no lack of star-studded names: Raj Kapoor, Boney Kapoor and Kareena Kapoor Khan (yes to name drop too). Each has evolved their own style in their own time and in doing so has moulded Bollywood around them in both big and small ways. Yet, what has always been constant has been the power that they have delivered to Bollywood music through the ages, each performance creating a legend. So here we look at the songs of the Kapoors and in doing so see the transformation of Bollywood through its years.
Raj Kapoor – 'Aasman Pe Hai Khuda' (Phir Subha Hogi)

Music: Khayyam, Singer: Mukesh
While the dynasty starts with Prithviraj Kapoor, he both was never the centrepiece of any song nor was he ever caught on camera lip synching… thus the list begins with his oldest son, Raj Kapoor. Raj Kapoor is known as so many things including India's Charlie Chaplin and as one of the greatest actors of all time. But whether is was Shree 420, Awara, Anari, Aag or Jaagte Raho, the music was a commonality. Mostly directed by Shankar Jaikishen and sung by Mukesh, he produced a lot of it under his own company banner RK Studios. This chosen song is directed by Khayyam, but I've chosen it specially because it was a pertinent song then and continues to be so today. As Raj Kapoor wasn't much of a dancer, there wasn't more than an easy walking beat and some 50s jazz to back it up, but the lyrics could hit home to anyone of any age e.g. "Ho rahi hai loot mar, phat rahe hai bamb".
Shammi Kapoor – 'Chahe Koi Mujhe' ( Junglee )

Music: Shankar-Jaikishen, Singer: Mohammad Rafi
"Yahoo! Yaaahooo!" came the cry from a man fallen madly in love for the actress at the bottom of the mountain. The mountain itself seemed to shake with the vibrations of Mohammad Rafi's iconic voice. This is indicative of Shammi Kapoor, the next of Prithviraj's sons but someone who was completely different to his older brother. Where we got Charlie Chaplin from Raj Kapoor, Shammi Kapoor lit up screens with dance, jazz and big band swing. The actresses were glamourous, his characters always larger than life. But never to be forgotten "mere seene mein bhi dil hai, hai mere bhi kuch armaan", he always found the way to be lovable.
Shashi Kapoor – 'Raat Baaqi' (Namak Halaal)

Music: Bappi Lahiri, Singers: Asha Bhosle, Bappi Lahiri and Shashi Kapoor
Where Raj Kapoor was the showman and Shammi Kapoor was the brash, young and daring, Shashi Kapoor as the youngest of the sons of Prithviraj took a more Shakespearean styling to his acting career. He also was not much of a dancer but still had many memorable songs with actresses between the late 50s and early 80s. Possibly he is most memorable as playing the strong silent type next to Amitabh Bachchan's angry young man, a version of which he performed 12 times with Amitabh. This song comes from one of these, a party number of sombre moods with Parveen Babi. I've chosen this one as he takes a speaking role to change-up the song in the middle, with Bappi Lahiri taking over from his dialogues to sing for him. His smooth voice delivery followed up by the power of Bappi's voice, shows exactly what Shashi Kapoor was about.
Randhir Kapoor – 'Jaane Jaan Dhoondta' (Yeh Jawaani Hai Deewani)

Music: RD Burman, Singers: Kishore Kumar, Asha Bhosle
By the late 60s RD Burman and Kishore Kumar had become the only names that mattered in Bollywood music circles. About this time came along Randhir Kapoor, the oldest of Raj Kapoor's sons, ready to take over the mantle of uncle Shammi. It was inevitable that these 3 should come together for Yeh Jawaani Hai Deewani, with Jaya Bachchan (at the time Bhaduri), to create some epic music. None stands out more so then my chosen song for this… a racy, haunting, beautiful love song sung between Kishore and Asha in the way it was meant to be. RD Burman used bongos and flute to keep the rhythm light but inescapable while each searched for the other in a forest of tall trees.
Babita Kapoor – 'Aao Huzur Tumko' (Kismat)

Music: OP Nayyar, Singer: Asha Bhosle
About the same time burst onto the scene the lady who would be Randhir's wife, Babita Hari Shivdasani. She was not afraid to take on roles of different kinds but in the end only had a 7-year stint in films, once having married into the Kapoor family. While she was a success in drama, romance and dance roles, it was Kal Aaj Aur Kal in which she acted with Randhir, Raj and Prithviraj that sealed her attachment to the Kapoors. Before this one though is what I believe to be her finest song from the film Kismat. She is both drunk at a party and still able to enjoy making her partner jealous by dancing with other men. The song itself sung by Asha Bhosle and written by OP Nayyar, doesn't match the scene very well but it has an irresistible sway that Babita works well into her dance and thus allows her to shine.
Rishi Kapoor – 'Om Shanti Om' (Karz)

Music: Laxmikant-Pyarelal, Singer: Kishore Kumar
"Tumne kabhi kisi se pyar kiya?!?" shouts the dancing star and second of Raj's sons, a famous name in Bollywood in his own right, Rishi Kapoor. Starting his career working in Raj Kapoor's autobiography Mera Naam Joker, he soon made a name for himself with the smashit Bobby, in which every song was a major hit. Fame just seemed to keep growing as Rishi became in time a superstar of the 70s and 80s. This song from Karz, where he plays as a rock star who gets entangled in a past life drama, is probably the most epic of all love songs. The advice is simple: If you're in love, sing Om Shanti Om. To do it on a spinning disc and Laxmikant-Pyarelal continuously increasing the tempo and orchestration, this is both love song and disco hit. Keep in mind that's a good 5 years ahead of Mithun's Disco Dancer.
Neetu Kapoor – 'Ek Main Aur Ek Tu' (Khel Khel Mein)

Music: RD Burman, Singers: Kishore Kumar, Asha Bhosle
Neetu Singh was Rishi Kapoor's fun-loving girlfriend and then wife for 12 of his films starting in 1975 with Khel Khel Mein. As this was the instigator of their relationship, I though I would use a song from it. RD Burman and Kishore Kapoor were back together for the music so it's of course a hard choice but probably the most well-known song from this film was the one I went with. Asha Bhosle joins to give Neetu's voice, in what is a simple tune and simple beat… just enough to dance to but not one of heavy instrumentation for this wooded scene. Short skirt matched with knee-high boots were in fashion at the time, but Neetu's signature ponytails made her different from all others.
Anil Kapoor – 'Ramta Jogi' (Taal)

Music: AR Rahman, Singers: Sukhwinder Singh, Alka Yagnik
Having started with a cameo in Amitabh Bachchan, Shammi Kapoor and Dilip Kumar starrer Shakti, the 1982 Film of the Year, Anil Kapoor's career never looked like going backwards. While he has moved from hero roles to playing villains and now fathers, he still manages to have a vibrance about him that made him one of the superstars of the 90s. He has aged gracefully but at the same time found success throughout. I've chosen this song from Taal as it's both the intensity of his on-screen work as well as his inability to do more than 5 moves. AR Rahman used Sukhwinder Singh perfectly here and Alka Yagnik singing for Aishwariya Rai Bachchan gave a great vocal counterpoint, both teasing and beautiful in the same breath.
Sri Devi Kapoor – 'Kate Nahin Kat Te' (Mr India)

Music: Laxmikant-Pyarelal, Singer: Kishore Kumar, Alisha Chinai
While she acted primarily in Bollywood films with Anil Kapoor, with many predicting their marriage, Sri Devi eventually married his older brother Boney Kapoor, producer extraordinaire. Yet, the 80s and 90s are littered with hit films between Anil and Sri Devi, none that seem to stand out more than Mr. India. A sci-fi, action "thriller", the songs were on another level… even the parody song that mashed up old tunes with new words is such a laugh a minute as to leave anyone in stitches. But how do you make love to the invisible man? Watch this clip to see how Sri Devi masterfully dances a romantic scene, sung by Kishore Kumar and Alisha Chinai. This song set the template for many to come in the following decade. Laxmikant-Pyarelal didn't do much instrumentation but made it beat like 2 hearts entwined.
Sanjay Kapoor – 'Kahti Hai Mangani Ki' (Koi Mere Dil se Pooche)

Music: Rajesh Roshan, Singers: Kavita Krishnamurthy, Sonu Nigam
This starts out as a nice soft engagement song, as Aftab and Esha exchange rings with both parents' consent and love behind them. Then the lights go out and the villain arrives. This is Sanjay Kapoor, a hero turned villain whose short career as an actor had a lot of high points in the song department but not much for his acting skills. The original of 2018's Dilbar (as danced by Nora Fatehi) is an alluring song between him and Sushmita Sen in Sirf Tum and his first big song hit was with Madhuri Dixit in Raja. For me, this song though says it all for Sanjay Kapoor. Firstly, the villain needs a song when he looks that good in an all-black suit! Secondly, he ruins a sweet, soft, slow traditional song by Kavita Krishnamurthy with a loud dance number starring Sonu Nigam. And thirdly, the lyrics are both distressing to the girl's side and perfect for the moment on the boy's side, who join in.
Saif Ali Khan – 'Ole Ole' (Yeh Dillagi)

Music: Dilip-Sameer Sen, Singer: Abhijeet
While this has been redone recently for 2020's Jawaani Jaaneman, this is the original Saif Ali Khan song. Saif joins the Kapoors by virtue of marriage to Kareena Kapoor Khan who comes into this list a little later. A flirt from start to end, he's enjoying himself in the company of many beautiful women at a lively garden party in the middle of which has broken out a disco. Abhijeet is an amazing singer for Dilip-Sameer in this YRF production. The calypso beat and steamy lyrics allow for Saif to be loud, brash and introduce himself as his own star. While he did this film with long time co-star Akshay Kumar, this is the first one in which he seems to have stepped out of Akshay's shadow.
Karishma Kapoor – 'Bohot Khoobsurat' (Shikari)

Music: Aadesh Shrivastava, Singer: Kumar Sanu
Karishma is the oldest of Randhir and Babita's daughters and for most people her career will be partnering Govinda in countless David Dhawan hits of the 90s. It will thus also be filled with modern and stylish looks in short skirts and dresses, running around in a sort of Goldie Hawn style role. For me though, 1999 allowed me to watch these two fine actors do something a bit more serious in Shikari, but more importantly gave me this song. Govinda plays secret admirer to Karishma as they go from location to location while he spies on her from a distance. Think SRK in Darr meets Randhir's Jaane Jaa Dhoondtha from earlier. Karishma while remaining fashionable, looks more personable and the lyrics write her up as a goddess as sung by Kumar Sanu.
Kareena Kapoor Khan – 'O Re Kanchi' (Asoka)

Music: Anu Malik, Singers: Shaan, Alka Yagnik
Kareena Kapoor Khan came into Bollywood with Refugee, a film with Abhisekh Bachchan where her acting skills were applauded to no end. However, as she transitioned in, while Karishma transitioned out, there were more and more comparisons between the sisters and Kareena's style seemed to become more Karishma and more so. In Asoka she played Shah Rukh Khan's love interest and warrior princess of rival kingdom, thus being able to show off but also give a powerful performance. My chosen song is a sort of introduction song / item song in which she and SRK show off a little movement in a village rest stop as she attempts to "seduce" him. It's a fun song sung beautifully by Shaan and Alka Yagnik, with Kareena showing enough tattooed skin but also remembering her position. This would be a template she and many other actresses used for a lot of film songs in the years that followed.
Ranbir Kapoor – 'Bulleya' (Ae Dil Hai Mushkil)

Music: Pritam, Singer: Amit Mishra, Shilpa Rao
Ranbir is today's megastar… everything he touches turns to gold and people watch just because it has his name on it. The son of Rishi and Neetu, he's been in the industry since 2007 and has already won 6 Filmfare awards. He's never been afraid to take on quirky stories and it never feels like he didn't give every scene 110%. Ae Dil Hai Muskhil was another of these triumphs, having spawned in the mind of Karan Johar, and like so many of YRF and Dharma Productions, gave an amazing soundtrack. I choose to highlight Bulleya from this, purely because it seems to me to show Ranbir's magic: the song's lyrics are Pathani in origin, but his face says it all and makes it easy to understand. "Mere ruha ka parinda phar phar aaye" isn't a line that most will understand, but watching Ranbir perform it, its just obvious.
Arjun Kapoor – 'Locha E Ulfat' (2 States)

Music: Shankar Ehsaan Loy, Singer: Benny Dayal
First son of Boney Kapoor and stepson to Sri Devi, Arjun Kapoor has associated with two types of films: outrageous comedies and sharp hard-hitting dramas. Yet, he doesn't back away from roles where he is both central character and one of the team. In all of them nevertheless, there is always plenty of good music to be had. I've chosen this song from 2 States, personally because it's my favourite Arjun Kapoor song and because he shows something a lot of actors are copying today which is the use of little movements to do big things. Look out for the shot just in the first chorus where he's dancing the centre of a group, but the camera just needs to focus on him from the shoulders and up. Benny Dayal is a lively singer for these movements and keep the song bubbling along at a good pace too.
Sonam Kapoor Ahuja – 'Delhi 6' (Delhi 6)

Music: AR Rahman, Singer: Blaaze, Benny, Tanvi, Viviane, Claire
Anil Kapoor's daughter is in her own right a leading lady in today's Bollywood. Her start alongside Ranbir in 2007's Sanjay Leela Bhansali flop Saawariya, allowed her to shine alongside her distant relative and achieve recognition in her own space. From this she has of course gone on to star in many hit films, most controversially as the lead character in Ek Ladki Ko Dekha To Aisa Laga with her dad playing the role of her on screen father. I've chosen a background song, being the lead track of the film Delhi 6, which she played alongside Abhishek Bachchan because since she was listening to the whole song in her portable player, it allowed her to express openly her joys and tragedies having grown up as a modern woman in the nation's capital.
While this ends the list, honorable mentions should be made to the new and upcoming Kapoors in Bollywood:
Armaan Jain (Lekar Hum Deewana Dil), son of Raj Kapoor's second daughter Rima Jain
Aadar Jain (Qaidi Band), younger son of Rima Jain
Harshvardhan Kapoor (Mirzya), son of Anil Kapoor
Janhvi Kapoor (Dhadak), daughter of Boney Kapoor and Sri Devi
It is inevitable in time that they will leave their own mark on Bollywood but so far have only done one film each so haven't had the chance.
Whether one looks at the output of Raj Kapoor or his brothers, or today's greats Ranbir, Arjun and Sonam, each has stamped their personality on Bollywood, defining not just what is acceptable storyline or acting wise, but most importantly defining how music is seen, danced and heard by audiences of Bollywood cinema. Raj Kapoor only had black and white for many of his roles, so he didn't do bright colours and garish movements… he kept it simple. Ranbir today wears super stylish outfits and dances with a professional's accuracy and timing. Babita and Neetu played their roles behind their men, as that was accepted in that time, but shone out in songs, whereas Sonam today is a strong player in both acting and dancing often taking the spotlight away from male co-stars. Wherever the Kapoors are, that's the way Bollywood is trending.