Now, we all know that Bollywood is magical. Bollywood is the place where a simple gaze can make hearts meet, hearts break or hearts to mend. It is the world where magnificent love stories unfold, keeping Cupid occupied not just on Valentine's day but 365 days a year!
Food and love go hand in hand. As the saying goes – "The way to a (wo) man's heart is through the stomach."
This Valentines, we bring you BollySpice's favourite BOLLYDELICIOUS moments.
We explore our favourite "food" related scenes and share our opinions on how Bollydelicious – or not! – these scenes are.
Whether you are a fan of gol gappas, cake or green chillis, perhaps you have found another way to woo your beloved!
Happy Valentines from the BollySpice team!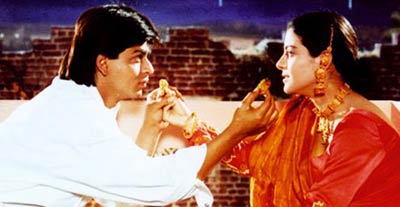 Dilwale Dulhaniya Le Jayenge (Director: Aditya Chopra; 1995)
FOOD: Karva Chauth Thali (A delicious plate of vegetarian food)
SCENE: Simran is annoyed at Raj for not meeting her immediately after the Karva Chauth ceremony – the celebration of love where the wife fasts all day and prays for their beloved's long life. When Raj finally makes it to their secret meeting place, Simran taunts him for not caring that she has fasted the entire day whilst he has been feasting on extravagant meals. Her sister, Chutki, reveals that just like Simran, Raj has not had a bite to eat all day either.
Whilst they both feed each other the special meal, Simran's mother sees them and realises that they are in love.
BOLLYDELICIOUS FACTOR:
This scene shows Raj's unconditional love for his Simran and that he is willing to always put her first – although she may not always think so! This scene is also pivotal to the film as Simran's mother supports and even encourages the couple to elope. Raj assures Simran's mother that he will take Simran away- but only after winning the hearts and approval of the entire family.
RATING: 5/5
Through fasting with Simran, Raj highlights that a relationship should always be equal. Raj's belief in their love emphasises that true love always wins and can face any obstacle.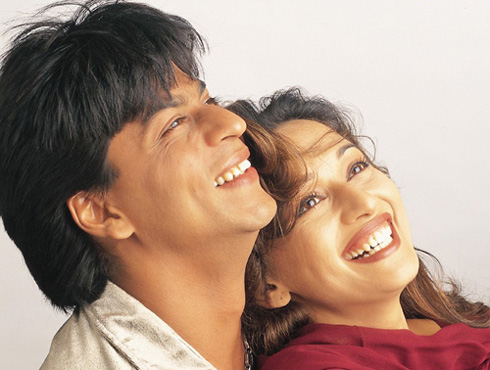 Dil To Pagal Hai (Director: Yash Chopra; 1997)
FOOD: Cake and Sandwiches
SCENE: The cake package gets mixed up with the sandwich platter. Rahul (SRK) delivers the cake to the rightful home and whistles a tune that Pooja (Madhuri Dixit) recognises from a previous day when they had almost met – although they do not meet in person yet, the food incident is another build up to the actual meeting and eventually, falling in love.
BOLLYDELICIOUS FACTOR:
This scene sends goose bumps all over as it builds anticipation for the moment that these two soul mates will eventually meet – not to mention the moment that they will eventually realise that they are in love!
RATING: 4/5
Also highlighted through the scene is that destiny and love are powerful forces that can never be stopped in their course.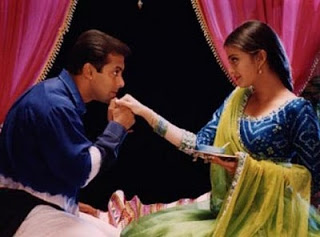 Hum Dil De Chuke Sanam (Director: Sanjay Leela-Bhansali; 1999)
FOOD: Chillies and Sugar
SCENE: Nandini (Aishwariya Rai) taunts and challenges Samir (Salman Khan) to eat some raw, green chillies at a family meal. Humiliated and angry, Samir eats the fiery chillies and leaves the table. Nandini follows him and attempts to feed him a spoonful of sugar. Stubbornly pushing her hand away 5 times, Samir finally accepts. This is the beginning of the couple shedding away their stubbornness and expressing their love openly to one another.
BOLLYDELICIOUS FACTOR:
This is the beginning of the couple shedding away their stubbornness and expressing their love openly to one another. The atmosphere is charged up with intensity from the chilly challenge to the sweet apology. The cinematography as well as the emotions are beautifully portrayed during the sugar feeding moment.
RATING: 4/5
This scene portrays that although love can be challenging, it can also turn out sweet in the end – as well as pointing out the importance of apologising in a relationship when things go wrong!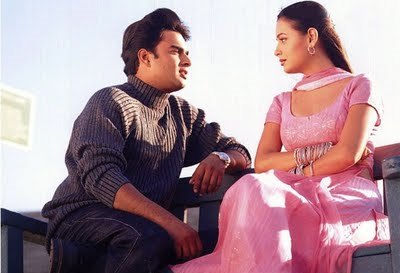 Rehna Hai Tere Dil Main (Director: Gautham Menon; 2001)
FOOD: Chicken
SCENE: The testing date! Where Maddy (Madhavan), a pure vegetarian, pretends to love eating chicken when he is on a date with Reena (Dia Mirza) under a false identity. He is disgusted by the meat but is too keen to impress her – only to find out that she is after all… a vegetarian!
BOLLYDELICIOUS FACTOR:
The message is clearly to be yourself – true love would accept you for all you are, the way you are. The complications between the couple are fuelled by Maddy's initial dishonesty.
RATING: 2/5
Although Maddy is willing to go to any lengths to win Reena's heart, shouldn't he have been himself in the first place? … Not impressed!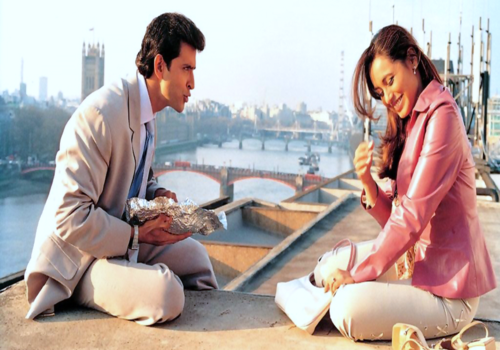 Mujhse Dosti Karoge! (Director: Kunal Kohli; 2002)
FOOD: Gobi Ke Paranthe
SCENE: When Raj is in London and smells the fragrance of Gobi Ke Paranthe in his office, and is wondering where it's coming from, only to find out that Pooja, who is secretly in love with him, has got them for him as he loves them.
BOLLYDELCIOUS FACTOR:
Nothing is better than having someone take care of your likes and dislikes and treating you with the same. And when it is your favourite food, it's the best feeling in the world. Well, at least for me!
RATING: 3/5
It's pretty romantic when you do things for the one you love. Even though Raj was unaware of Pooja's feelings for him, she still got him his favourite paraathe and he enjoyed them thoroughly. Pooja's care and understanding eventually made Raj fall for her.
Jodhaa Akbar (Director: Ashutosh Gowariker; 2008)
FOOD: Potentially poisoned royal feast
SCENE: Despite being the empress, Jodhaa (Aishwarya Rai) cooks food for Akbar (Hrithik Roshan) and his guests. Although the emperor is upset because the event was organized in her honour, Jodhaa assures that she is happy to cook for him. Visibly annoyed by the bond developing between the couple, Maham Anga, Akbar's wet nurse, reminds the emperor that according to the law all food given to him must be tasted by the cook in order to prove that it is not poisoned. Although it is a clear sign of mistrust and a humiliation, Jodhaa agrees and tastes all the food. Akbar is so impressed by her dignity that when it is his turn to eat he requests to use the same plates that she used.
BOLLYDELICIOUS FACTOR:
Akbar and Jodhaa's marriage is a political alliance, for what Jodhaa feels resentful and initially rejects her husband. But she soon realises that despite the differences of culture and religion between them, Akbar is an honest man that respects and cares for her. This scene is significant because it is the first time that Jodhaa openly shows affection for him. Although their relationship goes through many ups and downs, this is the real beginning of their love story. You only need to see how they look at each other!
RATING: 3/5
Although Akbar's gesture at the end is admirable, he could have insisted that it was not necessary for Jodhaa to taste the food. Although it may be the law, he is the emperor after all!
Rab Ne Bana Di Jodi (Director: Aditya Chopra; 2008)
FOOD: Gol Gappas
SCENE: Taani (Anushka Sharma) and Suri (Shahrukh Khan), disguised as Raj, engage in a gol gappa competition to celebrate that they have been shortlisted for a dance competition. Suri wins after eating a huge amount of gol gappas. Back home and feeling full, Taani welcomes him with a giant bowl of biryani that she has cooked for him. Unable to reject the food as she would think that he does not like it, Suri is obliged to eat, leading to the worst indigestion ever seen in a Bollywood film!
BOLLYDELICIOUS FACTOR:
This scene may seem not important, but it marks a turning point in the story. Suri is deeply in love with Taani and is capable of doing anything in order to see her happy, even disguising as carefree Raj and joining a dance competition! As Taani's friendship with Raj evolves, her feelings for Suri become confusing, so she will have to examine her heart in order to find out who is her true jodi. And of course it is very funny to see Raj and Taani's faces while eating gol gappas!
RATING: 4/5
Suri's love is pure and honest. He may be tricking Taani by approaching her as Raj, but his only aim is to get to know her. Who does not want to be loved like this?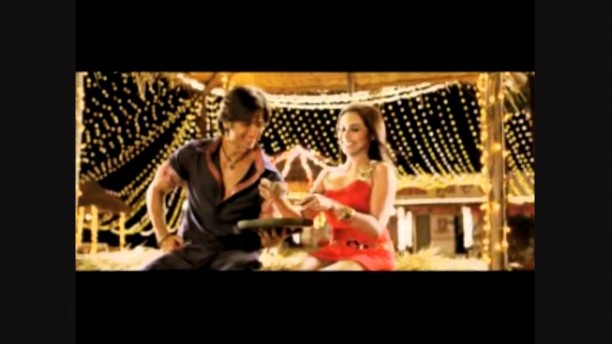 Dil Bole Hadippa! (Director: Anurag Singh; 2009)
FOOD: Jalebi and Rabri
SCENE: Rohan asks Veera out on a date and plans a special evening for her. Meanwhile Veera, keen on impressing Rohan, dresses up in a whole western avatar. But Rohan tells her that she need not change for anyone as she's unique. They have dinner in true blue desi style followed by Jalebi and Rabri.
BOLLYDELICIOUS FACTOR:
It feels amazing when someone makes you feel special and it is a great feeling when you dress up for that person. But it is even more wonderful when they accept you for the way you are.
RATING: 3.5/5
It's a good thing to impress but it is better when you don't have to make extra efforts for it. Be who you are and not what others would like to see you as. But since this scene takes care of all that we've to say, it's quite romantic especially when Rohan finally confesses her love for Veera.
Contributions: Stacey Yount, Aashi Gahlot, Nuria Bonals Hidalgo, Mehak