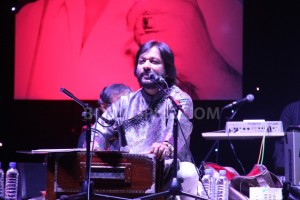 Saturday evening saw the final show from Saregama's Celebrating the Legends UK tour in London, at the HMV Hammersmith Apollo, headlined by Roop Kumar Rathod and Sunali Rathod. Presented as a tribute show to Indian musical legends Mohammad Rafi, Talat Mahmood, Noor Jahan and the nightingale of India – Lata Mangeshkar, the house full audience had already come along with high expectations and nostalgia, but nothing prepared us for the absolutely amazing talent, charm, wisdom and stage presence of Roop Kumar Rathod.
Many of you will be familiar with Roop Kumar's grounding in classical music, his years spent as a tabla player and his mastery at diverse genres such as Ghazals and Sufi songs, all of that in addition to his vast repertoire of meaningful Bollywood playback songs. But if you haven't had the privilege of ever seeing him live, what you won't be aware of his is his vast knowledge of music, his deep understanding of the classics and the wisdom he holds within. For many this was not simply just a few hours listening to some great songs, but almost like attending a lecture on world class music and it's finer nuances.
Much like the recent saturation of Bollywood shows, which resulted in a different actor coming to do a show almost every month in the UK, there has been a more recent shift towards regular music shows. This has led to a number of Bollywood's top singers gracing UK stages with alarming regularity. What makes his show different though and full credit to both Saregama, Roop Kumar and his team, is that this show and it's production values – from the theme, to the choreography, to the delivery – is pitched at a much higher level. You bought yourself an experience and walked away learning something about music.
So what do I mean by this all, well the show consisted of lots of special moments:
'Wah wah' moments – by this I mean moments and songs of appreciation. With every song, whether a Mohammad Rafi classic, or one of his own, Roop Kumar made each song unique with his own touches. For example the jugal bandi (musical pairing/face off) with his tabla accompaniment, or the ending sargam and 'tabla bol' to 'Parda hai parda'. We become accustomed to hearing songs in a particular way, mainly the way the song features on an album, what can really take that song to a higher level and in the process make it a better listening experience, is the special touches a singer like Roop Kumar adds to it, such as elongated notes and sounds.
'Close my eyes' moment – by this I mean moments where you would naturally end up closing your eyes just to take in the song. For many this had to be Roop Kumar's rendition of 'Khwaja mere khwaja', AR Rahman's composition from Jodha Akbar. It's always a treat for any audience and a sign of humility from the singer, when they are able to take a classic song by another singer and composer and present their own take on it. I never imagined I would get to hear 'Khwaja mere khwaja' sung by Roop Kumar's.
Touching moments – which were there aplenty. One can't help but feel moved when you think of recent legends who are no more, such as Dev Anand, Shammi Kapoor or Rajesh Khanna. Whilst it is easy to sing a song in someones name, or present a rendition of one of their classics, it is something else when you can really get into the soul of a song. That most definitely happened when Roop Kumar presented a few lines from the late Jagjit Singh' 'Hoton se chulo tum'. Beautiful!
Wow moments happen just when you think 'wow, it can't get any better than this', only can a truly amazing singer pull off another 'wow' moment again and again in succession. Of the many, one of those 'wow' moments, which came later on in the show, was Roop Kumar's intro to his 'Maula mere'. His lead up to just the first verse of the song was around four and half minutes! Usually that is the entire length of the original song, but Roop Kumar took his time, teasing out the notes, whilst displaying his absolute command of scales and variations.
Audience interaction is important for any singer and show. It helps both them and you connect. It is always a treat when a singer allows his audience to sing along to the lines of their songs, pausing for a moment to allow the audience to carry the song themselves. 'Tujh mein rab dikhta hai' was such a moment. It showed just how much Roop Kumar is a part of contemporary music, as he is classical.
A special treat for the audience was a medley of world music, covering Spanish, Arabic and Russian music, interspersed with classic Hindi songs, to show how inter-related music and it's notes are. What was even more special from the show was the continuous wisdom, poetry and jokes Roop Kumar shared with the audience. From the definition of the notes of sa re ga & ma, to life lessons, to anecdotes about music such as the story behind the creation of Mughal-e-Azam's musical score.  These are things you simply can't rehearse and led to a much more personal show and us all getting to learn a little bit more about the real person who is Roop Kumar.
It is always difficult to capture the magic of music in plain words, so I hope this serves the purpose of giving you a flavour of what to expect from any future Saregama show, or from watching Roop Kumar live. A taste of all types of music genres, steady and consistent mood build up, a great selection of songs which although dedicated to legends, formed part of a wider musical journey. In that sense, the show was an immense success and hopefully a benchmark for future shows to come.
Roop Kumar and his entire group – take a bow…