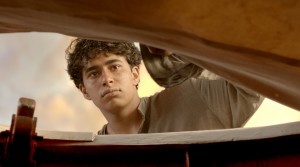 Suraj Sharma has story which is much like the stories Bollywood dreams are made of. He was born in Delhi, into a regular middle class family. With no filmi connections, or desire to enter the world of films, Suraj was just a young teenager with a normal day to day school life. Until one morning he woke up and found himself  randomly walking into the auditions for a Hollywood film, of a book he had never read before. As kismat, or luck would have it, he was selected by Oscar winning director Ang Lee from over 3000 applicants and several rounds of auditions.
BollySpice caught up with him in London, interested just as much in his Bollywood story as we were about film and the character he plays!
There must have a lot of the firsts for you in the film, can you share some of them?
Well it was all new for me. I did not know how to swim, I had never acted before, I had never seen the ocean before. I had never been out of India. Meeting people from all over the world you get an idea of how diverse and beautiful the world is. I learned how to swim for the film and now I love swimming, it's my favorite thing to do.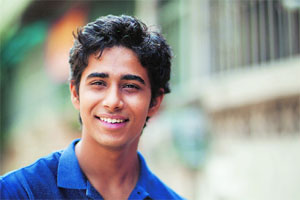 You are studying Philosophy, did you draw any wisdom from the character of Pi?
I do not know if it is wisdom or not, but you are trying to be this boy (Pi) who thinks so far out of the box. He is always thinking about life and existence and things that normal sixteen year olds would not really think of, so a little bit you does get caught up in all that. Plus I was around Ang for quite a while, who is quite a philosopher himself and he really affects you – the way you think, about life, about your existance. So I guess I did get a little bit philosophical, for example I started studying Economics before I started on this journey and now I am studying Philosophy, so I guess it did change me.
What was it like working with Ang Lee as a director then?
It was extremely scary in the beginning because he is such a great director. Also I had never opened up to anyone at all before. Ang was the first person I talked to about myself and funnily enough I felt really comfortable with him after a few minutes. Ang is awesome. I feel like there is no one who knows me better than Ang and I mean no one. Instead of looking at me he looked inside of me, if that makes any sense. He gave out a lot of himself to everyone in the crew. He put an incredible amount of himself into the movie.
Family life is very important for Asians, so has your family seen the film and what did they think?
I guess they liked it. They cried and they did not say much to me, they just came and hugged me. So that was a very emotional and moving moment for me. So I'm guessing they kind of liked it!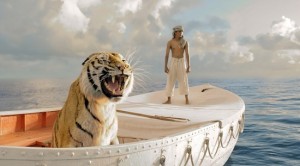 Back in India you are a student and we can tell you must be a popular guy, with lots of friends, so has Life of Pi changed the dynamics of your social relations?
I don't know really. All my life I have been making these friends who I am very lucky to have. People are excited I guess, which is a good thing. If they are excited, what more could I want.
You have become an international star, but some questions for our Bollywood readers…
Yes, of course.
Irrfan Khan plays the older you, what do you think of him?
I have seen Irrfan act a million times. I am a big fan. He had not seen me act. I was kind of looking forward to seeing how he plays me.
Can we assume you watch Bollywood films?
Of course, I mean I am Indian, so always have…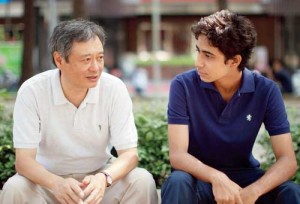 So we are going to hit you with some quick Bollywood questions:
Favorite Hindi film: (Thinks…) I would say 3 Idiots, of the recent ones.
Favorite Bollywood Actor: Boman Irani, Aamir Khan, Naseeruddin Shah
Favorite Bollywood Actress: Ummm…I don't know, there are so many…
Favorite Bollywood Director: I love Anurag Kashyap and the things he is doing. He's awesome…
So would do a Bollywood film if you were offered one?
I don't know if I will be offered one, but probably would do it if I was. I guess it has be seen.
The film has done very well in India, so are you starting to feel that you are being recognised?
That has not happened. I do not really look like Suraj in the movie. The curly hair, the stuff on the face. I look different.
What's next for?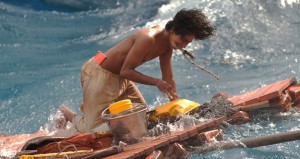 Well right now I am studying, but hopefully something will come up, where I can get back into filmmaking.  I am just going to see what happens really. I do not know whether I want to act, but I know that I want to do something that is in some way related to film and I want to go to film school. I feel that I already have some stories to tell and I want to accumulate more stories that will really affect people in a good way, or leave them with something to think about. I definitely want to work in film because I love film sets and I love the way people work on films.
So there we have it, the extraordinary journey, of a very ordinary boy. Make sure you catch Life of Pi when it releases next week to see the amazing performance this young guy, who never meant to get into films, delivers.
Come back to check out the BollySpice review very soon.