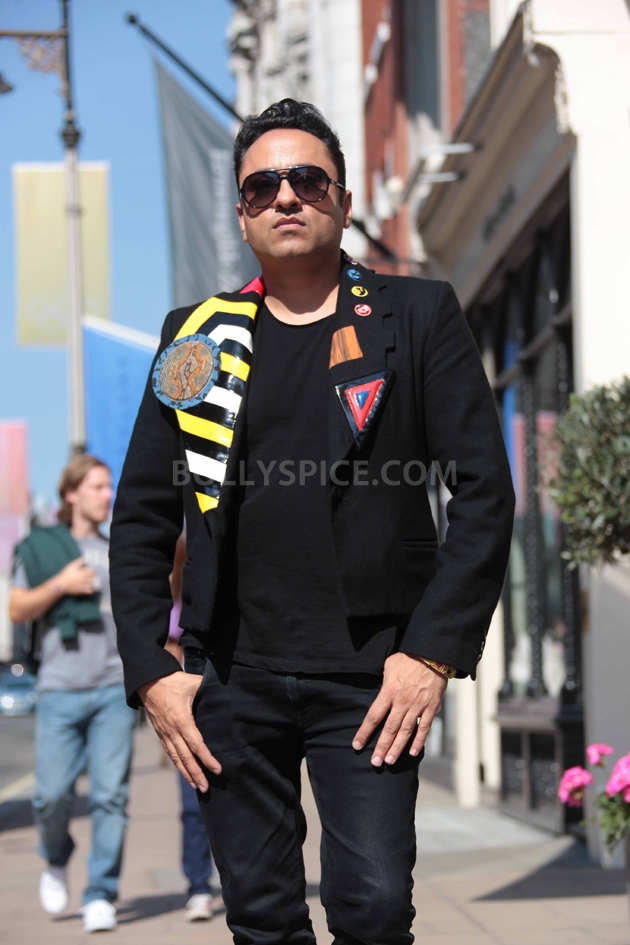 To celebrate the release of India Fantastique, a book that celebrates 25 years of Indian designer duo Abu Jani and Sandeep Khosla, Sotheby's in London held an exhibition celebrating the work of the designers and famed photographer Ram Shergill.
Ram Shergill has photographed the likes of Amitabh Bachchan, the late Amy Winehouse, and Naomi Campbell. Ram Shergill is also the man behind the breathtaking photography featuring in the two-volume book, India Fantastique.
Bollyspice.com talked with Ram Shergill about exhibiting at Sotheby's, what inspires his work and whether he prefers photographing Bollywood stars or fashion shoots.
You are exhibiting at Sotheby's, which is an amazing achievement. How did it come about?
It has been a fantastic experience.
Basically a few years ago I got contacted by L'Officiel magazine to do a cover of Abhishek Bachchan and when I did the photo shoot the two editors of the magazine where Abu Jani and Sandeep Khosla. I wasn't that familiar with Indian fashion and we just really hit it off and got along really well. The shoot we did was incredible. It was the cover. What happened was the shoot was sponsored by a very big designer, I won't mention it, but they only sent like three pieces and it was a 20-page story! What happened was I said to Abu and Sandeep, "I know what, to get those extra pages why don't we get some young, cool London designers and we will mix it up with the big brand." They said, "yeah, it's a great idea." So for a whole week we went round all the PR agencies and picked clothes from different people, new designers and mixed it all up. It was the cover of Shweta and Abhishek and it went down really well. And that was how we started our friendship and collaboration.
We were sitting there having dinner in Bombay, because subsequently I started working with Rahul Nanda, through Abhishek, who does all the add campaigns for all the film posters in Bombay. So I have done about 80% or 90% of the film posters there in the past three years, including hits like Dabangg or Ra.One. So I did all these pictures and that's what happened really and we got on really well and we decided to do a book to commemorate their 25 years in industry.
What's your favorite shot in India Fantastique? 
I love all the pictures but there is one picture that I really love, it's the one were the girl is naked with the breast and she is on a mountain of boys. I love that one!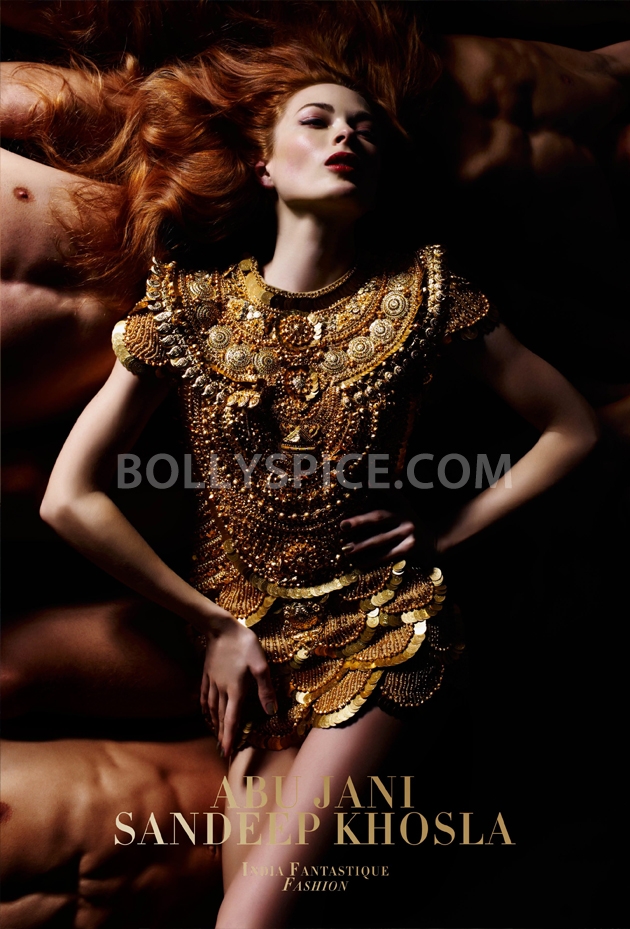 How do you find the difference between shooting Bollywood stars compared to shooting fashion. Which do you prefer?
I like doing both. I mean it is all much the same for me, it is photography. For me I see my form as an art form I enjoy doing all kinds of different forms of art. I like doing the Bollywood. I mean I have worked with lots of major celebrities in the UK prior to this. I have worked with the late Amy Winehouse, worked with so many different people, all the Harry Potter stars.  So for me it is kind of fun to do, obviously when you work with legends like Mr. Bachchan, you know that is a phenomenal experience because obviously he commands that icon status. Even when we have done stuff with Abu and Sandeep it has been superb you know the shoots with the stars, it was always a collaboration.
You have photographed some of the biggest celebrities from around the world, who has been your favorite celebrity to photograph so far.
My favorite, I would say, out of all the people, oh there is so many. Eddie Redmayne was nice and Diana Kruger, she was really amazing. Dame Judi Dench! Fabulous!
Was Dame Judi Dench really nice to work with then?
She is a star and Mr. Bachchan, star. In fact some of my best pictures I have taken are here on the exhibition. It was really hard to choose the pictures, so many great pictures of Mr. Bachchan to go through because every angle, every expression, he is a genius of a performer. Hailing back to such great films, like Raj Kapoor used to do, like Mera Naam Joker, when Mr. Bachchan was in Sholay, Muqaddar Ka Sikandar, all these kind of films, you kind of see "wow the guy is a genius actor."
Do you find it quite difficult to choose your photos?
Yeah I used to but now what I do, I do the shoot and then I put it away, I don't look at it for about a week or two weeks even. Because otherwise you will think that moment was really good when she laughed, or it was so brilliant when he did that, and you get all excited. So I don't look at it for two or three weeks then afterwards I look at the pictures with a fresh mind and that is when I choose.
Who would you really like to photograph that you haven't had a chance to work with so far?
I would have loved to work with Michael Jackson. I have my own magazine called Drama as well. I remember Michael, I asked Michael to do a photo shoot and his PR got back to me immediately saying he would love to work with me. But he said when he comes for the tour next year…and then he passed away. It was really weird; almost quite selfish of me because when he passed away I was like "oh my god I am never going to be able to meet him." I have always been a fan of his work, you know he is stunning.
Living person right now I would like to work with….I still can't think…there is so many. I used to want to work with Madonna, but I don't know. I am equally as happy to work with an unknown great actor, for me that is fresher. I think as well when you first starting doing celebrities your like "oh my god I have worked with so and so," "oh my god its so and so, I can't wait." It is not like that anymore. I just worked with Will. i. Am and Cheryl Cole the other day it was fantastic, they were great. It was wonderful working with him, it was like hanging out with a mate, and that is what they like because I am not bothered. I am more about doing a great shot and doing a great picture of them. Oh yeah her Royal Highness, the Queen I would like to work with.
With media platforms (Instagram) and easy access to professional cameras, everyone is taking pictures and claiming to be a photographer, what do you think about this and how do you feel it affects professional photographers?
I think it is quite great actually. You know how you see little children with the cameras and they are the photographers of the future and I think it is good. I think it is brilliant. I think people will learn, when they pick up a camera and they take a snap or they take a picture, what differs is, you know how you use the medium. When I get asked to take a photograph for a client, they are not just getting the picture; they are getting my mind, my mindset, what I am seeing and what I want to see. So it is almost like using a paintbrush to make a picture. Everyone uses their phones now as paintbrushes to make their pictures. You have the great masters like Da Vinci, these great artists like Matisse, Picasso, their vision was so unique. I look up to these artists and hopefully, fingers crossed, there are some new Matisse's out there. I think Asian's should get a bit more into art.
What do you feel about that?
It needs to change, but they have to be hardworking. A lot of people can pick up a camera and say, "oh I want to be a photographer," "I want to be this," "I want to be that" but they need to learn, they need to train, they need a foundation. They need to study. Studying is the most important thing. Going to University for me was the best because I really learnt what I wanted to do. I looked at all the fine artists in the college, I used to hang out in all the fine art galleries upstairs in the University and look at what they where doing and get inspired.
So is that what you would say inspires you – art?
Two things inspire me, art and people. I am inspired by people. People's minds more than just their looks and landscapes. A beautiful place and silence. Going to a beautiful place where there is silence, that inspires me.
What is next for you, have you got any more exhibitions, editorials that you can reveal to us?
Yeah after this comes out I am going to work on my solo book of my life work. Do a book on that and just take it from there really. Start doing more galleries and more exhibitions and having my work as one of pieces, it would be nice to have them in a big house. Someone to purchase them for a big house. Just to see your pictures big you feel such a great sense of accomplishment, which is good.
(Photo credit: Ram Shergill)