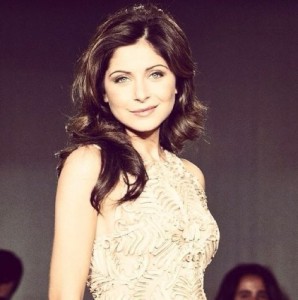 We have a very special treat for you guys! BollySpice managed to speak to popular singer Kanika Kapoor on her recent win at the Stardust Awards. Kanika won the award for Best Female Playback Singer for the hit song 'Baby Doll' from Ragini MMS2. Check out the great things which she had to say to us about winning the award, as well as about her upcoming projects. Enjoy!
BC: Firstly congratulations on winning the award Best Female Playback Singer at the Stardust Awards. How does it feel?
KK: Thank you so much! It's amazing actually because I won the award against some of the most talented people in India. It's a great feeling actually and I'm very happy and very thankful. Growing up and watching these awards myself and then actually winning is a great feeling!
BC: Was it nerve-wracking going on stage and making the big speech?
KK: You know the first time actually I have to admit I was very nervous to be in front of so many legendary people from Bollywood and more. I've been on stage so many times but this was really one of the times I was very nervous for sure.
BC: Did you perform at the ceremony?
KK: No I did not perform.
BC: The song 'Lovely' has become a huge hit all over. How do you feel about the song being well received by so many fans?
KK: It's amazing and I'm very happy that the two songs I've done this year have done so well. I'm thrilled and it just kind of makes me feel that I need to work harder and get more amazing work out there.
BC: 'Lovely' is probably one of the biggest item number to emerge this year. How do you feel in general about item numbers in Bollywood?
KK: I think there are all sorts of music and there is some amazing commercial music out there. We live in a country where we have all different cultures and different kinds of listeners. So I think there is something for everyone. So I don't really agree with people when they say 'oh what's happening to the music and lyrics these days?' When you go in to the masses where the masses are, the villagers do not understand certain types of music. They love the commercial music that's being made right now.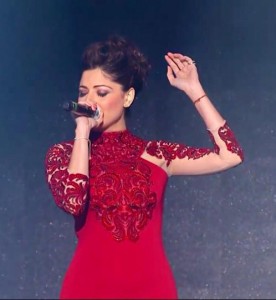 BC: Tell us what the experience was like performing during the SLAM tour?
KK: You know the SLAM tour was a lifetime experience for me. It's like a big dream to be honest. It was a bit hectic but a lot of fun. And to be working with SRK (Shah Rukh Khan) is like a dream again. There was a lot to learn from him. He's a great person and a great artiste too.
BC: If you could choose another actress for 'Lovely' to be picturized on other than Deepika Padukone, who would it be?
KK: I'm not just saying this but I can't imagine anyone else other than Deepika on this song. I mean the song is made for her. She has just done wonders with it and has taken it to another level.
BC: What will we hear from you next?
KK: Well in January I have Roy with Jacqueline Fernandez, Ranbir Kapoor and Arjun Rampal. I'm singing a huge item number which I think you guys will all love. It's probably one of my favourite songs till now that I have done out of the just the few. Then there's 'Leela' with Sunny Leone, which is another item number. Then we have a few singles from me and then a huge mainstream collaboration coming up which I will be announcing very soon.
BC: Finally, do you think you can strike gold again at all the other remaining award functions?
KK: Well last night I also won at the Mirchi Music Awards where 'Baby Doll' won the Number One Song of the Year. So that's something else which I'm also thrilled about! Then we have the Screen Awards coming up and I've been nominated for quite a few awards actually with another one happening on the 18th December. So the awards season is actually quite full on.
BollySpice would like to thank Kanika Kapoor for taking the time to speak to us and we would also like to congratulate her again for her win at the Stardust Awards!