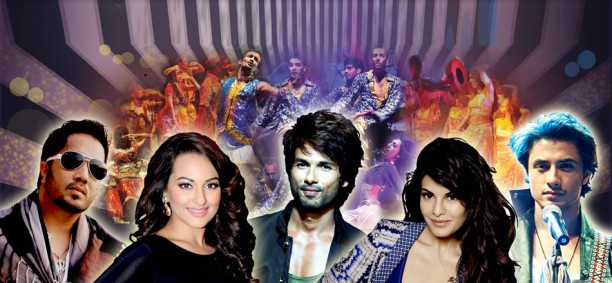 After months of endless promotions and preparations, Bollywood Showstoppers finally took place at London's O2 arena on Sunday 3 August. Superstars Shahid Kapoor, Sonakshi Sinha, Ali Zafar, Jacqueline Fernandez and Mika Singh took to the stage to perform and dance to some of their hit songs in front of thousands of fans. The show took place just after the Eid festivities, which made it even more special. Founder and producer of Bollywood Showstoppers, Mr Naz Choudhury, and his BollyFlex team took part in the show as backing dancers and together with the stars; it was a show that had many highlights which surely audiences have taken away with them.
The show kicked off with some dance performances by Naz and Bollyflex, which opened the show very well.  Subsequently, Raj and Pablo came on to the O2 stage to act in their roles as hosts of the show. We saw them introduce the beautiful and sensational Jacqueline Fernandez, who danced to some of her hit songs such as 'Jadoo Ki Jhappi' and 'Jumme Ki Raat' from her mega hit film Kick. She also did a tribute performance to the vibrant 'Nagada Sang Dhol' from Goliyon Ki Raasleela Ram-Leela (2013), which was well received by the audience. Jacqueline later returned to the stage during the second half of the show to perform to songs like 'Lat Lag Gaye' and 'Party on my Mind' from Race 2 (2013). Overall, both of Jacqueline's acts were nicely choreographed and she also looked very radiant on the night.
Next up was the incredibly talented Ali Zafar who was surely one of the major highlights of the night. Ali probably spent the most time on the stage and undoubtedly, his die-hard fans got their money's worth. His first act consisted of songs from his solo material such as the cool 'Sun Re Sajaniya,' the romantic 'Rangeen,' as well as the incredibly catchy 'Channo.' Ali's second act saw him sing songs from his Bollywood releases such as Mere Brother Ki Dulhan (2011) and London, Paris, New York (2012). Ali's vocals were pitch perfect on the night and he gave fans some performances which they will long remember.
Following Ali was the dazzling and stunning Sonakshi Sinha, who got a lot of cheers from fans as she took to the stage. Sonakshi delivered some amazing dance moves and chose some great songs to dance to such as 'Rani Tu Main Raja,' 'Tamanche Pe Disco,' as well as tribute performances to some songs by Yo Yo Honey Singh. Little did the audience know that Sonakshi would be surprising them all by bringing Yo Yo Honey Singh himself onto the stage, which led to huge amounts of cheers. Though Sonakshi's first act was well structured and gave a respectable effort; her second act was even better and she showcased a range of Indian dance moves which captivated the audience. Songs like 'Sawaar Loon,' 'Chori Kiya Re Jiya' and 'Dhadang Dhang Dhang' were completed to an excellent standard and she really exuded a lot of confidence and energy on stage, which shined amongst the audience.
Mika Singh appeared on stage exactly halfway through the song. The popular playback singer triggered fans to getting off their seats to dance and cheer for him, which makes him one of the most memorable acts of the night. Mika sang to vibrant tunes like 'Subha Hone Na De,' 'Mauja Hi Mauja,' 'Saj Dhaj Ke' and of course his recent hit 'Jumme Ki Raat.'
Last but not the least, Shahid Kapoor made an entrance with a bang and caused much exhilaration amongst his Shanatic fans. The popular actor danced to songs like 'Dhan Te Nan,' 'Mauja Hi Mauja' and 'Move Your Body Now' during his much anticipated first act. His second act consisted of more dance-oriented tracks like 'Saree Ke Fall Se,' and 'Gandi Baat' from his most recent film R…Rajkumar (2013). Though Shahid's performance was slightly shorter in contrast to the other acts, nevertheless, he danced to the best of his ability on stage and that was proven by the humongous cheers he received from the audience when he made both his appearances.
Overall, Bollywood Showstoppers did suffer from some delay issues, as well as technical glitches. However, you end up forgetting about these small things once you've seen all the key acts go out of their way to entertain you! Naz, Leena Patel and the team have done a very good job in preparing for and promoting the show (and it showed very well on live stage). However, I do think that they should ensure that any delays are kept to an absolute minimum during future shows. Having said this, Bollywood Showstoppers was a brave initiative to be introduced by Naz and his passion for dance and Bollywood was exemplified well on stage that night. Let's hope that the next Showstoppers is bigger and better!