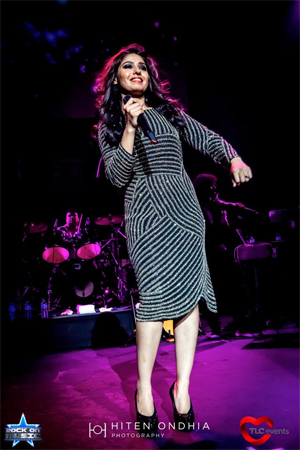 Acclaimed Bollywood playback singer Sunidhi Chauhan proved on Friday night that she is indeed one of the best artists in the industry today. Her UK tour ended with a concert at the prestigious Royal Albert Hall where she belted out some of her greatest songs. Organised by TLC Events and Rock On Music, Sunidhi's incredible energy was felt by the audience and they showed their love for her by cheering as loud as they possibly could.
The concert opened with the classic 'Aisa Jadoo' (Khakee) and Sunidhi followed it up with hit songs like 'Halkat Jawaani' (Heroine) 'Ainvayi Ainvayi' (Band Baaja Baaraat), 'Bin Tere' (I Hate Luv Storys), 'Yaaram' (Ek Thi Dayaan), 'Ishq Sufiyana' (The Dirty Picture) and 'Bhaage Re Mann,' (Chameli). One had to be present at the concert to see how charismatic Sunidhi sounded live. Though she is undoubtedly good on recording, she sounded ten times better live on stage. Her voice went from strength to strength as the concert kept going and she did not at all appear unenthusiastic with what she was doing. If anything, she showed to thousands of people on the night that singing is her destiny and this is what she had always wanted to do as a profession.
Following intermission, Sunidhi continued to sing her most popular songs like 'Udi' (Guzaarish), 'Be Intehaan' (Race 2), 'Kyon' (Barfi), 'Gun Gun Guna' (Agneepath) and 'Hey Shona' (Ta Ra Rum Pum). Sunidhi then paid her own tribute to 100 years of Indian Cinema by singing her rendition of classic Bollywood songs that have released during the past few decades. These included songs like 'Kehna Hai (Padosan, 'Baahon Mein Chale Aao' (Anamika) and 'Churaliya Hai Tumne, (Yaadon Ki Baraat). Sunidhi also paid a heartfelt tribute to legendary filmmaker Yash Chopra by singing a unique version of 'Kabhi Kabhi Mere Dil Mein' (Kabhi Kabhie). The concert coincidentally fell on the same day as the late director's birthday. In addition, Sunidhi decided to prove in the presence of thousands that she can sing songs in the English language too. She wowed audiences by singing a melodious version of the classic Beyonce track 'Halo.' You can only describe this particular performance in one word which is 'WOW!'
The concert also had some performances from Indian Idol contestant Rakesh Maini, who accompanied Sunidhi as part of the tour. Rakesh sang some popular songs such as 'Tum Hi Ho (Aashiqui 2), Subha Hone Na De (Desi Boyz) and also performed some duets with Sunidhi, which included 'Dilliwali Girlfriend (Yeh Jawaani Hai Deewani) and 'Disco Deewane (Student of the Year). Though looking slightly nervous, Rakesh did keep the crowd entertained during his appearances and sang very much in tune. Sunidhi ultimately brought the concert to an end by singing some of her most famous up-tempo tracks. These of course included the chartbuster hits 'Sheila Ki Jawaani' (Tees Maar Khan) and Sajna Ji Vaari Vaari (Honeymoon Travels). The concert finally ended with a spectacular performance of the classic folk song 'Beedi' from the hit film Omkara, for which she won countless awards for at the time of its release.
To sum up, Sunidhi Chauhan demonstrated at the Royal Albert Hall that she can not only entertain her fans via a recording studio. Instead, she can make you love her even more by performing live on stage. Moreover, she was not afraid to show off some of her dance moves as she was performing to her more upbeat tunes. She looked stunning on the night and appeared radiant in each of the costumes which she wore. Though the concert ended a bit oddly, it is still one which can be classified as a 5 star concert. Despite the great stage, lighting and band, it was Sunidhi Chauhan who made this concert one that will be truly remembered for eternity!
Check out some more pics from the concert!