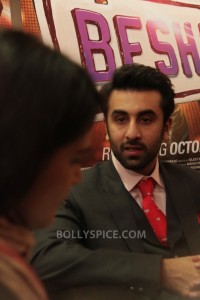 We have seen him as Rockstar. We have seen him as Bunny. We have seen him as Barfi. Now, it is time to see him as Babli Jan. Ranbir Kapoor's next upcoming film Besharam is set to be released on the 2nd of October 2013. Yes. It is almost time to see not only Ranbir Kapoor, but both his parents Rishi Kapoor and Neetu Singh together on the big screen. Not only this, but Besharam is Pallavi Sharda's debut in Bollywood as lead actress. You may recognise Pallavi from My Name is Khan, in which she played Sajida or from Heroine, where she played Gayatri. Not only has Pallavi acted in film but she has also done theatre. She was the lead actress for 'Taj Express', a theatrical musical.
BollySpice caught up with Ranbir Kapoor and Pallavi Sharda to talk their upcoming film Besharam, (mis)behaving in front of parents and much more!
Pallavi Sharda
You come from a very academic background- both your parents are professors. What inspired you to come into films? Was it difficult?
It was difficult- I always dreamt of being an actress. If you had asked me when I started to talk 'what do you want to be when you grow up? I would have said: I want to be an Indian actress and a dancer. I guess the dream never left me so I did it. It was difficult but I knew it had to be and I had to go through the hard yards to get it.
Did you have any problems in terms of adjusting your accent for the film?
I actually switch accents depending on whom I'm speaking with. I speak to my parents in an Indian accent at home- I always did. I have an older brother and even though we both grew up in Australia we would speak to each other in an Indian accent. So it just depends on the context. I learnt Hindi growing up as well.
You've also done theatre. If you had to choose between film and theatre which one would you choose? Also, what do you feel is the main difference performing live on stage and working in a film?
I think stage is my primary medium. It's where I feel most comfortable. I love dancing. I love working in front of a large audience. The energy you get from them is something completely different. I've had to adjust a lot. I wasn't a very good film actress you know when I first started- my expressions were too loud. I'm still working on that. I'm having to adjust to the medium. I think that films are directors medium very much and you really want to do what your directors vision is and execute that. Whereas you have a lot more freedom on stage to be spontaneous and do what the audience is feeling and what you're feeling in relation to them. So they're both very different and I'm growing to love both of them equally.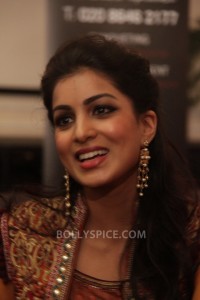 So-now you're in London…the home of the West End. Are you planning on watching any theatre?
I saw a show when I was here last called 'The Book of Mormon' which I absolutely loved. I don't think we're going to get time to watch any now but hopefully next time.
You're from Australia- did you watch the famous teen soaps Heartbreak High or Neighbours? They were so popular in the UK!
No I didn't. I was too busy watching Hindi films to be honest. So everyone at school was watching Heartbreak High and Neighbours, and I was watching Madhuri Dixit and Sridevi. But yes. They are definitely names which make me miss home!
What's your favourite song in Besharam?
Pallavi: I like 'Lut Gaye Tere Mohalle' which is a wedding number.
Ranbir: Mine would be 'Aare Aare'.
Ranbir Kapoor
Most of us are usually very different when our parents are around. I know I am-I'm super good when they're around. Was it uncomfortable to do this film as both your parents were in it- as after all, it is called 'Besharam' (without shame):
No I don't think so. I think my parents are such good actors that they never brought their personal relations on set. It was- they came as their characters. I think that each one of us inspired each other, encouraged each other and motivated each other to do our best.
How do you step into the skin of your character? For example, your character in Rockstar absolutely blew everyone away.
Thank you. Well I think I take a lot from the directors. These are characters I've never met in my life so you have to derive it from your imagination from what the director' seen and the script itself. So it's a process. It's an organic process that you put in your pre work before the film starts and then day by day whilst you're shooting it you discover it yourself.
We have seen you do two serious films back to back- there was Rockstar and then there was Barfi. And then two commercial films straight after. Are we going to see you in a serious role again?
Well I don't think Barfi was a serious film. I think Barfi was a light hearted, feel good film. Yeh Jawani was of course a coming of age love story. Besharam is much more of a masala genre, it's wider film. I haven't really planned all of this you know, it has instinctively come out of me than I've decided to do these films. I don't have a plan as such. My next film coincidently is an intense love story set in the backdrop of crime in the 50's and 60's Bombay. Then after that- a children's detective film called 'Jagga Jasoos'. So I try and mix it up and try and excite myself as an actor. So hopefully that will also excite an audience.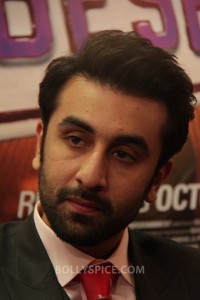 Is there a downside to being famous?
There is no downside. You know. I'm too grateful for everything that I have. I'm most grateful for the fact that I get to do what I love and I don't think there is any downside to it.

Now…We hear that you're a Barcelona fan! What did you think of the game against Ajax?
It was great! Messi scored a hat trick. We are still kind of shifty on the defence but hopefully that's going to become better.
Talking of scores, your last film was 100 crores plus- are we looking at 200 this time?
I hope so. That's the endeavour. It's a film which is made for a larger market…So hopefully people like the film and come in large number of volumes and see it again.
Stay tuned we have much more coming! Besharam hits theaters on October 2nd!
Besharam Press Conference footage and star cast interviews courtesy of Sterling Media
With contributions by Anjum Shabbir