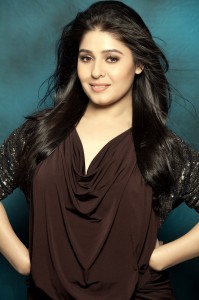 To celebrate acclaimed Bollywood playback singer Sunidhi Chauhan's UK tour, the team at BollySpice thought it would be cool to put together a special feature which looks at her greatest songs. Sunidhi is unsurprisingly in-demand amongst Bollywood filmmakers, who want her voice to be mimed by some of the hottest actresses in the industry. Her success is evident in the fact that she will be gracing the stage of the prestigious Royal Albert Hall in London this Friday as part of her UK tour.
Having first acquired popularity by singing the songs for the film Mast (1999), Sunidhi is considered one of few who can use her voice to give it that provocative touch. She has sung to some of Bollywood's most iconic tracks and has to some extent contributed towards the popularity of actresses like Katrina Kaif, Kareena Kapoor and Bipasha Basu by lending them her voice in their films. Sunidhi is one of few in Bollywood who is a versatile singer in the real sense. From sexy, raunchy item numbers to romantic numbers, she has done justice to all. She is rightly considered by many as today's Asha Bhosle. Check out what we consider to be our favourite Sunidhi Chauhan songs and why that is so!
'Bhaage Re Mann' (Chameli, 2004) – Sunidhi's voice made the song a Rainy day favourite since it suits the scene perfectly in the film. http://www.youtube.com/watch?v=dCosqNGw2ck
'Yaaram' (Ek Thi Dayaan, 2013) – It's a pity that Sunidhi doesn't get many slow (melodious) songs to sing. Which is why we love the song 'Yaaram' from Ek Thi Daayan. Sunidhi sounds so subtle without getting too pitchy (as we know she does at times) when the tempo picks up, so she lets Gulzar's lyrics sink in and take you away with that catchy hook. http://www.youtube.com/watch?v=LEo3IeG443c
'Tu Dil Ki Khushi' (Sur-The Melody of Life, 2002) – This was the first time Sunidhi was taken out of her comfort zone and asked to sing for a more melodious film soundtrack. Although she's the queen of item and peppy numbers, Sur showed the amazing range she has as a singer and was an interesting change from the Sunidhi we know and love.

'Beedi' (Omkara, 2006) – With its cool flavor and rustic beats 'Beedi' from Omkara is one that had to make the list! Sunidhi perfect spicy inflection and her brill vocals make the song pitch perfect! http://youtu.be/FDHke6gJWEg
'Hey Shona' (Ta Ra Rum Pum, 2007) –  'Hey Shona' is one of those tracks that you can never become tired of no matter how many times you listen to it- the romantic lyrics and chilled out beat reflect how love ideally should be. http://www.youtube.com/watch?v=uQqkbHfEPho
'Mere Sang' (New York, 2009) – Sunidhi offers one of her best power ballads with the song 'Mere Sang' from New York. She delivers soothing melodies and her voice complements the wonderfully written lyrics. Thus, Sunidhi proves that she can sing more than just item numbers. Also the song is picturized on the one actress whom her voice matches with perfectly; Katrina Kaif. http://www.youtube.com/watch?v=Lby5imWVHa8
'Udi' (Guzaarish, 2010) – This one is unique because of its Spanish Flamenco flavor. When the song released our review said, "Sunidhi Chauhan is amazing because she can make her voice tell so much and it sways and flows along with the joyous notes of 'Udi'." Need we say more? Just listen and enjoy! http://youtu.be/hbP3vLetsnM
'Jaane Kyon Humko' (Chameli, 2004) – There were various versions of this track and all of them were not only near perfect technical renditions from Ms Chauhan (to our untrained ears) but also honest and emotionally potent, one that still resonates with us till this day. http://www.youtube.com/watch?v=D_xrIpq0474
'Halkat Jawaani' (Heroine, 2012) – We love this song because Sunidhi's voice has made the song 'naughty' and peppy. In addition, it can be considered as one of few Bollywood songs which many secretly take pleasure in listening to. http://www.youtube.com/watch?v=w_jZ4pTyJmk
'Jaaniye' (Dus Kahaniyaan, 2007) – A very underrated track where Sunidhi's vocal range really shines. http://www.youtube.com/watch?v=E2xz-eER8UI
'Manchali' (Ru Ba Ru, 2008) – We all know she can give us the chartbuster item songs but this song showed Sunidhi in a new light, one I'd like to see her more often in. She's immensely qualified technically which puts her ahead of her contemporaries and I think this song depicts that perfectly. http://www.youtube.com/watch?v=QY035_6txnk
'I Wanna Make Love to You' (Aitraaz, 2004) – No inhibitions, so powerful and brilliantly executed by Ms Chauhan! http://www.youtube.com/watch?v=vLr0jVmGNmY
'Sheila Ki Jawaani' (Tees Maar Khan, 2010) – This hot item track, of course, has to mentioned! Perfect in every way with Sunidhi at the mike and the thumpin beats the song became a super hit! http://youtu.be/ZTmF2v59CtI
'Be Intehaan' (Race 2, 2013) – Of course then there is the melodious side of her voice and that is showcased in the beautiful 'Be Intehaan' from Race 2. One you will def have on replay! http://youtu.be/nPhHtahBlyI
Stay tuned to BollySpice as we will be bringing to you an exclusive review of Sunidhi's London performance!