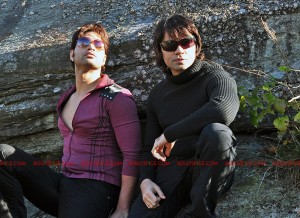 Kapil Sharma and Yuvraaj Parashar have shot a music video for Nowegian group The Hungry Hearts Pin-Up Performance Band.
The Dunno Y… Na Jaane Kyun stars were approached to appear in the promo for the lesbian music group's new track 'Captain in the Sky', following the screening of their debut release at an Israeli film festival.
Tonje Gjevjon, the artistic leader of the group reveals, "Our latest single 'Captain in the Sky' is a song about women dreaming of attention and love from unreachable men. We have actually never considered using men in our performances or videos before."
"But when we saw Dunno Y… Na Jaane Kyun in Israel we were stunned by the guys' exotic looks with a combination of beauty, innocence, tenderness and masculinity."
Model-turned-actor Yuvraaj, on his experience of working with them says: "It was wonderful to work with international crew, they are so quick and organised. In fact I am in love with Norway."
Kapil on his first music video says, "I was looking forward to do a music video as I love dancing but had never imagined it would start with an international single. Not bad."
The actors gay-themed release Dunno Y… Na Jaane Kyun has been screened at a number of international festivals including the UK, US, Australia and Israel.
Veteran actors Helen and Zeenat Aman also feature in the 2010 project, which is widely regarded as Indian cinema's Brokeback Mountain.
Edith, the lead vocalist of Hungry Hearts adds, "It was fun to shoot with these boys – they are thorough professionals. They have added a Bollywood feel to the song."