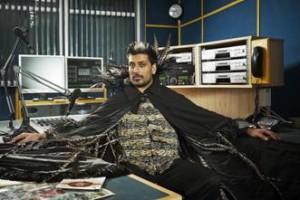 Trained dancer, makeup artist and presenter Raj Parmar takes a short break from Bollywood dancing to try his hand at ballet for a new television documentary. The multi-talented choreographer is starring in Channel 4's Big Ballet, which sees 18-plus-size dancers fulfill their dream of performing in Tchaikovsky's Swan Lake.
The documentary sees Raj train and ultimately perform as the heinous villain Baron Von Rothbart in the iconic Ballet. Proving his versatility in the world of dance, Raj takes his temporary leave from Bollywood to master the art of the classical dance. Impressively, Raj beat 500 hopefuls for a much-coveted spot in the documentary. Surviving the grueling selection process, Raj now stars as one of the two male dancers and the only Asian in the group. Taking Bollywood to the ballet, Raj builds on his previous experience as a dancer for the role, for which he underwent four months of intensive training.
The dance expert displays his versatility in the Big Ballet documentary, something which is also apparent in his professional career. Having trained as a radio presenter, makeup artist and model, Raj also established his own dance academy Spice Entertainment in 1999. His unique choreography gained a great deal of attention, resulting in choreography jobs for several popular British Asian music videos, as well as MTV. Raj is no stranger to appearing onscreen, as he has previously appeared in major films such as Casino Royale and Mischief Night. Now the Bollywood dance sensation is strutting his way on to television screens across the country for Big Ballet.
Channel 4's Big Ballet features a dance troupe, led by legendary dancer Wayne Sleep, who is famed for being the shortest performer to make his debut on the Royal Ballet stage. Aiming to break the taboo of size in the world of ballet, Wayne enlists the help of professional dancer Monica Loughman to train the eighteen hopefuls.
Speaking on his latest role, Raj says: 'The audition process for the show was difficult but so rewarding. I love the show's message: dance is for everyone, not just the svelte and petite. I am a big believer in the universality of dance and there is most definitely a dancer in everyone! I've enjoyed the challenge that is ballet. Of course there are some transferrable skills I have brought with me from Bollywood dancing but ultimately it's a brand new style that I couldn't wait to sink my teeth into!'
The three-part documentary started earlier this month and the second episode airs on Thursday 13th February, on Channel 4 at 9pm.