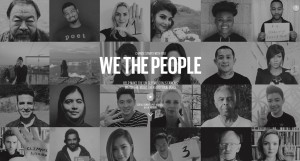 On 25th September, 193 World Leaders unveiled the new Global Goals for Sustainable Development at the UN General Assembly. If met, we can eradicate global poverty, remove inequalities and tackle climate change by 2030.
The Global Goals campaign has set out on a mission to reach 7 billion people in 7 days from the day the Goals are launched (26th Sept – 2nd Oct) using a number of ways. The Global Goals Campaign has hence launched "We the People" – a crowdsourced film where everyone is invited to join the world's biggest cast and star alongside some of the world's biggest names. The film was unveiled on the Google homepage on the 25th September.
From India, A R Rahman, Jacqueline Fernandez, Aamir Khan, Akshay Kumar, Arjun Kapoor, and Hrithik Roshan contributed and crowdsourced footage for We the People. Other artists and activists include Ashton Kutcher, Bill and Melinda Gates, Cate Blanchett, Daniel Craig, Jennifer Lawrence, Jennifer Lopez, Kate Winslet, Meryl Streep, Malala Yousafzai, One Direction, Her Majesty Queen Rania Al Abdullah of Jordan, Richard Branson, Robert Pattinson, Robert Redford, to name a few.
The video was written and directed by filmmaker Richard Curtis (Notting Hill, Four Weddings and Funeral, Love Actually) and Mat Whitecross (Spike Island, Sex&Drugs&RocknRoll, Road to Guantanamo) and created by The Rumpus Room.
In India, the Global Goals campaign is being supported by various NGOs, media houses, organisations and corporates including Reliance Group, the first Global Goals Campaign Partner from India, Tata Group, eBay India, Confederation of Indian Industry, Hero MTB Himalaya 2015, Hello! India Magazine, Yash Raj Films, Magic Bus and Akshaya Patra.
People can record their lines and submit their videos here http://wethepeople.globalgoals.org