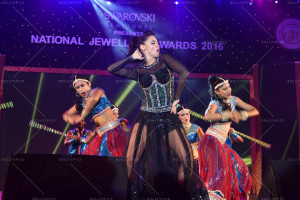 The 6th edition of the National Jewellery Awards 2015-16 (NJA) organized by All India Gems & Jewellery Trade Federation (GJF) were organized on 6th February 2016, at JW Marriot, Sahar, Mumbai.
NJA is the Industry's most prestigious annual awards show, organized by GJF and a platform to recognize and honor talent with unbiased and relentless efforts for the welfare of Gems & Jewellery industry in India. Honouring the works from 34 categories, the Awards comprised of 16 Jewellery Award Categories, Excellence Awards – 9 Categories, Artisan / Craftsman / Designer Awards – 3 Categories, Student Awards* – 1 Category, the winning Students received Scholarships from GJF to pursue a career in Jewellery industry with a total scholarship of Rs. 15 lacs, Gem of the year award and Anmol Ratna Award amongst others. The entire category and the finalists list is available on http://www.gjf.in.
Hema Malini was part of the evening as a Chief Guest. Esha Deol with Bharat Takhtani walked the Red carpet.
Noted Jewellers, Celebrities and Socialites were part of the evening in their best Jewellery attires. Bollywood divas Daisy Shah, Ayesha Takia, Ameesha Patel & Shriya Saran walked the ramp in a beautiful ensemble collection put together by Designer Archana Kochhar.
The audiences were captivated by glamour packed performances by Lauren Gotlieb, Manasi Scott and the Glamour – Humour combination was presented by Manish Paul who constantly kept the laughter riots on.
Mr. G V Sreedhar – Chairman, GJF was enthralled by the response and said, "The mission of GJF formation was to form an unbiased platform and pursue relentless efforts for the welfare of Gems & Jewellery industry. We are glad we have won tributes and an unquestionable credibility of being fair, compassionate and appreciative towards the industry and we shall continue this endeavor in the betterment of the industry and all our members."
NJA Committee Convener and Director of GJF– Mr. K. Srinivasan, who believes in motivating the Students and Acknowledging Talent said, "The future of any industry relies on the Talent we have today and that needs to be nurtured. The National Jewellery Awards are exactly meant to be doing this and be it the entries we receive or the level of competition, it has been on a constant growth YoY – and this is a very good sign for all of us."
Mr.Rajendra Jain – M.D., Swarovski Gemstones India quoted, "Swarovski Gemstones as a brand connotes class and quality with a perfect blend of inspiring creativity and brilliance. NJA echoes similar values, thus forming a perfect association. So let's be a part of this larger than life phenomenon in the Indian Jewellery Industry and make it a grand success."
The NJA Committee comprises of NJA Committee Convener – Mr. K. Srinivasan , NJA Committee Members – Mr. G V Sreedhar (Chairman of GJF), Mrs. Nirupa Bhatt, Mr. Dinesh Jain, Mr. Rajendra Jain, Mr. Pramod Agarwal, Mr. Ashok Baradia and Mr. DD Karel.
The Awards are being Presented by Swarovski Gemstones, World Gold Council as Associate Partner, Platinum Evara as Platinum Partner, Logistic Partner: Sequel Logistics, Co-Supporting Partners: GRT Jewellers and MMTC PAMP, Trade Media Partner: Heera Zhaveraat International, Outdoor Media Partner: Art Media Advt.