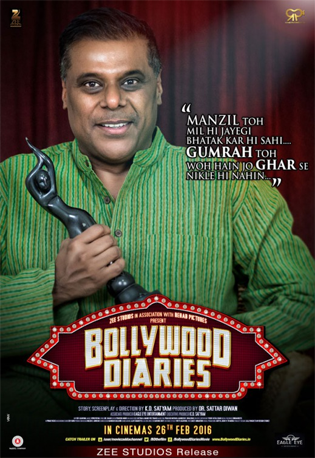 Three years back, Bollywood had celebrated 100 years of Indian cinema. There were events, shows and films put together to celebrate the event. Even though the idea of Bollywood Diaries was in place even back then, director K.D. Satyam didn't intend to rush through the process and make it ready to coincide with the celebrations. Reason? Instead of piggy-banking on the 100 year celebrations, he wanted his film to be perfect before it saw a mainstream commercial release.
"That's because I didn't want Bollywood Diaries to be slotted as a festival affair," says Satyam, who is telling the tale of three individuals from different walks of life who carry dreams of making it big in the world of films. "My audience is just the kind of characters that you see in Bollywood Diaries; the ones who love films. My audience is not just a select bunch of film aficionados and critics. I would love to have them watch it with 'aam junta' in theaters this week."
He realizes that not many make it in the industry but the dream continues to live on; a thought which is complimented by veteran filmmaker Sudhir Mishra as well, who has seen it all up, close and personal, "See, Bollywood by itself is a metaphor for a dream. People want to get away from their dull boring life and a lot of them get attracted by Bollywood's glitz, glamour and lifestyle. Still, if you look at it, it is an impossible dream since life is not fair. Some people may stand up and run, others may fall by the wayside. All of this comes together to keep the dream going."
A thought that is reflected in the film's songs as well, namely 'Mann Ka Mirga', 'Manwa Behrupiya', 'Titli' and 'Piya Ki Nagari', each of which deals with the matters of heart when it comes to living your Bollywood dreams.
That said, for those who have managed to make it to the inside circle, at times it becomes heart wrenching to see the pain that Bollywood aspirants go through.
"Of course there are so many people who come to us asking for a role. They want us to help them. A mother may come and want her daughter to be given just one chance. It is painful to say no because I am not a director. As an actor, you don't make these decisions," says Raima Sen, who has done around 80 films in last 15 years and plays the part of Imli, a prostitute, in the film, "Eventually though, talent does find its way. However, there are many who believe that Bollywood is easy, you can just make your way in, no matter the situation. In Bollywood Diaries, we are saying that it is a cut-throat competition out there; you have to do so much to survive."
Satyam believes in the adage though that where there is a will, there is a way, and most importantly one shouldn't stop dreaming.
"Love for Bollywood amongst us Indians is maddening; I don't see that even in Hollywood audience. When they watch a film, they take it as entertainment. Have you seen people worshipping Brad Pitt? They don't. But out here in India, we have temples for Mr. Amitabh Bachchan and Mr. Rajinikanth. In India, we are completely insane about movies. You go to Tier 2 cities; you would see genuine and true love for the stars. Their passion for cinema is unparalleled. Bollywood Diaries is for these people," says Satyam before signing off.