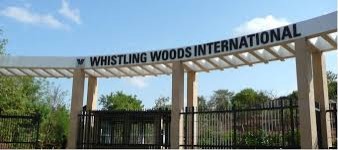 Whistling Woods International, a name to be reckoned towards imparting education in film, media awaits judgment before the Bombay High court.
Since its inception, the institute has gained the reputation to nurture creative talent in India and globally. It offers the students to choose from a variety of programs like fashion, media, animation apart from film-making.
Leading personalities from Bollywood film fraternity like Karan Johar, Hrithik Roshan, Madhuri Dixit, Boman Irani, Arjun Kapoor articulated their views on social platform Twitter highlighting the contribution the institute has made on film industry, founded by showman Subhash Ghai.
Hrithik Roshan said, "pls do not dislodge an institute which has done what it promised and more! @Whistling_Woods @meghnaghaipuri I salute you 4 all u hv done," stated Hrithik.
Madhuri Dixit stated, "I request the authorities to preserve @Whistling_Woods an institute which has contributed so much to art and cinema."
Boman Irani, "At the end of the day #whistling woods is a temple of learning. The last thing one must bring down. An appeal for students & industry."
Sudhir Mishra, "Mr Prithviraj Raj Chouhan pls find a solution for Whistling Woods. It's a 1st rate institution n Subhashji has done cinema a Grt service!."
Arjun Kapoor, "Whistling woods needs to exist to give people hope sir,hope that cinema can be taught learnt and experienced at the highest level @prithvrj."
Shashank Khaitan, "@prithvrj Everything i know about film making, i learnt at @Whistling_Woods . Please let the dream live on… #LongLiveWWI"
Rohit Roy: "This is a humble request to the powers that be… It is our only world class film facility..Don't take it away.. @prithvrj ji, please don't"
Shreyas Talpade, "1 institution where I genuinely flt like studying but couldn't.Don't take it away from those who can n wnt to @Whistling_Woods #LongLiveWWI."
Ronit Roy, "You can make cinema on politics but can never have politics in cinema! Support freedom of expression. SAVE @Whistling_Woods"
Tigmanshu Dhulia, "Like the forest of our country which gives life, even whistling woods should be saved. @meghnaghaipuri #LongLiveWWI"
Vidya Balan: In a country where there are millions of aspirants but few institutions of learning of cinema and media students, we should support such organized efforts. Give the credibility Whistling Woods has built in these few years of its existence, I urge the government to support its survival with dignity as it has achieved.
AR Rahman, "Let art flourish, let the people who educate passionately be supported…education will empower our nation..be kind to @Whistling_Woods"
Karan Johar: "As a filmmaker I request the authorities to preserve and protect @Whistling_Woods….it has it's heart embedded in contributing to cinema…"
Students, alumni and staff also expressed their support to the institute with #LongLiveWWI. Some students have extended the hand to welcome Prithviraj Chauhan to visit the school.
Albeit, change in WWI's status on can never demoralize the vigor amongst faculty, staff and students, we wish WWI all the best. As Subhash Ghai, the Chairman says, "Educational institutions are not made by the land on which they stand, in fact it is the land that is enriched by the educational institution that stands on it. Whistling Woods will remain for a hundred years to come."