In a highly competitive world, it is rare to witness someone appreciate your work in the field of entertainment, unless there is some connection of sorts or a benefit coming your way. However, when some out there stand up and notice, acknowledge and even cheer aloud without any ulterior motive into play, it is indeed a special feeling.
This is what thrilled the makers of upcoming flick Bollywood Diaries when people as diverse as Remo D'Souza and Sudhir Mishra began to spread the good word. This, despite no direct connect with either the film or the ones (Raima Sen, Ashish Vidyarthi and debutant Salim Diwan) featuring in the film.
Confirms an insider, "The moment the Bollywood Diaries promo was unveiled, it was noticed by one and all for its truly 'hatke' content as well as the impressive cast which is known to perform. While congratulatory messages did start coming the way of the cast members as well as director K.D. Satyam, what was truly appreciable was the manner in which some of the big names in the industry began to share their views."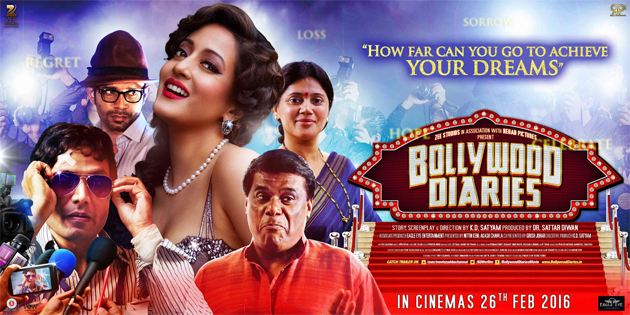 Remo D'Souza, who has made a shift from being a choreographer to a film director, and is now in the 100 Crore Club courtesy ABCD – Any Body Can Dance 2, couldn't stop appreciating the film and the talent involved once he saw the film.
"He has seen the struggle up, close and personal. It isn't easy for someone to just break into Bollywood and make it big. Since Bollywood Diaries is about people from small town who have Bollywood aspirations, he could relate to the theme," the insider adds.
As for director Sudhir Mishra, a veteran in the industry who has been the creator of a film on Hindi film industry, Khoya Khoya Chand, it all boiled down to the fact that Bollywood Diaries was a film many would relate to.
"Sudhirji has come a long way in the last three decades that he has spent in the industry. After finding a slot for himself in Bollywood, he has been a mentor to many, one of them being Nikkhil Advani who has just produced Airlift. He knows that it all boils down to the chance that one gets. There is talent all around, it is just a matter of that being identified and then nurtured. Director Satyam comes from the same philosophy too and it is this very 'sur' that you would find in Bollywood Diaries. Sudhirji identified with the narrative and offered to extent all help that the film needed to reach out to the wider audience."
With the word already spreading, guess Bollywood Diaries – which is produced by Dr. Salim Diwan and backed by Zee, would find many more bigwigs leading the march alongside as it hits the screens.