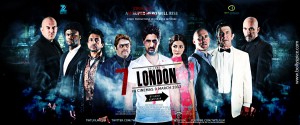 Some of the biggest names in Bollywood have been complimenting the slick romantic British Thriller 7 Welcome To London set to release on 9th March. First of, Leading Actor and Heartthrob Imran Khan recorded a supporting video message during his friendly banter with Asad Shan wherein, Imran asked everyone to support 7 Welcome To London by going to watch it at the cinema. The acclaimed director Karan Johar also offered his support via a personal retweet. This was followed by the suave and debonair actor Vivek Oberoi who took time out from his busy schedule to send a personal tweet "Wishing u and @7WTLFILM all the best for ur movie! God Bless! :)". Moments later the soon to be Mum and gorgeous actress Celina Jaitley simply said @7WTLFILM ALL THE BEST DEAR XX. The serial Kisser Emran Hashmialso offered his support as did up and coming actress Jiah Khan. The support didn't stop there as the Debutant producer and well known actress Dia Mirza tweeted as did award winning actor, Jimmy Shergill.
Tanuj Garg, CEO of Balaji Motion Pictures sent a personal message saying "7 Welcome to London is all set to hit cinemas in the UK! The premiere is at Cineworld Ilford tomo! Spread the word!." Even the much respected Bollywood film analyst and critic Komal Nahta tweeted saying: "Wow! What an engaging trailer of 7 WELCOME TO LONDON. Asad Shan, welcome 2 d world of films! Ur songs r super." Trade Analyst and acclaimed critic Joginder Tuteja used twitter to express his delight at the trailer and said, "wow what a trailer, this has to be the most pleasantly surprising promo of the year."
Watch the Bollywood Superstar Imran Khan support Asad Shan's 7 Welcome to London!
7 Welcome To London is a grisly thriller crafted in a gritty manner to draw on contemporary UK issues. It brings home-grown UK talent to the forefront right from the cast to the entire film unit.  Bafta and Oscar winning editor Chris Dickens is the creative producer for 7 welcome to London and has seamlessly blended Bollywood with international film techniques.
7 Welcome to London releases in cinemas across UK on 9th March 2012.