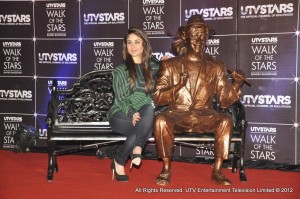 Hollywood had it's Walk of Fame ever since 1953, so it was only a matter of time before Bollywood would get it's own. After two years of hard work UTV Stars launched India's very own Walk of Fame in the style of Los Angeles' iconic boulevard. This could turn out to be one of India's biggest tourist attrations. "Filmstars are an obsession for the Indian audience. They worship them. This is our way to bring these stars closer. Touching the handprints will make them like they are really feeling them", as said to the BCC.
The Walk of the Stars was officially opened on Wednesday on the seaside promenade Bandra Bandstand, known for it's Bollywood housetours and a meetingspot for youngsters.
But unlike it's Hollywood counterpart, this Walk of Fame does not have stars with the names of the actors in it, instead the promenade features the handprints and signatures of Bollywood stars embossed on brass plates on tiles along the path. Kareena Kapoor, Sonam Kapoor, Ranbir Kapoor, Sharmila Tagore, Meena Kumari, Shammi Kapoor, Shabana Azmi and Sridevi are among the stars featured. Besides that, the promenade also has 6 life-size brass statues depicting some of the Indian greats.
UTV started with about 20 handprints of Bollywood's legends of yesteryear and putting the focus on the first family of Bollywood, The Kapoor Family. That is why Kareena Kapoor was the main guest at the launch in a nearby hotel, where she got the honour to unveil the statue of her legendary grandfather, the late Raj Kapoor, sitting on a bench.
"Acting is something that the Kapoors have just lived for. Cinema is something that is in our veins, it's in our blood, and we're very, very proud to say that," she said.
Kareena and her father posed for photographs with the statue like fans will do on the promenade. "I think people should come to actually dance with the stars. Some stars that are not here today with us, we can get to dance with them, touch them, feel them and actually realise what they were".
The promenade is currently about 200 meters long. UTV is looking to have 80 plaques and around 6 statues. "In the first batch, we have focused on the legends of Indian cinema. And we looked at the grand family, the first family, of Indian cinema, which are the Kapoors." The one legend that is missing from the promenade is Amitabh Bachchan. UTV: "We are talking about the legends of yesteryear. Amitabh Bachchan is a living phenomenon. We will have a special function when his plaque will be put here."
Actor Riteish Deshmukh is currently busy working on a similar kind of project called The Legends Walk. Some of the personalities whose handprints Riteish has already got include Amitabh Bachchan, Dharmendra, Rajesh Khanna, Salim Khan, Javed Akhtar, Salman Khan, Shatrughan Sinha and many more. "Shah Rukh Khan, Ajay Devgn and Sanjay Dutt have agreed to do theirs shortly. I have to say that this is not just my baby. I couldn't have done this without the help of my friends. Karan (Johar) knew about this right from the start and helped me through it all. While Abhishek spoke to Mr Bachchan, Tusshar (Kapoor) spoke to Jeetendra, Esha (Deol) to Dharmendra, and Farah Khan took me to meet Manoj Kumar. They have really been there for me and I appreciate their kindness."
UTV Stars doesn't see Riteish's project as rivalry. "It's not about 'may the best man win'. It's a free of charge thing."
So go experience the Walk of Fame first hand (no pun intended) just like the tourists go see the Stars in LA! It looks like it would be a really cool fun time!