There is nothing better on Halloween than watching a scary film. It gets even better if it is a spooky, bone chilling, terrifying Bollywood film. With the spine tingling themes of haunted abandoned havelis (mansions), reincarnation, revenge of the dead and wandering lost spirits – who said that Bollywood only told romantic tales?
You may recall the chillingly melancholic 'Aayega Aane Waala' sung by Lata Mangeshkar.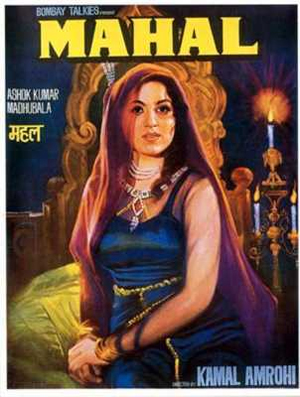 Yes – this was the the first time Bollywood truly met the "horror" genre through Kamal Amrohi's box office smash hit, Mahal (1949). Starring Ashok Kumar and Madhubala in the lead, Mahal was the very first Hindi film to explore the theme of re-incarnation. In the style of a thriller, Mahal pioneered the way for Gothic Indian fiction.
Bollywood through the 1970's and 1980's witnessed an abundant rising of the dead through the many successful horror films produced during these two decades.
In fact, Bollywood even made its own version of William Peter Blatty's classic "The Exorcist" with Gehrayee (1980). The film starred 1980's star Padmini Kohlapure as the young girl possessed by the devil.
However, not all Bollywood horror films were inspired by the West. The mythical, supernatural aura surrounding the snake, a theme prevalently South Asian, found its way to the Bollywood screen through Nagin (1976). Proving to be a major success at the box office, Nagin mixed the supernatural with horror and told the story of a female human/snake seeking revenge for her human/snake lover.
Horror films by the 1980's were not afraid of knocking on Bollywood's door – especially through the Ramsay Brothers who produced a number of horror films through the 1980's.
The Ramsay Brothers specialized on the horror genre in Bollywood and had set the foundation for a string of Indian horror films through their prolific Do Gaz Zameen Ke Neeche (1976). They then went onto produce a string of frightening tales including the cult horrors Purana Mandir (1984) and Purani Haveli (1989).
If you're in the mood for a good scare, this Halloween BollySpice team bring you their favourite spooky films and eerie moments. So get those marshmallows roasting and the wood fire burning…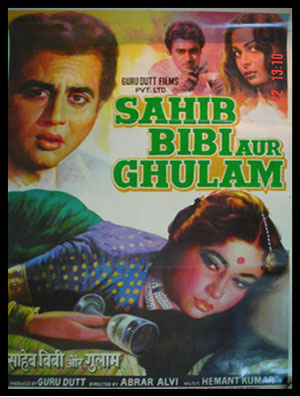 Film Title: Sahib Bibi Aur Ghulam (1962)
Director: Abrar Alvi
Starring: Meena Kumari; Waheeda Rehman; Guru Dutt; Rehman
A story exploring the misfortune of an aristocratic wife, "Choti Bahu", who will go to any length to gain the love of her unfaithful and aloof husband.
Spooky moment: A skeleton is found buried and adorned with Choti Bahu's jewellery many years later at the aristocratic home.
Spook Factor: 3.5/5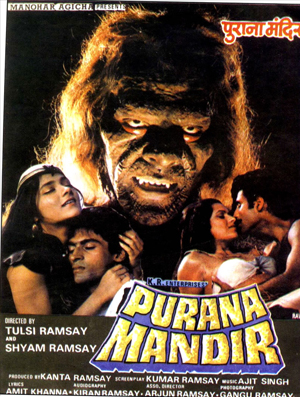 Film Title: Purana Mandir (1984)
Director: Shyam Ramsi, Tulsi Ramsay
Starring: Mohnish Bahl, Puneet Issar, Aarti Gupta
Suman (Aarti Gupta) must break an evil curse that has been haunting her family for the previous 200 years if she is ever to live a happy life with her love Sanjay (Mohnish Bahl).
Spooky moment: Many! Although to highlight: The evil demon "Samri" searches for his head that was severed from his body centuries ago in a spooky, windy, dark graveyard.
Spook Factor: 4.5/5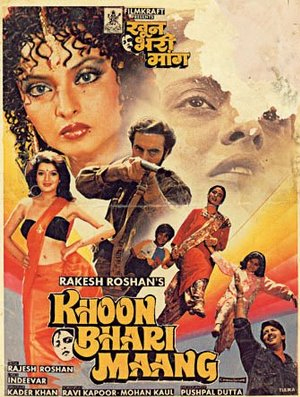 Film Title: Khoon Bhari Maang (1988)
Director: Rakesh Roshan
Starring: Rehka, Sonu Walia, Kabir Bedi
Sanjay (Kabir Bedi) fools the wealthy Arati (Rehka) into marrying him. Impatient to gain hold of her wealth, he pushes Arati off a rowing boat and into the jaws of a crocodile. Arati's body is never found but she returns for revenge.
Spooky moment: The moment when Arati is pushed into the water and emerges to the surface amidst a pool of blood.
Spook Factor: 3.5/5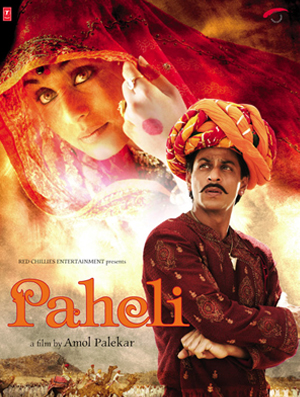 Film Title: Paheli (2005)
Director: Amol Palekar
Starring: Shah Rukh Khan, Rani Mukerji
The love story of a wife, a husband and a ghost and the riddle that surrounds them.
Spooky moment: This is a spoiler so read at your own risk if you have not seen the movie: In the end, the wife discovers that it is actually her love, the ghost, that inhabits her husband's body! Of course, being Bollywood that is the HEA!
Spook Factor: 2/5 – Not too scary unless you are the husband!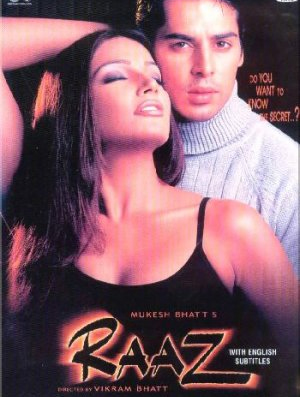 Film Title: Raaz (2002)
Director: Vikram Bhatt
Starring: Bipashu Basu, Malini Sharma, Dino Moreo
Sanjana (Bipashu Basu) and Aditya's (Dino Moreo) marriage is in pieces – but there is a lot to fix and confront when Malini – a murdered woman's spirit (Malini Sharma) will not stop troubling them.
Spooky Moment: Aditya is driving with Sanjana by his side – however, as he glances at Sanjana, Maini's spirit reveals itself and warps Sanjana's face. Aditya has a major car accident and has to fight for his life.
Spook Factor: 4/5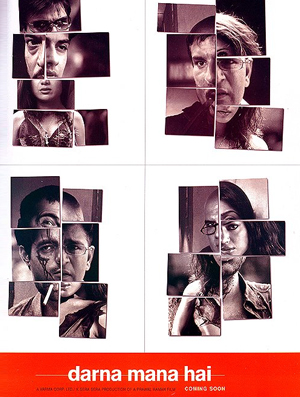 Film Title: Darna Mana Hai (2003)
Director: Prawal Raman
Starring: Various Bollywood celebrities including – Shilpa Shetty, Sameera Reddy, Isha Koppikar, Nana Patekar, Saif Ali Khan, Vivek Oberoi
A unique "anthology" style Bollywood film with 6 different horror films: A whole town of people who turn into apples; A mirror that freezes time; A man who raises from the dead; A psychotic inn- keeper; A ghost who is happy to give you a lift in his car.
Spooky Moment: It was surreal, shocking and funnily frightening when Shilpa Shetty's character pulled away the bed cover to find an apple instead of where her husband should be – the magical apples if eaten, transform you into an apple…
Spook Factor: 3/5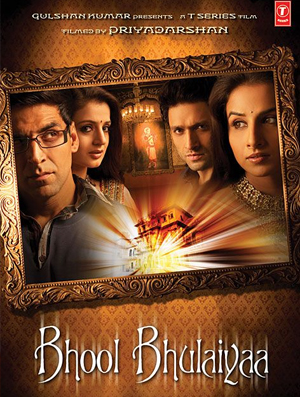 Film Title: Bhool Bhulaiyya (2007)
Director: Priyadarshan
Starring: Amisha Patel, Vidya Balan, Akshay Kumar, Shiney Ahuja
When Siddharth (Shiney Ahuja) and his wife Avni (Vidya Balan) return to their ancestral haveli (mansion), things start to become strangely odd after Avni opens the door to a forbidden room which is considered haunted.
Spooky Moment: Avni becomes furious at Siddharth for not letting her go shopping. She lifts up the bed with all her might and transforms into "Manjulika" – the spirit said to be haunting the family. That scene really does spook you to the bone.
Spook Factor: 4.5/5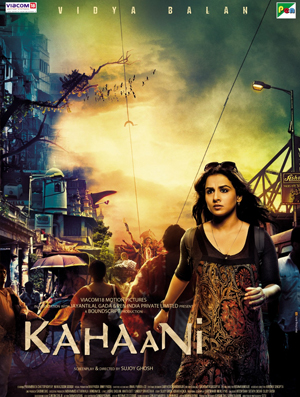 Film Title: Kahaani (2012)
Director: Sujoy Ghosh
Starring: Vidya Balan, Parambrata Chatterjee & Nawazuddin Siddiqui
A thriller based on a pregnant woman's search for her missing husband in the unfamiliar city of Kolkata.
Spooky moment: The moment when the female protagonist Vidya (Vidya Balan) gets kicked in her pregnant stomach by the film's villain Milan Damji (Indraneil Sengupta). A shocking moment that undoubtedly made people jump from their seats after witnessing an act which most wouldn't dare to think of doing to anyone.
Spook Factor: 4/5