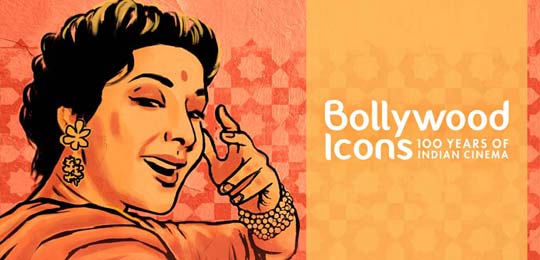 To celebrate the centenary year of Indian Cinema, the National Media Museum in Bradford is holding an exhibition titled Bollywood Icons: 100 Years of Indian Cinema. Running from 8 March to 16 June 2013, the exhibition is showcasing a range of posters dating back to the 1940s. They feature Bollywood's most revered actors such as Amitabh Bachchan, Shah Rukh Khan, the Kapoor family and Nargis. In addition, posters from some of Bollywood's much loved films are part of the exhibition, which includes Mother India (1957), Sholay (1975) and Dilwale Dulhania Le Jayenge (1995).
The aim of the exhibition is not only to mark 100 years since the first moving picture was made, but also to explore the stars' personas and their relationships, both on-screen and off-screen. Curator Irna Qureshi discusses what the exhibition will convey to visitors. "Bollywood is all about dynasties. We make it our business to know exactly who is married to who and how different generations of prominent Bollywood families are related. But this isn't just gossip you know. It's vital information. This sort of information simply enhances the viewing pleasure because the real life roles are often exaggerated on screen, and the posters provide the first clue."
One of the key themes of the exhibition is women in Indian Cinema, with Fearless Nadia being the focal point. The stage name of Mary Evans, Fearless Nadia was an Australian actress who starred in many Hindi films from the 1930s-1960s. Irna Qureshi had this to say about including the posters of films which Fearless Nadia starred in as part of the exhibition. "It amazes me that despite her complete domination of the Bollywood stunt film, not to mention a fascinating back story, that Fearless Nadia remains so little known. It's therefore even more of a pleasure to showcase her work in this exhibition because she was absolutely an icon – a blonde woman in 1930s India, sword fighting and jumping from moving trains in film after film!."
Speaking exclusively to Bollyspice, Irna Qureshi also explained to us why she was motivated to devise this unique and special exhibition. "Some of the posters included in this exhibition are from my own personal collection. I wanted to show off the older film posters especially, as they are proper works of art. I also wanted to show how posters themselves have changed over the years. I was very keen to capture this in the exhibition, as well as to demonstrate how actors are not only icons on-screen but off-screen too."
To coincide with this exhibition, a number of Indian films will also be screened as part of the 19th Bradford International Film Festival from 11-21 April 2013. They include the surviving twelve minutes of Raja Harishchandra (1913), the first ever Indian film to be made, as well as other films such as Mother India, Mughal-E-Azam (1960), The Chess Players (1977) Silsila (1981) and Dilwale Dulhania Le Jayenge (1995).
Bollywood Icons: 100 Years of Indian Cinema is now open to view for free at the National Media Museum, Bradford. Use this fantastic opportunity to celebrate the centenary year of Indian Cinema in style! Further details on the exhibition can be found here:
http://www.nationalmediamuseum.org.uk/PlanAVisit/Exhibitions/BollywoodIcons/Introduction.aspx