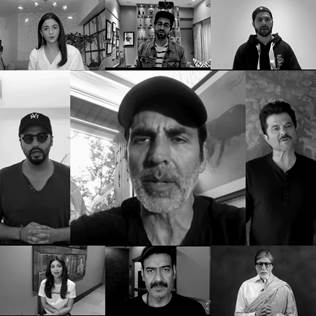 The Indian film industry aka Bollywood certainly is stepping up to get information about Coronavirus aka COVID-19 out to the people of India and the world. Not only that they are sending support, hope and fun through social media during this time of self-isolation and in some cases quarantine.
The novel virus has spread across the globe and worldwide the confirmed total of cases is 341,000 and over 14,700 have died, according to data from Johns Hopkins University at the time of publication of this article.
Releases of highly anticipated films, new shoots for upcoming films, in fact all production has stopped. All production houses, producers, directors and actors have voiced their approval that filming and releases should halt for now. The health and safety of everyone on the team is of 'paramount importance' says the Producers Guild of India.
Along those lines, Sudhir Mishra has been really working to help and give information. His first step was this tweet
Shouldn't we in the film industry set up a fund for the junior technicians , our light boys , set workers , sound assistants etc . @anubhavsinha @mehtahansal @ashokepandit @sushant_says @nairsameer @nikkhiladvani

— Sudhir Mishra (@IAmSudhirMishra) March 15, 2020
Many, many pledged and we got this statement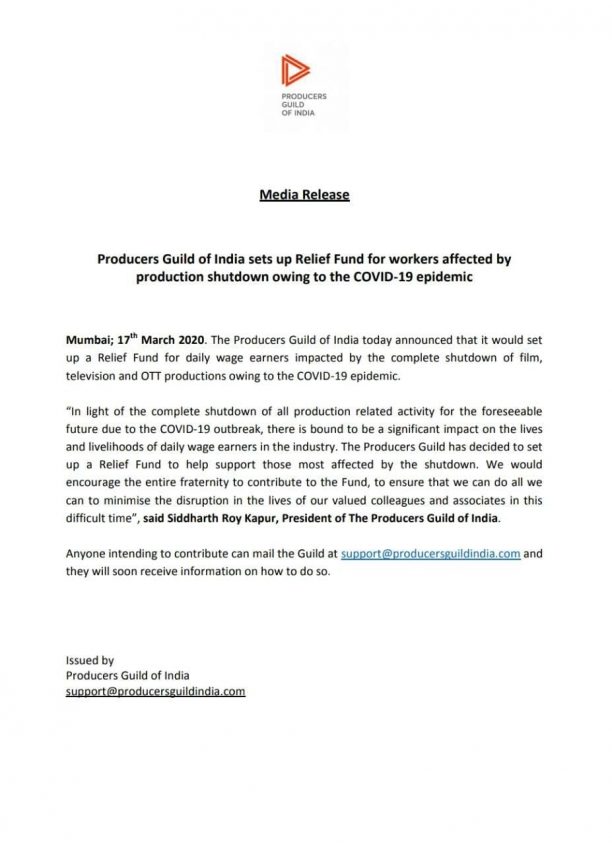 Anubhav Sinha, along with joining in the relief fund drive and donating, has also recently been looking for volunteers to distribute food to the needy and to stray pets
1/2
Hi friends. I am looking for some volunteers within 3-4 Km of Infiniti Andheri. People who will pick up grains from Near Infiniti and take them to 3-4 different areas for distribution to the needy.

— Anubhav Sinha (@anubhavsinha) March 22, 2020
1/2
Also need volunteers for food for stray Animals. volunteers within 3-4 Km of Infiniti Andheri. People who will pick up food from Near Infiniti and take them to 3-4 different areas.

— Anubhav Sinha (@anubhavsinha) March 22, 2020
Now, we thought we would share some of the messages, videos and social media posts from Bollywood.
Sonam Kapoor on Instagram offered a beautiful message. "Kindness, Empathy and understanding is the need of the hour. Self-discipline, self-reflection and isolation is the need of the hour. There isn't any place for negativity, hate, xenophobia, racism and dishonesty. Please please stay at home if you can," the actress wrote.
In an epic line-up Amitabh Bachchan, Ayushmann Khurrana, Akshay Kumar, Alia Bhatt, Ranveer Singh, Ajay Devgn, Varun Dhawan, Anil Kapoor, Madhuri Dixit Nene, Shilpa Shetty Kundra and Arjun Kapoor came together for this video. The video sends a powerful message on how one can understand the virus, what they need to do to help prevent it from spreading further and the importance of social distancing. All the celebrities involved are seen pleading with citizens to take all the correct and necessary precautions to protect themselves during this time.
Shah Rukh Khan also released a brilliant and could he be any cuter video…
InshaAllah #JantaCurfew will help against the spread of virus, though we may have to do this again. The clapping brought so much cheer. So a reminder of safeguards, with some cheer… Pls take it in the right spirit. To all relentlessly working today – Extremely Grateful. Thx! pic.twitter.com/2wfaXPlFVF

— Shah Rukh Khan (@iamsrk) March 22, 2020
One of the cutest was the Romeo and well Romeo interaction between Anupam Kher and Anil Kapoor. Anupam, who was in New York shooting for New Amsterdam is taking precautions and quarantining himself… his neighbor Anil Kapoor came for a "visit"… from the street
Shadid Kapoor sent a message of hope
22nd of March #JantaCurfew . This virus is affecting our heads at a faster rate than our bodies. Let's show solidarity as a nation. Let's be at our most positive and our most restrained. Let's raise the bar. This moment in time calls for it. God speed. Jai hind.

— Shahid Kapoor (@shahidkapoor) March 20, 2020
Anushka Sharma first tweeted this
— Anushka Sharma (@AnushkaSharma) March 19, 2020
Then Anushka and husband Virat Kholi filmed and released this video
While Salman Khan released this on Twitter
#IndiaFightsCorona @CMOMaharashtra @mybmc @AUThackeray @Iamrahulkanal pic.twitter.com/l9qPAPs88U

— Salman Khan (@BeingSalmanKhan) March 21, 2020
Then also showcased him drawing on Instagram
As a special treat AR Rahman released his epic album for his film 99 songs early… even before a release date has been set.
While Ehsann Noorani reposted this by Marcia Ramirez
This is just a sampling of the Hindi film industry coming together… there is so much more we can't share it all because we are all in this together!
Stay Safe!
We are trying to do our small part so we have some fun features to entertain you coming your way so wait and watch out!
Title used with respect to Gabriel García Márquez author of Love in the Time of Cholera