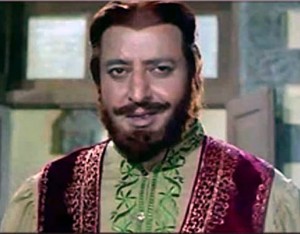 Pran, who is considered to be one of the greatest actors and villains in Bollywood history died on Friday aged 93 at Lilavati Hospital in Mumbai. The veteran actor was admitted to the hospital a month ago, where he had been ailing for some time. Pran was known for convincing portrayals in films such as Madhumati (1958), Jis Desh Mein Ganga Behti Hai (1960), Ram Aur Shyam (1967), Upkar (1967) and as Sher Khan in the Amitabh Bachchan starrer Zanjeer (1973). Pran and Bachchan shared a special relationship and also starred together in other hits like Don (1978) and Amar Akbar Anthony (1977).
Speaking to the Indian media, Pran's daughter Pinky had the following to say. "He died after a spell of prolonged illness. He was not keeping well, he was very weak. His health was deteriorating." Pran was recently awarded with the Dadasaheb Phalke award for his contributions to Indian Cinema in a year which also marks the industry's centenary.
Bollywood paid tribute to the legendary actor on Twitter and made these remarks.
Amitabh Bachchan – "Pran Saheb passes away! A gentleman, most collaborative colleague, a senior of immense distinction, a true disciplined professional." In a second tweet Bachchan said the following: "Another magnificent pillar of the Film Industry, falls. Our illustrious edifice in ruins, as stalwart after stalwart leaves!"
Karan Johar – "RIP PranSaab…..truly the end of a maginficent and glorious era….he was a gentleman superstar and heaven is blessed today…."
Shah Rukh Khan – "Why do icons who shaped our lives and emotions have to go away? U will sir, remain etched in our hearts. Allah bless ur soul Pran Sahib."
Sridevi – "Today we have lost a legend, a gem and an iconic actor. We will miss you. RIP Pran Saheb."
Madhuri Dixit – "Another legend Pran Saahab leaves us. RIP."
Priyanka Chopra – "It's such a loss for cinema..wish I had had the chance to know him.leaving a legacy that will stay with Indian cinema forever. RIP Pran sahib."
Arjun Rampal – "RIP Pran Saab, you immortalised so many characters, was fortunate to play one of them. You live in my heart forever."
Abhishek Bachchan – "Thank you for the memories Pran Saab. You will live forever in our hearts. RIP."
Pran was cremated on 13 July at the Shivaji Park electric crematorium, where family members and Bollywood figures were there to pay their final respects.