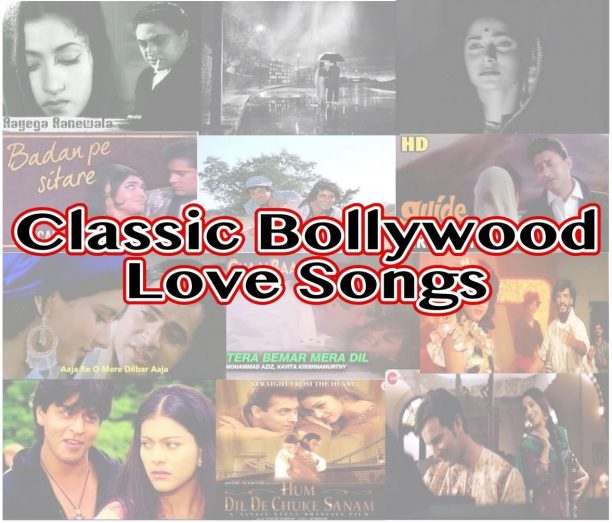 Bollywood has been around for a very long time for sure, but love has been around for longer. As much as Bollywood has somehow kept finding new ways to express love, whether that be the forbidden love of a rich man's daughter all the way through to the love of another man/woman or in a love that dare not speak its own name because it takes the form of patriotism or religious fervour, love still out lasts Bollywood. So, on this Valentine's day lets listen to a few different ways Bollywood has tried and failed to capture love over the years.
'Aayega Aanewala' – Mahal
Singer: Lata Mangeshkar – Composer: Khemchand Prakash

"He will come, he will come, he will come… for he is destined to come, so he will come." That is the message of the first of our chosen songs… love is destined to happen. If you can find a way to hang out in an old abandoned house, even then love will find you as its destined to happen. This is a theme even used in recent songs like Vaan from Kaatru Veliyidai proving that this theme is even beyond the borders of language.
'Pyar Hua Iqraar Hua' – Shree 420
Singers: Manna Dey & Lata Mangeshkar – Composer: Shankar JaiKishen

Until the moment of meeting, until all is settled every lover must fear the loss of heartbreak. Taking a light view of this is the next song, in which "Pyaar Hua, Iqraar Hua hai, pyar se phir que daar ta hai dil." A song that would have suited Charlie Chaplin with little dance steps and a joyful little piccolo cut through the seriousness of this moment as Raj Kapoor and Nargis begin their epic love story as Bollywood's first known film couple.
'Waqt Ne Kiya' – Kaagaz Ke Phool
Singer: Geeta Dutt – Composer: S.D. Burman

It is the slowness of this song that draws you into it… then there is Geeta Dutt's voice and finally SD Burman's exquisite use of cello and double bass. And once you're in, you're hooked. "Jayenge kahan, such ta nahin… chal pare magar raasta nahin". Like time, the music creeps up on you, until in its ending you feel its silence and know you have been left behind.
'Tere Mere Sapne' – Guide
Singer: Mohammed Rafi – Composer: S.D. Burman

And what better then to set out on a journey together once that sweet moment of destiny has come to pass. Here Dev Anand takes Waheeda Rehman by the hand and leads her to guide her along a journey to success and stardom. "Lakh mana le duniya, saath na yeh chutega"… this is all about the words. Not much is to be made of the music, with SD Burman's sweet combination of strings and that epic voice that is Mohammed Rafi.
'Badan Pe Sitare' – Prince
Singer: Mohammed Rafi – Composer: Shankar JaiKishen

Sometimes people say the wrong thing to each other and one or both needs to just get away from it all. For this case, Mohammad Rafi brings out a vibrant dance number in an almost completely different voice for Shankar JaiKishen and their jazz band. The words themselves may be out of date and in some cases offensive in themselves but the meaning behind them is one of you are destined for me and me for you.
'Yeh Dosti Hum Nahin Todege' – Sholay
Singers: Manna Dey, Kishore Kumar – Composer: R.D. Burman

Bollywood has never shied away from brotherly love either though. So even if you're love is not conventional, don't think Bollywood has forgotten you! This song is dedicated to best friends Veeru and Jai, in what is probably the biggest Bollywood hit of all time. And for good reasons: Manna Dey and Kishore Kumar are superb and bright, RD Burman's music is perfect for the open air on a road trip, which is exactly how this is set.
'Aaja Re' – Noorie
Singers: Nitin Mukesh, Lata Mangeshkar – Composer: Khayyam

And even if you are not near your love, Bollywood has something for that. 1979's Noorie brought a Kashmiri girl and her boyfriend together even while they were many miles apart. Each calls for the other with a simple tune in the background, Khayyam leaving the heavy work to the lyrics sung so deftly by Nitin Mukesh and Lata Mangeshkar. "Pyar se pooche kaun basa hai tere dil me aake, Aaja Re, tu hi aake bata jaa re" is some of the most beautiful poetry of love ever written.
'Bol Baby Bol' – Meri Jung
Singers: Javed Jaffrey, Kishore Kumar – Composers: Laxmikant-Pyarelal

A lot of the previous songs are slow, but this is the absolute opposite. Bollywood found a way to even make a love of rock 'n' roll into a love song with Javed Jaffrey showing off some very impressive dance skills to genuine 50's rock music. This is the 12-bar blues, a club vibe without the beat and a group of people willing and able to dance. Considering this was 1985, it was a brilliant ode to Rock around the Clock, the birth of rock 'n' roll in 1955.
Tera Bemar Mera Dil – Chalbaaz
Singers: Mohammad Aziz, Kavita Krishnamurthy – Composer: Laxmikant-Pyarelal

Sunny Deol is not often considered a man of love songs. However much of his early career is strewn with some great love songs that stand the test of time. Many of these were predominantly pictured on his female leads, considering his lack of dance, but still they didn't lack in the emotion or steaminess department. Considering Bollywood didn't allow open kissing in scenes, they got up to plenty without going there.
'Ho Gaya Hai Tujhko' – Dilwale Dulhania Le Jayenge
Singers: Udit Narayan, Lata Mangeshkar – Composers Jatin-Lalit

DDLJ was a list of hit songs… all of which are well remembered love songs. However, it also featured a separation song, which can also be on the minds of lovers on Valentine's day. The backdrop to the trip home, this song is both dejected and sad, but somehow peppy with the knowledge that something special has past, but there is something special in the future too.
'Love Theme' – Hum Dil De Chuke Sanam
Singers: Shankar Mahadevan, Kavita Krishnamurthy – Composer: Ismail Darbar

While by definition this isn't a song that's part of the OST of the film, it did make the CD when it released in 1999. Again, a film filled with love songs (no surprises given the title) but all are so well remembered that there's no need to mention them here. This is a vocal (i.e. an instrumental where the only instrument is the voice) with Shankar Mahadevan proving he can sing wherever he is. But it is the genius of Ismail Darbar to bring in a tabla to create a heartbeat and for Kavita Krishnamurthy to sing out as if she was the heart itself that takes this song to special.
'Piyu Bole' – Parineeta
Singers: Sonu Nigam, Shreya Ghosal – Composer: Shantanu Moitra

For those who know the film this is the best known of all the songs, with the magical duo of Sonu and Shreya together singing a beautiful love song. "Lab to na kholoon mein, kholoon na lab to par…" your eyes say it all. Then "Jiya dole haule haule, kyon yeh dole jaanu na". What more is to be said for love, especially when established, so easy and smooth, yet always so mysterious in its ways. An easy piano track and some background strings ties this all together to make the perfect love song.
In the end, we can always know that if love is on our minds Bollywood has found a way to capture it in a song. Whether that be a haunting melody of love past, a theme of love itself or an ode to rock 'n' roll in the best way possible, Bollywood has delivered over its 89 years of audio. No doubt there is plenty more to come but just as love changes, so will Bollywood continue in its attempts to tame it.