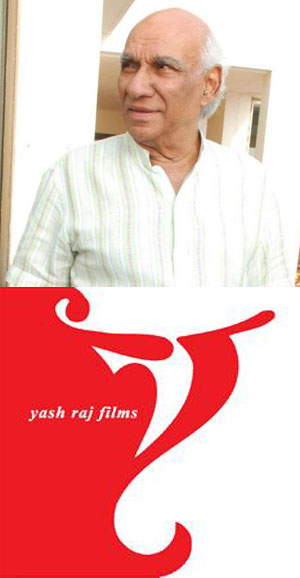 The sudden death of legendary filmmaker Yash Chopra has come as a shock to everyone. Various people shared memories they have and Bollywood was all in disbelief about the death of the 80-year old filmmaker.
Currently the body of Yash Chopra has been taken to his Juhu house. Shah Rukh Khan & his family accompanied the Chopra's. Then Mr. Chopra's body was taken to YRF Studios. Stars who have been seen at YRF Studios are SRK, Amitabh Bachchan, KJo, Sanjay Dutt, Aishwarya, Riteish, Urmila & designer Manish Malhotra. Mr Chopra will be cremated on Monday October 22 at 3 pm at the Chandan Wadi crematorium in South Mumbai. People can pay their last respects at YRF Studio in Andheri West tomorrow from 9 am – 12 noon.
Read some of the tweets below.
Premier Manmohan Singh
"An icon of Indian Cinema, he entertained many generations with his rare creativity. He had an aesthetic talent to make his films look larger than life. His flourish to essay romance and social drama was unmatched."
Amitabh Bachchan
"T 906 – Yash Chopra passes away .. Just now a hour ago"
Mahesh Bhatt
"Heartbreaking news Yash Chopra passes away! "
A.R. Rahman
"Respect, love and admiration for Yashji and his legacy ..may God bless his soul !"
Madhuri Dixit
"Just got the news that Yashji passed on. He was one of the giants of cinema. My deepest condolences to his family. We will all miss him"
Arjun Rampal
"Landed in Mumbai to shocking news. RIP Yashji, the saddest day in the industry."
Asha Bhosle
"Just as I was getting over the grief of my daughter, my brother Yash Chopra Bhaisaab has left me. Sad year."
Dilip Kumar
"Shattering, hard to accept. Yash was a brother and more than a friend. I am numb and have no words to express my grief"
Akshay Kumar
"I'm in shock and numb, can't believe the news, the man who immortalised love, Mr. Yash Chopra is no more. May his soul rest in peace. My deepest condolences to the family."
Shreya Goshal
"R.I.P. Yash Uncle. I can't still believe this has happened.."
Anubhav Sinha
"Unfair!!!RIP Yashji!!!"
Bipasha Basu
"We lost the iconic,inspiring n always smiling Yash Chopra today.Saddened and shocked by this news.He will be missed forever.RIP Yash Uncle."
Lara Dutta
"All I ever really knew of Hindi films began with Yash uncles brand of cinema. RIP Yash Chopra ji. Will miss you terribly."
Sushmita Sen
"Mr. Yash Chopra..a legend of love and love stories passes away  my condolences to all his loved ones. Deeply saddened. Rest in Peace Sir.."
Anupam Kher
"My mornings will never be the same. My learnings of life will never be the same. LOVE never be the same. And cinema will NEVER be the Same. Yash ji was my anchor, my quiet strength & my father figure in Mumbai. Never realised when our relationship shifted from films to Family."
Ali Zafar
"I am in shock. Yash Chopra jee passed away ? What a man. What a loss  can never forget his warmth, encouragement and humility."
Kabir Khan
"One of the happiest moments of my life was when my first film began with 'Yash Chopra presents' I will always cherish my moments with Yashji"
Sonu Nigam
"Do pal ruka khwaabon ka kaarvaan, aur phir chal diye, tum kahaan hum kahaan!! Nothing more to say."
Pitobash
"One of the biggest loss of Indian cinema.Yash chopra is no more..RIP yash ji.Nobody can fill ur place sir.U will live for ever in our heart"
Salim Merchant
"2012 seems like the end of the legends. Dev saab, shammi ji, mehdi hasan, jagjit singh, rajesh khanna, ashok mehta and now yash chopra. Yashji's legacy will live on forever…"
Vishal Dadlani
"RIP Yash Chopra saab. Sad time for the entire film industry. May his family find the strength to face this difficult time. RIP. Yash Chopra saab was a living legend in the truest sense of the word, and yet, such a cool guy! Was an honour to have met you, Sir. RIP."
Mika Singh
"RIP Yash Chopra. King of Romance has passed. A great loss. What an amazing man. May he live on forever through his films. God bless."
Shilpa Shetty
"Just heard the tragic news of Yash uncle passing away. The epitome of Romance a great man…will miss him dearly. R.I.P Yash Uncle"
Harshdeep Kaur
"King of romance Yash Chopra passes away in hospital where he was being treated for dengue #RIP" What????? This can't be true"
Madhavan
"RIP Yash Ji. Romance and Love shall forever miss you.Farewell and may the heavens above learn Love from you."
Javed Jaafri
"RIP Yash Chopra..A great producer/ director passes on..had the opportunity of working in 3 of his productions"
Satyajeet Dubey
"Heartbreaking news.. YASH CHOPRA is no more.. Not done.. Feels like a personal loss.. RIP Yash ji.. Romance on silver screen will never be the same again.. Never like Yashji's magic.. The magic he created through such beautiful films.."
Farah Ali Khan
"OMG! In shock. Can't believe the man who made love stories come alive is no more there. RIP Yash Uncle. You will be missed sorely.  Condolences to @udaychopra Pam Aunty and the family. May God give you all the strength in this moment if grief. An era comes to an end."
Kunal Khemu
"The legend whose films have lived with us for decades through romance, songs and dialogues passes away. RIP Yashji you will always be missed"
Vivek Oberoi
"The legendary romantic, the poet of evergreen love, the magician who created the greatest love stories…RIP Yash uncle…u will be missed!"
Raj Kundra
"R.I.P Yash ji its shocking news! Had the pleasure of meeting him recently at a film premier. Can't believe he is no more!"
Rohit Roy
"Sad sad day … Yash ji passed away  RIP"
Ayesha Takia
"RIP Yash Chopra ji."
Aftab Shivdasani
"A legend who epitomised Romance passes away.. Rest in peace Yash ji.. May the lord grant your soul peace, prayers for the Chopra family."
Shekhar Ravjiani
"Heartbroken. I just met him a few days back during the trial of SOTY. God bless his soul. RIP Yashji."
Ken Ghosh
"Romance will never be the same- R.I.P Yashji"
Madhur Bhandarkar
"I'm shocked & saddened by the loss of Hindi Cinema's legend – Yash ji. romance in cinema will always be incomplete without u. RIP"
Boman Irani
"Saddened and numbed! Oh Yash Uncle…we will miss you!!!"
Vir Das
"Mr. Yash Chopra. A man who made a million dreams come true, for those creating cinema and watching it. A Very sad day. Thanks for the magic."
Shabana Azmi
"Yashji!!!! How could you go? On your 80th birthday we wished for u to make 80 more films..its heartbreaking. Deepest condolences to d family"
Sanjay Gupta
"News of Yashji is just so unbelievable and unacceptable. You have taught us so much Sir. Please be happy and rest in peace wherever you are."
Neil Nitin Mukesh
"yash uncle !!!  🙁  My first director  remember the way he pampered me as a child in VIJAY. Worked for him. I love him truly. An inspiration FOREVER !    Three generations of MUKESH'S , my grandfarther (kabhie kabhie) ,my father (Noorie) and me ..indian cinema will now always be incomplete !"
Siddharth
"Mr. Yash Chopra is no more…a giant tree falls. Indian cinema will never be the same again…romance will never be the same again…sad day:("
Tusshar Kapoor
"Can't believe Yash ji passed away, huge fan of his body of work like the rest of the country, his style epitomized romance with class! RIP!!"
Ayushmann Khurrana
"RIP Yash ji. The real heartbeat of Indian cinema halts this day. Thank you sir for filling the romantic void on the celluloid. #immortal"
Sonam Kapoor
"Rip yashji. #jabtakhaijaan"
Ram Kapoor
"I'm in a state of shock! I was with Yash ji just last week during the screening of SOTY, just can't make myself believe that he's gone!!!"