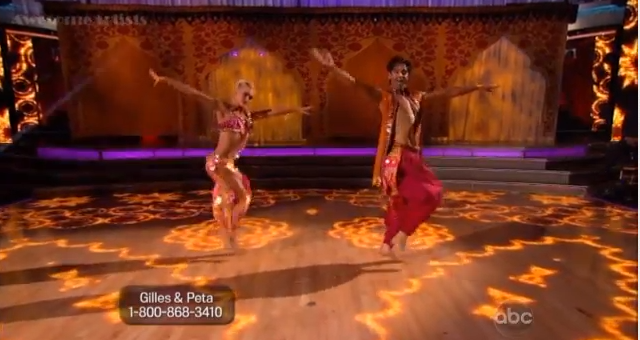 Bollywood certainly seems to be making its way on to US dance reality programs. The style is a fixture on the popular dance show 'So You Think You Can Dance', with every season showcasing a show stopping number. Even last season on 'Dancing with the Stars', it made its debut with a Bollywood flavored Samba that Derek Hough choreographed for his freestyle dance with Maria Menounos.
That performance did not get any 10s, however Monday night actor Gilles Marini and Peta Murgatroyd, his pro partner, got a standing O on their full on Bollywood number. Peta and Gilles looked gorgeous in their Bollywood costumes and they rocked the ballroom to the Pussycat Dolls version of "Jai Ho" by A. R. Rahman.
In case you don't know, 'Dancing with Stars' pairs stars, be it film, TV, sports and many other fields, with a professional Ballroom dancer. Each week they have one week to learn classic ballroom steps and dances and perform for the judges and audience. This season they changed it up a bit brought back former stars who had appeared on the show before and some who even won the coveted mirror ball trophy. They also changed it up by adding new styles for one night and that is how Peta and Gilles ended up dancing Bollywood.
Neither Gilles or Peta had ever seen Bollywood before so they brought in Narani Mihraj to give them some pointers on the style and choreography. Though the rehearsal footage showed tears and a tough time, the two came out did it full out Bollyishstyle and the crowd, the judges and even the other contestants loved it.
The judges, who were joined by Paula Abdul as a guest judge loved the dance and their performance so much they got the highest score of the evening 39.5, that included 3 perfect 10s.
You can head over to abc.com to watch the show and see Dancing with Stars Go Bollywood!