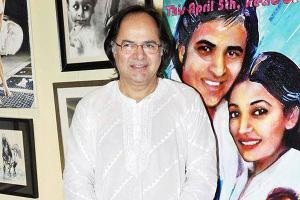 Stars and filmmakers have paid tribute to legendary actor Farooq Sheikh who has sadly passed away at the age of 65 following a heart attack in Dubai. Born on 25 March 1948, Sheikh starred in hit films such as Garm Hawa, Shatranj Ke Khiladi, Noorie and Chashme Buddoor. Sheikh is considered to be a key actor in parallel cinema and received praise over the years for his approach to acting. His most recent performance was in Yeh Jawaani Hai Deewani, where he played Ranbir Kapoor's father. After hearing the news, members of the Bollywood fraternity were quick to pay their respects to Farooq Sheikh. Here is what some of them had to say.
N P Singh (MSM Motion Pictures) & Vashu Bhagnani (Pooja Entertainment): "We all are devastated by the news of Farooq ji's demise as we had formed a great bond with him while shooting Youngistan. Apart from being a great actor, he was also a great human being and we shall all miss him dearly. God bless his soul."
Jackky Bhagnani: "Farooq sir was my constant inspiration, guide and teacher. Every time after a shot, his critical feedback helped me better my skills as an actor. I cherish his one particular message after a crucial scene, where he praised me for me growing as an actor from the time film shoot started."
Shah Rukh Khan: "And all I ask is quiet sleep & a sweet dream when the long trick's over." Faroukh Sahib…Allah bless your soul. U are dearly loved & missed." "My biggest regret that I never got to spend time with you, Faroukh sahib, as I had requested. Should have done it earlier. I feel so sorry."
Amitabh Bachchan: "Just up to the news of Farooq Sheikh passing away ! Cannot believe that he has gone ! A wonderful colleague, a gentle presence about him, no pretence of any kind. His work and his demeanour breathed a certain honesty, hard to find in most. When after 25 years the Swedish Investigator in the Bofors matter, revealed that my name had been deviously 'planted' in the scandal, Farooq Sheikh was the only one that wrote a note to me with flowers, congratulating me, but also expressing shock at how the system had ostracised me and my family!! I did not know him well enough, but honesty and an absence of pretence does not need knowing. They show up and get recognised, without provocation!! Prayers and condolences.."
Sophie Choudhry: "Such sad news to wake up to. Fabulous actor, understated gentleman. Have loved him in so many films – from 'Noorie' to 'Yeh Jawaani Hai Deewani'."
Abhay Deol: "Sad day today, Farroq Sheikh passed away from a heart attack. I had the good fortune to work with him in a film called Shanghai. He was simple, down to earth, a gentleman with immense knowledge. He was a humanitarian and we spoke a lot about the divide between the rich and the poor, the divide between castes, community and class. He was extremely passionate. He told me once he hated looking at himself on screen. In some ways he was just like any actor, a child in the body of a man. I chose this pic of him because it remindes me of an innocence he had, a part of him that was still untouched by the world around him. I am lucky to have met and worked with him. I am richer from the experience. We will miss you sir."
Divya Dutta: "Woke up to hearing this terrible news about Farooque saab. The gentlest soul and magic on screen. My last meeting with him at Shabana Azmiji's house, I told him that 'The warmth and genuiness you exude is unparallelled'. His smile was straight from the heart. Miss you sir!"
Manoj Bajpayee: "Never felt so sad recently as I am feeling today after I heard the news of the sudden demise of Farooque Sheikh saab! Man with no pretence.
Karan Johar: "RIP Farooque Sheikh. Your subtle, nuanced and genius body of work will live on forever."
Kunal Kapoor: "Such terrible news about Farooqueji. Not only an incredible actor, but also one of the warmest, most amazing people I've ever met."