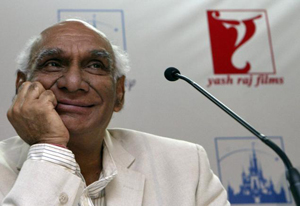 The weekend was going fine all around the world and it was a happy Sunday evening, until the sad news about Bollywood's romance king Mr.Yash Chopra's death went around. Within minutes of the news, there was a sudden gloom everywhere, especially in the Bollywood industry. Twitter was flooded with 'Rest in Peace' tweets and condolence messages, not to forget the links to his famous films, dialogues and much more. In the midst of all this, there were a few Bollywood biggies who poured their hearts out about their special times with the legendary director.
Bollywood Badshah Shah Rukh Khan was completely dumbfounded when he found out about Chopra's demise. He tweeted, describing how he thinks a part of him has gone away with Mr.Chopra and how a part of the latter is left back with SRK. His Facebook page said, "I will always have some love to give and I will always be both emptied and replenished by the loved ones I lose. I keep u with me Yashji and I miss u too Yashji … lots." The director was like family for SRK, who had done some of the biggest hits of his career like Darr (1993), Dil To Pagal Hai (1997) and Veer-Zaara (2004) under Mr.Chopra's direction. His upcoming film Jab Tak Hai Jaan, which is set to release on 13th November, is Yash Chopra's last film as a director. As soon as his death was announced, SRK rushed to Lilavati Hospital and then left his car behind and went in the same vehicle in which the filmmaker's body was being taken back to his residence.
Singer Asha Bhosle said that she could not believe that she lost her brother while she was still mourning for her daughter. She tweeted and expressed her grief, and said this is indeed a sad year for her, while Lata Mangeshkar was very upset with losing her rakhi brother. "Our birthdays are separated by a day and this year he gifted me an idol of Mata Saraswati. I cannot believe I lost a brother who loved me so much," she said. She also pointed out a very noteworthy thing about him which is that no one ever disliked him. She added, "He had a childlike innocence about him. He was a music lover and an intelligent person in terms of poetry. He loved to sing even though he wasn't a singer in any way. Once I remember him telling me that he paid his driver some extra money to bear him singing while they traveled together."
Waheeda Rehman was finding it very hard to come to terms with the filmmaker's sudden demise. "I met him just a few days ago at Amitabh's party and he was all hale and hearty! Why did this suddenly happen?" exclaimed the actor, who has done three of her best films Kabhie Kabhie, Trishul and Mashaal with the filmmaker. She also recalled working with him, and that he was a person who never lost his cool even in the most difficult situations. She said, "I remember the dramatic scene from Mashaal where I was dying on the road and Dilip Kumar was pleading cars passing by to help to get me to the hospital. We were all skeptical about shooting it in the middle of the night on the road, except Yashji. He kept his calm and made the scene happen in the simplest and best way possible," she said.
Amitabh Bachchan had a lot to say about his dear friend, on his blog and otherwise. He wrote on his blog, "An association of 44 years abruptly comes to an end. He went away too soon and too suddenly. He deserved to be with us longer." The actor, who has shared a 44 year old bond with the filmmaker felt that it was too early for him to go. He also wrote, ""I have just one regret with regard to him. For some months lately, he had been calling and telling me to drop by in the early hours of the morning as I returned from the gym for 'just a chat — no work, no issues, just a chat' I had promised him that I would, and I never was able to."
Asha Parekh also recalled her moments with Yash Chopra, and said that even though they never worked together they had a lot of interaction as both of them were members of the Film Industry Welfare Trust. "He chatted with me and spent a lot of time talking to me on my birthday," she added.
Sridevi got two of her best films from the filmmaker, which were Chandni and Lamhe. She was really shocked to receive the news of his death and said she is very grateful to him for giving her the two films. "He was a very friendly person and completely organized. If I am at my best in Chandni and Lamhe, it is because of him. He looked into every minute detail himself and was completely down to earth. "My styles from these films were a rage, and all thanks to him," she said. She also said that Yash Chopra waited for 30 minutes after the premiere of English Vinglish, only to congratulate her and tell her he loved her comeback.
Vidya Balan was also among the many, shattered to hear the news. She had grown up watching his movies and said that he was the most gracious person she had ever come across. "He has defined the word Glamour in the industry. There are hardly people who could bring out a man-woman relationship in the way Yashji could," she said with a heavy heart. Vidya shared one of her most special moments with the filmmaker after the release of Kahaani. "I got a call from an unknown London number but I missed it, and in a moment I got a message from Yashji saying that he has been trying to call me. I immediately called back and he congratulated me for the success of Kahaani. He has called me after every film release and on my birthday, and also when I was unwell recently. How do I define what I feel right now," she added.
Karan Johar said that he has lost his father all over again, while Anupam Kher refused to believe that this could happen. "Yashji gone? Nah! Has to be a cruel joke," he said.
Yash Chopra had once said, "I don't want to be nominated with directors who are my children's age. They deserve their chance to make their mark. But that doesn't mean I will stop making films. I will continue to direct films till I die because I would like to die with my boots on."
Well, he did exactly what he said. Bollywood will miss you, Yashji.