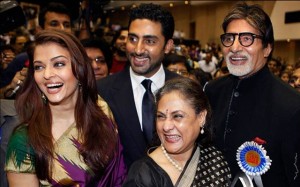 As the news of the arrival of Baby B spread, twitter world was flooded with blessing from all over the world.
As the day came to an end Abhishek Bachchan tweeted, "Have put the wife and daughter to bed. Now sitting alone and re living the whole day again, UNBELIEVABLE.", "So overwhelmed with all that has taken place today. thank you thank you ALL for your kindness,love and prayers. It means the world to us.", "Have to get some rest now. Haven't slept in over 40 hrs. Sleep well and good night." He also thanked the media for joining in their happiness and not being intrusive.
While Sr Bachchan tweeted thanked the media, "As I travel back from the hospital I need to thank the media for keeping their word of not intruding our privacy. Deeply obliged !", "T 561 – We will give time to both electronic and print media .. PR will be setting up .. Have been up for more than 24 hours .. Need rest .", "T 561 -Once again our gracious thanks to all for their kind and most endearing wishes for the new arrival .. its been overwhelming !!", "T 561 -On the mobile message front I am trying desperately to reply to your wishes .. from the 1000 odd sms, just 200 left ..do bear with us"
As the day went by most of Bollywood sent out their messages via all existing communication technology. Here are some of the messages that poured onto twitter to congratulate the overjoyed Bachchan pariwaar(family).
"@juniorbachchan how beautiful is this feeling. Allah bless u and Aish. Dying to come & see the three of u…YAY!!!! Now u really r PA lov u" – Shah Rukh Khan
"@juniorbachchan yeahhhhhhhhhhhhhhhh PUPPPPAAAAAAAA congratssssssss – extremely happy – bro—love n happinessss forever" – Riteish Deshmukh
"@JuniorBachchan Congratulations to you & A!" – Rahul Khanna
"@juniorbachchan so happy with the good news loads of love to both the girls ! God bless u always ! Love ya" – Shaimak Davar
"Congratulations @juniorbachchan the Braz is now a dad! Lots of love to the family brother…I'll celebrate in NY for you" – Uday Chopra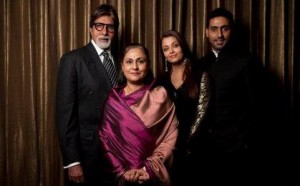 "@juniorbachchan bohat bohat mubarak!" – Ali Zafar
"@juniorbachchan congratulations Abhishek !! Now onwards looking at you every one will say… " baap re baap"" – Javed Akhtar
"@juniorbachchan way to go pitaaji !" – Sujoy Ghosh
"@juniorbachchan congratulations- awesome news!!!" – Rohan Sippy
"CONGRATULATIONS @juniorbachchan and Ash. So so Happy. May the new arrival in the family bring more happiness, joy and peace. Love.:)" – Anupam Kher
"@juniorbachchan Woohoooo!!!! Thrilled!!! Congratulations again, to you and the Memsaab! Love, blessings, best wishes, always!!!" – Vishal Dadlani
"Congratulation daddy cool @juniorbachchan and the coolest DaDaji @SrBachchan and the most beautiful Mommy Ash and the lovely Dadi Jayaji." – Arjun Rampal
"CONGRATULATIONS @SrBachchan and@juniorbachchan!! I'm so so excited for you! Lots and lots of love and happiness!" – Sonam Kapoor
"@juniorbachchan congrats buddy. Love and luck to all." – Dino Morea
"@juniorbachchan so so happy for all of you AB. My the good lord shower his choicest blessings on her.. Love Maddy n Sarita." – Madhavan
"@juniorbachchan congratulations !! On the arrival of the princess !! Love to the entire family and big kissy from neil chachu :)" – Neil Nitin Mukesh
"Congratulations Paa @juniorbachchan", "@SrBachchan Congratulations Sir" – Shirish Kunder
"@juniorbachchan congrats AB!!! So happy for you guys… Wishing all of you loads of love!!" – Tarun Mansukhani
"@juniorbachchan congratulations on Baby Girl AB :)))))))))))))))))))))" – Shawn Arranha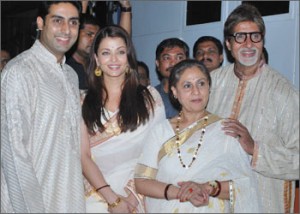 "Congratulations @juniorbachchan @SrBachchan 🙂 and family…" – Anubhav Sinha
"@SrBachchan Congratulations sir!", "@juniorbachchan Congratulations! And goodbye sleep!" – Ranvir Shorey
"@SrBachchan @juniorbachchan Hearty Congratulations! Here's wishing the family happiness and health always. God bless." – Taran Adarsh
"@juniorbachchan Congratulations; the greatest gift of god; a daughter! You're going to be a great father- fun and funny!" – Rajiv Makhni
"Yay! Many Congratulations Daddy-O. RT@juniorbachchan: IT'S A GIRL!!!!!! :-)))))" – Atul Kasbekar
"Congrats @juniorbachchan for the baby girl!" – Chetan Bhagat
"Congratulations to Ashwariya & @juniorbachchan @SrBachchan on the arrival of a beautiful baby girl. May she be blessed.♥" – Farah Ali Khan
Still awake at 11 p.m. a smitten Big B blogged, "As I look down upon her I bring myself back to the visual when I had placed her Father in just condition into my Father's hands, to be heralded into our home. I stare at her in silence. She reciprocates in similar vein. It is too delicate a moment… I give this angelic face a prolonged look …
Dad ! I hold the 9th Bachchan in my hands .. this family that you started .. !!
Amitabh, Ajitabh, Shweta, Nilima, Namrata, Abhishek, Naina, Bhim and now .. this beauty, unnamed so far … I hope you and Ma look upon us from above and bless us and your latest addition. To carry forward what then may have seemed a somewhat limited expectation. The tradition continues and may it prosper by your love and your aashirvaad."
We send our best wishes to the whole Bachchan family for the new addition into their family.